Cozy up with a latte and a homemade White Chocolate Cranberry Scone this weekend! ​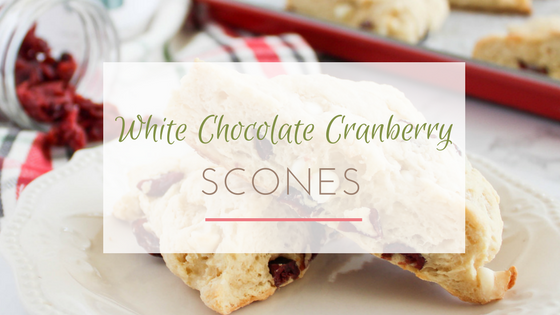 ​The quintessential cozy coffee shop experience…a hot latte with pretty foam art and a fresh scone. At least that's what my ideal trip into a coffee shop would include. Before I had a fresh, homemade scone I was kind of skeptical of them. They always seemed a little dry and boring to me.

I was turned on to the tasty white chocolate cranberry delciousness of a scone over Christmas when Colin's mom made some when I was visiting. Let me tell you, I was hooked! As soon as I got back to Charlotte, I bought some white chocolate chips because I needed to make my own batch!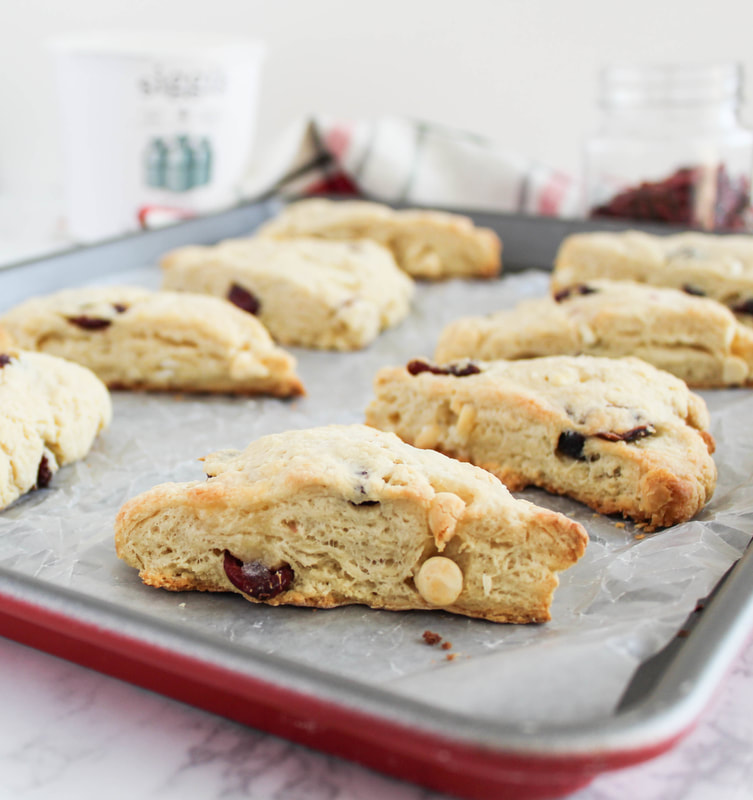 ​Of course, the original recipe that I had was super yummy and amazing, but I wanted to put my own spin on it and see what I could experiment with. I love baking with real sugar and fat most of the time because I think it leads to the most satisfying baked good, but sometimes I also enjoy baking with yogurt or Splenda Naturals, too. I think Siggi's plain skyr is an awesome sub for sour cream and to be honest, I don't really care for sour cream that much so I'd rather buy Siggi's and use it for baking and snacking both. I'm cool with subbing out a couple ingredients like this, but trying to "healthify" a whole dessert is just pointless to me. Hence why I left the whole stick of butter in this recipe 🙂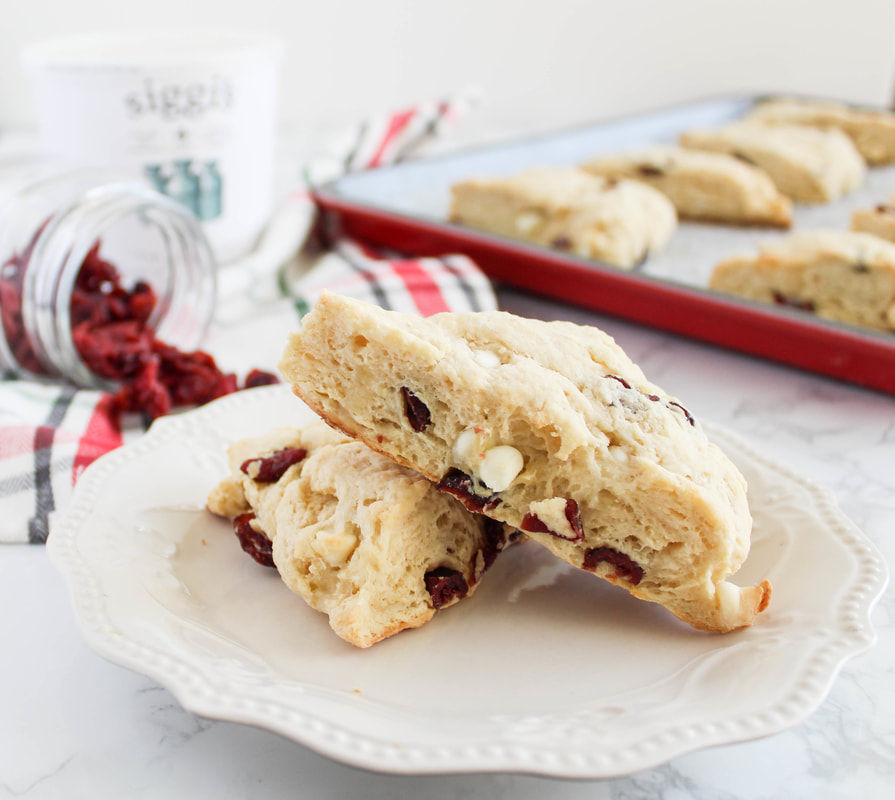 ​I love Siggi's for how real their ingredients are and they've been coming out with so many amazing flavors and products. I have to say that I think the Siggi's in these scones is what really adds to the texture and makes them such perfect scones! Scones seemed a bit daunting to me at first to make, but they're really easy! You basically just mix them together, form into a disc shape and cut into slices to bake. They look pretty impressive once they're baked, but they're really not hard at all to make.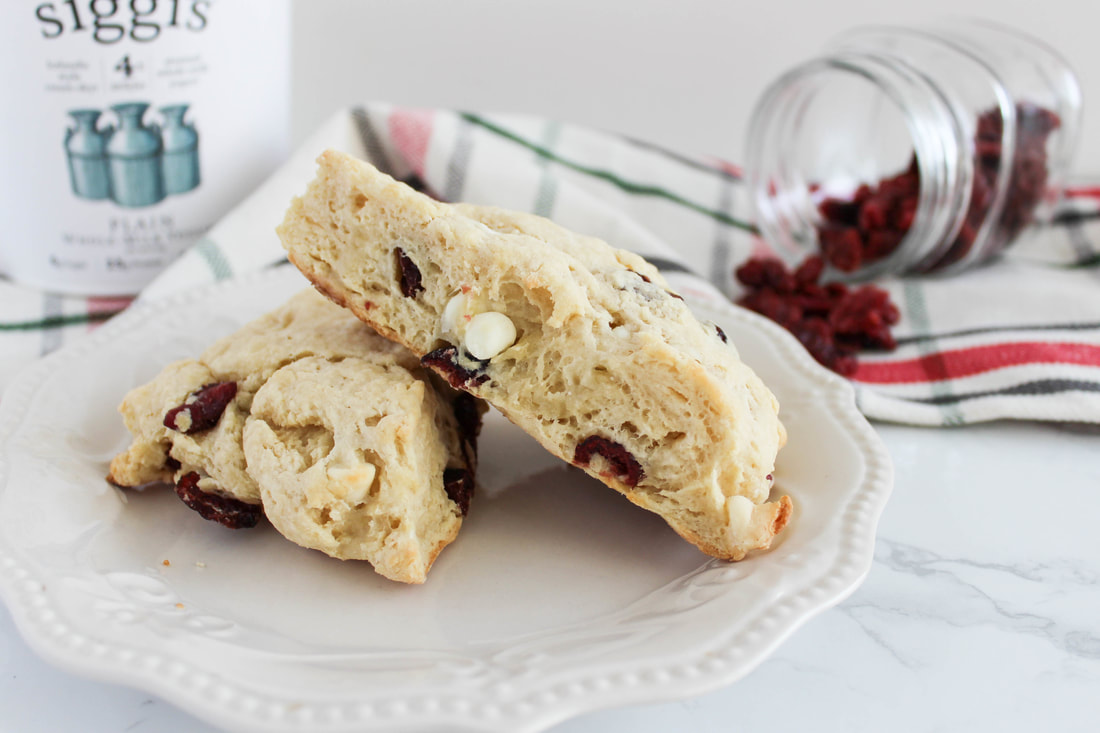 These scones are a dream – fluffy, moist, a bite of cranberries and white chocolate in every bite…amazing! They're the best when served still slightly warm from the oven, or heated up in the microwave. These scones will definitely be a hit in your house! They'd be perfect for brunch or dessert. I've been bringing one to work with me this week for a mid-morning snack. You should really just eat these all the time! :p
---
White Chocolate Cranberry Scones
Ingredients:
3 ½ cups all-purpose flour
¼ cup Splenda Naturals Sweetener*
½ tsp salt
3 tsp baking powder
1 tsp baking soda
1 stick unsalted butter, cold & cubed
1 egg, beaten
1 1/3 cup plain Siggi's full fat yogurt
½ cup dried cranberries
1/3 cup white chocolate chips
1 Tbsp butter, melted

Directions:
Preheat oven to 350 degrees.
Combine dry ingredients in a large mixing bowl. Whisk together.
Add the cold, cubed butter to dry ingredients and cut into mixture using pastry blender or two knives. Blend until butter is pea-sized and a coarse texture appears.
Combine the egg and yogurt in a small bowl.
Add egg mixture to the flour mixture and mix slightly with spatula.
Add in the cranberries and white chocolate chips. Mix until just combined.** The dough should be lumpy and thick.
Separate the dough into two even balls. Shape each dough ball into a round disc, about 2-inches in height. Cut each disc into 8 slices.
Place on a baking sheet lined with parchment paper or silicon baking mat.*** Lightly brush the tops of scones with melted butter. Bake for 15-20 minutes, until a toothpick comes out clean.

*If using regular sugar, use 1/2 cup.
**You may have to mix with your hands at this point.
​***You will have to work in batches, baking the scones with 8 on a tray.

Makes 16 scones.
---