A chewy & tender, gooey skillet pizza perfect for a weeknight dinner or your Superbowl party!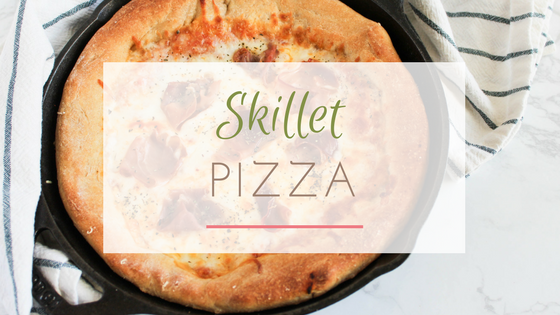 ​I'm a kitchen gadget girl. Most of my Christmas presents over the past few years have included something related to cooking. I just love buying things that will help me in the kitchen and are fun to use. The only downside to my affinity for kitchen gadgets and tools is the space. Living in an apartment, kitchen space is a little limited. I seriously need a closet just for kitchen gadgets!

When I found out that this month's Recipe Redux challenge was to whip up a recipe using your favorite kitchen tool, I had a hard time narrowing it down. I love my Vitamix and my spiralizer. I also use my food processor a lot, and have wanted to use my mini waffle iron to make something fun. Then, I thought maybe I'd keep it simple. I recently bought a cast iron skillet and have been using it for a lot of different things. That pan is so versatile and I'm not sure how I've been cooking in my kitchen for so long without one! Seriously, you can make every meal of the day with it!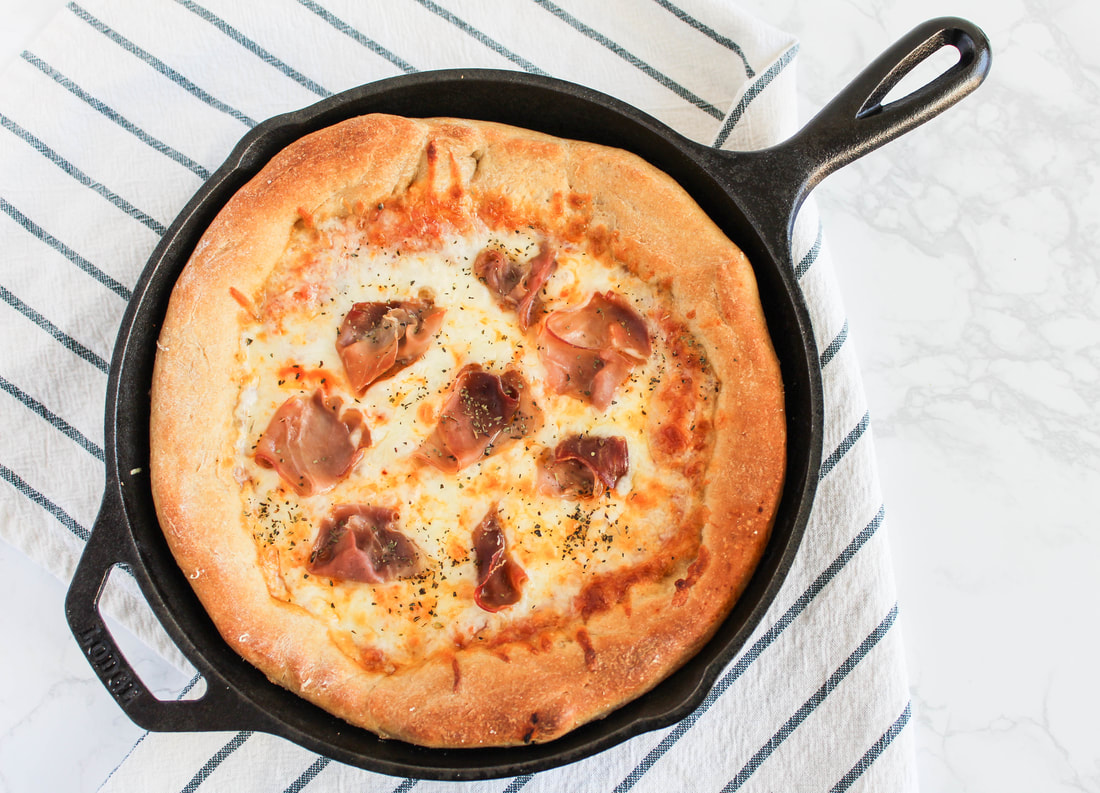 ​With my cast iron skillet in mind, I tried to think of something a little different yet classic to make with it. That's how the skillet pizza idea came to me! As a New York girl, I have had some pretty good pizza growing up. I love a slice of traditional NY pizza, but that can be hard to come by outside of the state. Over the years I've also come to love thinner crust, wood fired pizzas with gourmet toppings. Slap some fresh mozzarella and basil on anything and I love it! But last weekend I was feeling making a pizza that had a thick crust, chewy and tender texture, and gooey cheese. So what do you know, a cast iron skillet produces just that!

This skillet pizza is perfect for just a regular night's dinner, but also easy enough to make for some guests if you're having a casual party on the weekend. And it would definitely be perfect for your Superbowl party!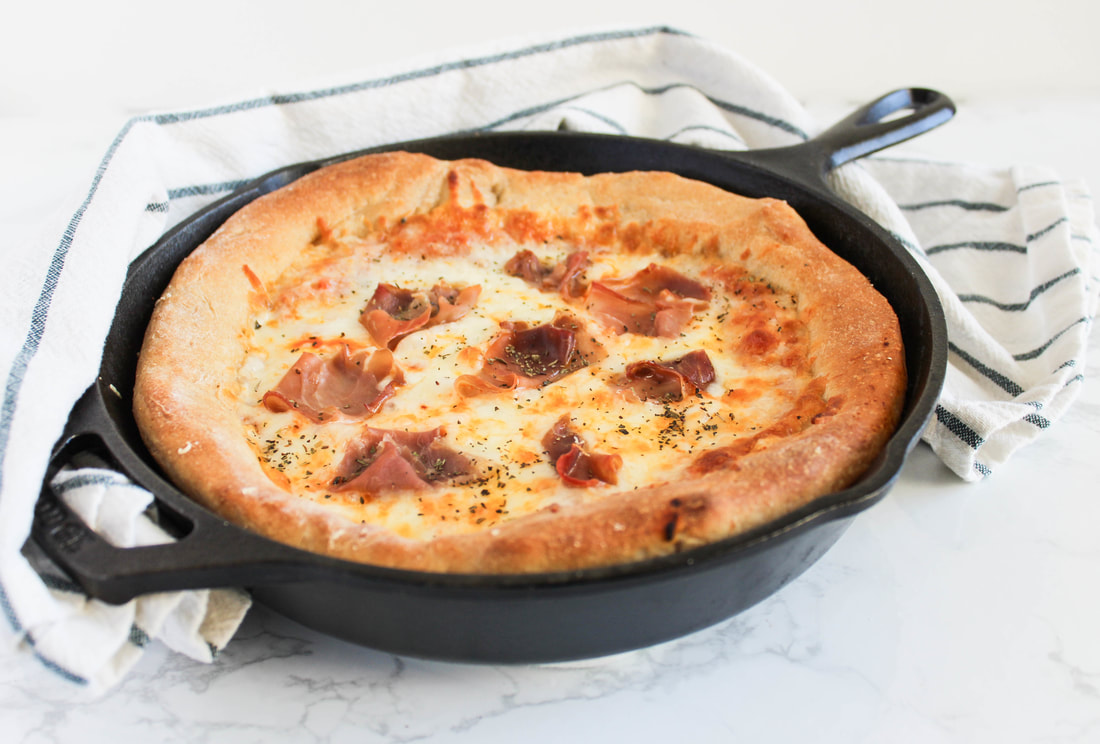 ​When making, be sure to grab the refrigerated pizza dough that's normally over by the deli area in the grocery store. You know, the one that's a yummy ball of dough, not the prebaked pizza shells. I like the texture and taste of whole wheat dough, but you could use regular. I just used my favorite tomato sauce (which for pizza is canned Tuttoroso sauce). I think the freshly shredded Parmesan really adds a nice flavor combined with mozzarella, too. Then go to town on your favorite toppings. For this one, I used some prosciutto and it turned out so good! Make this skillet pizza your own and have fun with it!
Check out the link at the bottom of this post to see other's favorite kitchen tool recipes!
---
Skillet Pizza
Ingredients:
1 refrigerated whole-wheat pizza dough
Your favorite tomato sauce
Parmesan cheese block
Shredded mozzarella cheese
Your favorite toppings (I used prosciutto)

Directions:
Preheat oven to 400 degrees.
Sprinkle your cast iron pan with flour. Press your pizza dough into the pan. Make sure to press dough up the sides of pan.
Spread about ½ cup of your favorite sauce all over pizza dough.
Shred some of your block of Parmesan cheese to lightly cover the sauce.
Top with mozzarella cheese and your favorite pizza toppings.
Bake for 20-25 minutes until the crust is golden brown.
Let cool slightly, slice & serve.
---
---