Pumpkin, cinnamon, and brown sugar come together in this cake that tastes just like your favorite cinnamon rolls, only easier to make!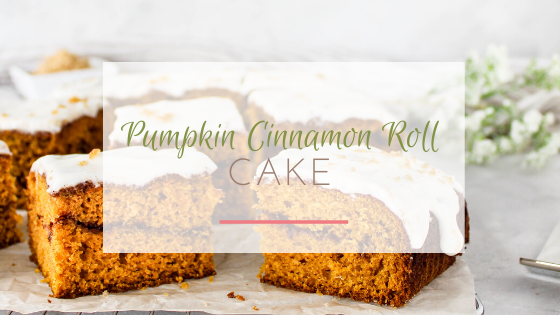 Raise your hand if you love homemade cinnamon rolls?! Okay, now that you've all raised your hands and are craving some warm, gooey goodness, this recipe is for you!
One of my favorite things about the holiday season ahead is getting together with family and enjoying meals together. I love waking up on chilly weekend mornings and making a sweet breakfast item, like cinnamon rolls. But if we're being honest, I don't really enjoy the time that goes into making cinnamon rolls. Some of them you have to let rise, then you have to roll them up and cut them, there can be a lot of steps!
I figured I'd cut down on the steps by making the classic cinnamon baked good into a cake. And since we're fully into the late fall season, I figured these bad boys needed to be pumpkin flavored!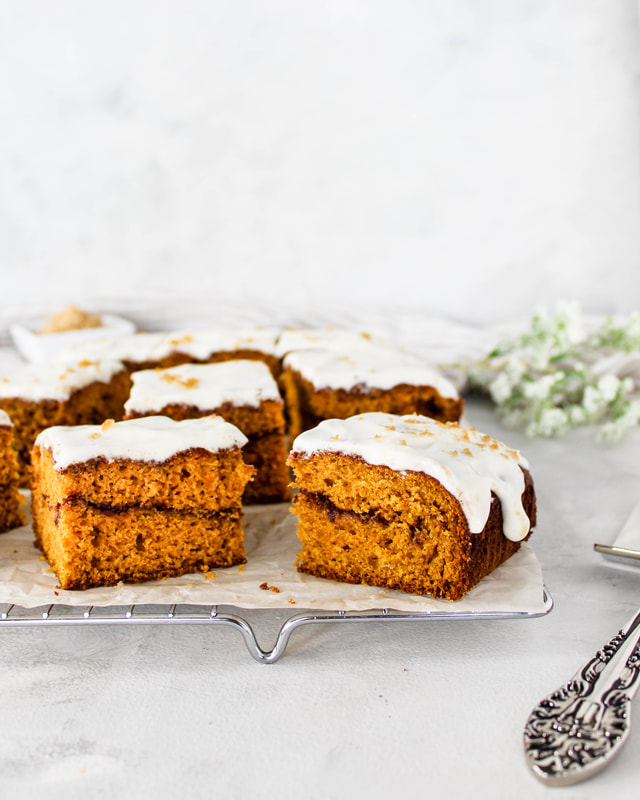 This cake is pretty simple and straightforward to make. You begin with creaming together the butter and sugar. Then mixing the wet and dry ingredients separately. Once your batter is prepared, you create that typical cinnamon sugar swirl in the cake by sprinkling the mixture in between layers of batter and swirling together with a knife.
For the glaze, I went classic and stuck with a cream cheese flavor. Pumpkin and cream cheese is such a delicious combination that you really can't go wrong. The other thing I love about this cake is that is simple enough to pull together for breakfast, but it's also cake-like enough that you could serve it as dessert.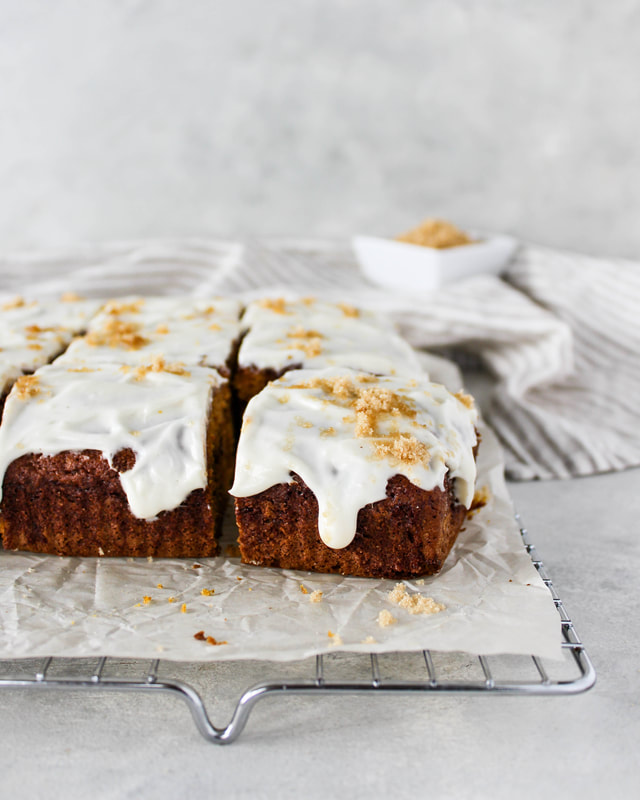 This is definitely a recipe you want to add to your list of ones to try this holiday season!

---
Pumpkin Cinnamon Roll Cake
Ingredients:
½ cup unsalted butter, room temperature
½ cup sugar
½ cup brown sugar, divided
2 eggs, room temperature
½ tablespoon vanilla extract
1 cup all purpose flour
½ cup whole wheat flour
½ teaspoon salt
½ tablespoon baking powder
½ teaspoon baking soda
⅔ cup 100% pumpkin puree
½ tablespoon cinnamon
Glaze
¼ cup cream cheese, room temperature
¼ cup powdered sugar
¼ teaspoon vanilla extract
2-3 tablespoons milk
Directions:
Preheat oven to 350 degrees. Line an 8×8-inch baking pan with parchment paper and grease the sides.
Add the softened butter, sugar, and ¼ cup brown sugar in a large bowl and beat with a mixer until light and fluffy. Add the eggs and vanilla and beat until well combined.
In a separate bowl, combine both flours, baking powder, baking soda, and salt with a whisk.
Alternate adding the flour mixture and the pumpkin puree into the wet ingredients until well combined. Take the remaining ¼ cup of brown sugar and mix it with the cinnamon. Set aside.
Pour ½ the batter in the pan, sprinkle with ½ of the cinnamon sugar mixture. Spoon the remaining batter into the pan, spread evenly. Top with the rest of the cinnamon sugar mixture. Use a knife the swirl together.
Bake for 30 minutes or until golden brown and a toothpick comes out clean.
Allow to cool before removing from the pan. While the cake cools, make the glaze. Combine all the glaze ingredients and beat until smooth. Frost the cake once completely cooled.
Cut into squares and serve.
---