Thanksgiving is all about being present with friends & family, reflecting on the past year, & sharing what we are grateful for in this beautiful life. Join me as I share my thankfulness with you & take time to remember all that you are thankful for, as well.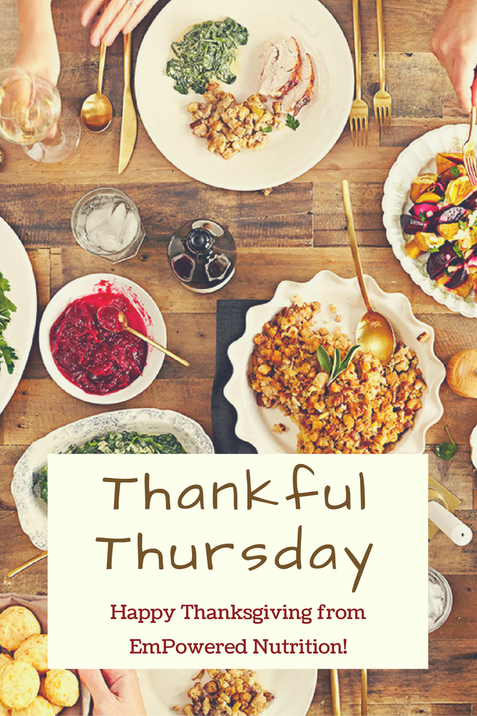 This year has been one of many changes for me. I completed my dietetic internship, became a registered dietitian, moved to a different state, & started working on creating my own business. I am so thankful to be done with some of the hardest years, academically speaking, & move towards fulfilling my potential as a dietitian & continuing on my own path to wellness by inspiring others & bringing them on this journey with me.
Here's my Thankful Thursday, a day early…
I am thankful for…the ability to share my nutrition knowledge through my own business, where I can guide & empower others on their journey to a healthier & happier lifestyle. I'm so happy for this blog, where I can share fun tips & interact with all of you & hopefully inspire you to make some lifestyle changes of your own. I am also super excited to start seeing my own clients & counsel them towards nutritional happiness!
I am thankful for…the INSPIRD Mentor Program with Haley & Monica! I cannot describe how happy I am that I joined these wonderful ladies, as well as my fellow mentee friends, on my journey to starting my own private practice! These ladies are some of the most hardworking & inspiring women I know & the fact that they have developed this program to guide dietitians in building a business is amazing. The support system is phenomenal & I have learned so much personally & professionally. I can't wait to finish the program & be even closer to my private practice dreams! If you're an RD wanting to go into private practice, I strongly suggest you visit the link above & sign up for the winter session!
​I am thankful for…my boyfriend, Colin. He is the most caring, kind, honest, & dedicated person I know. He has been great throughout my private practice journey thus far & has been one of my biggest cheerleaders while completing my Master's. He has stuck with me through my best & worst moments & always encourages me to keep pushing myself in growing my practice. I truly credit him as being one of the main reasons I started my journey in private practice, by giving me the confidence & support. I don't know what I would do without him & I become more & more grateful for him every day.
I am thankful for…my parents & all that they do for me. Without them, none of this would be possible – my schooling, being an RD, my career, my business…nothing. I'm so lucky to have parents that were at all my sporting events growing up, passed their smarts on to me, & have done everything possible to make sure I can succeed in life. Their never ending support is something I could never thank them enough for.
I am thankful for…finally achieving my most desired goal in life – being a registered dietitian!
---
It's your turn. What are you thankful for this year? What has driven you professionally & personally in the past year & helped you achieve your goal? I'd love to hear some of your
Thankful Thursdays
in the comments below!
Now go…spend time with your family, eat yummy foods, & have a happy & healthy Thanksgiving!
P.S. If you need a reminder, my 7 Tips for a Healthy Thanksgiving post is just a click away!
---