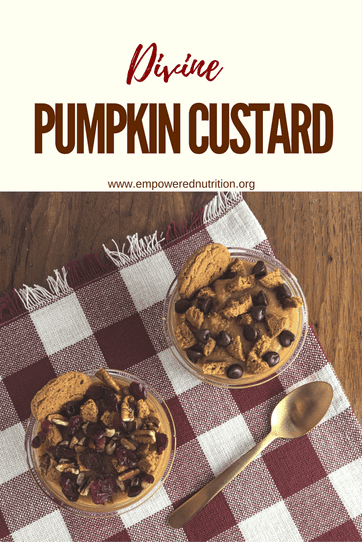 Ingredients:
Sweetened condensed milk substitute*
3 eggs, beaten
1 (15 oz) can pumpkin puree (not pumpkin pie filling!)
1/4 cup pure maple syrup
1 1/2 tsp pumpkin pie spice
splash of vanilla
pinch of salt

Directions:
1. Make sweetened condensed milk substitute.
2. Combine 3 eggs, pumpkin, maple syrup, & spices in a bowl.
3. Add pumpkin mixture to milk mixture, 1 large spoonful at a time; whisking between each spoonful.
4. Return saucepan to medium heat, stirring constantly until custard becomes 160 degrees & bubbly.
5. Remove from heat & place in ice bath to cool quickly.
6. Portion into dishes & top with your favorite toppings – crushed gingersnaps, dried cranberries, pecans, chocolate chips, etc.
*Sweetened Condensed Milk Substitute –
1 egg, beaten
1/4 cup pure maple syrup
3 T cornstarch
2 1/4 cups 1% milk