Enjoy the sweet taste of summer at breakfast with these light and fluffy Strawberry Shortcake Pancakes topped with homemade strawberry sauce!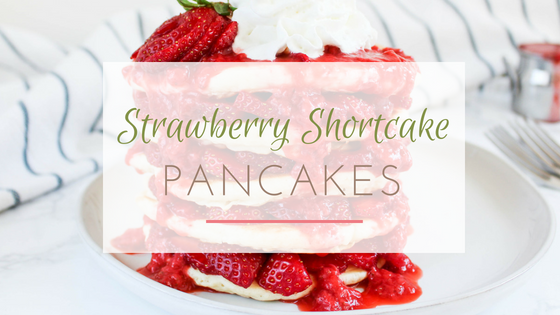 One of my favorite summer time berry desserts has to be strawberry shortcake. I guess first, we should recognize that in my mind there's two kinds of strawberry shortcake – biscuit or angel food cake. Which one are you a fan of? I'm more of an angel food cake fan. There's just something about those fresh, sweet berries paired with light and fluffy angel food cake and whipped cream!
It reminds me of playing outside on hot and sunny summer days, coming inside to eat dinner of hot dogs and burgers on the grill, and finishing the day with sweet shortcakes. That is like the best summer day in my mind! As soon as the weather heats up every year, a wave of nostalgia comes over me and I long for the carefree summer vacation days. This is my first summer of having a real job the whole way through, so it's very different. It helps that I live in a place where it stays warm for much longer than where I grew up, though.​
As soon as the first local strawberries were ready, I knew I wanted to make some type of strawberry shortcake for the blog. I've also really been wanting to add a pancake recipe to my repertoire, so I thought this would be the perfect combo! Light and fluffy pancakes are the perfect accompaniment to fresh strawberries and sweet strawberry sauce. Top it with some whipped cream and it's even better!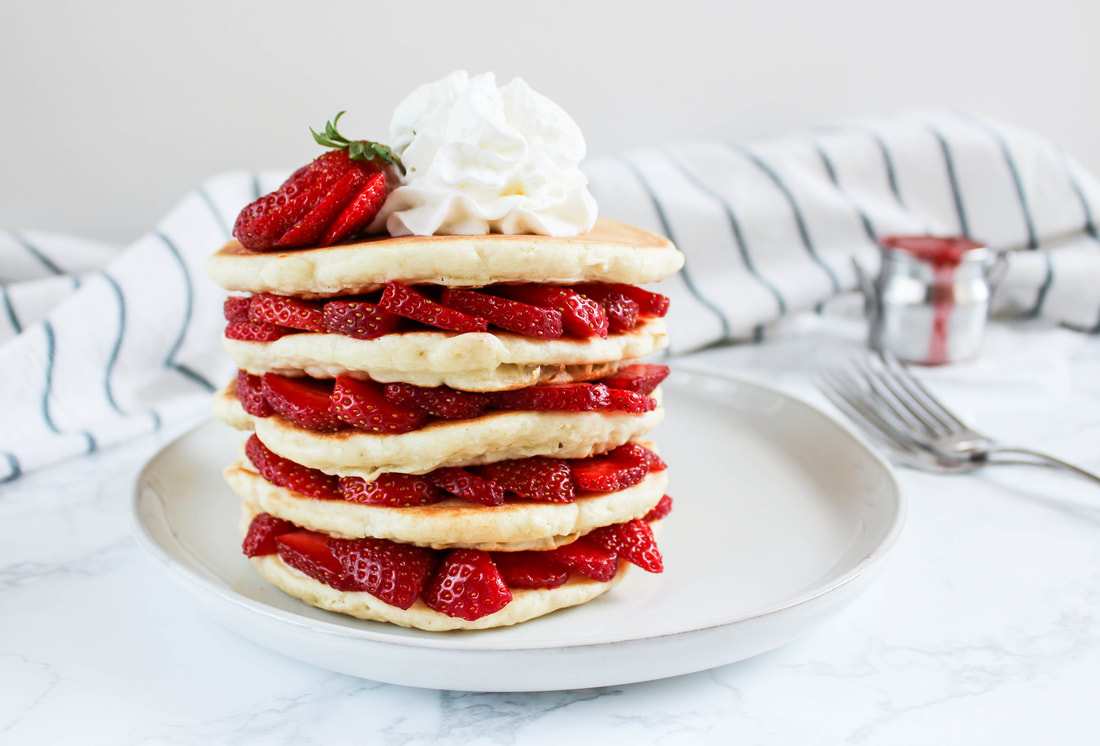 I've been on a mission for a while to make super fluffy pancakes. It took me several tries, but I think I finally found a keeper. The trick I've found is adding a little more baking powder than normal. This helps create thicker, fluffier pancakes that still cook all the way through in the middle. The key is not over mixing the batter. Mix it until it is just combined. There will still be some lumps. Then also letting the batter rest for about 5 minutes. This allows the baking powder to do it's thing and create air bubbles in the mixture.
For this recipe, I made my own strawberry sauce, but if you were in a time crunch you could totally use store bought. I have a jar of strawberry rum sauce that I bought at our local strawberry festival that I really need to break out and try! Give me all the yummy fruit sauces for pancakes! Making my own strawberry sauce was a lot easier than I anticipated. The most tedious part was slicing the strawberries.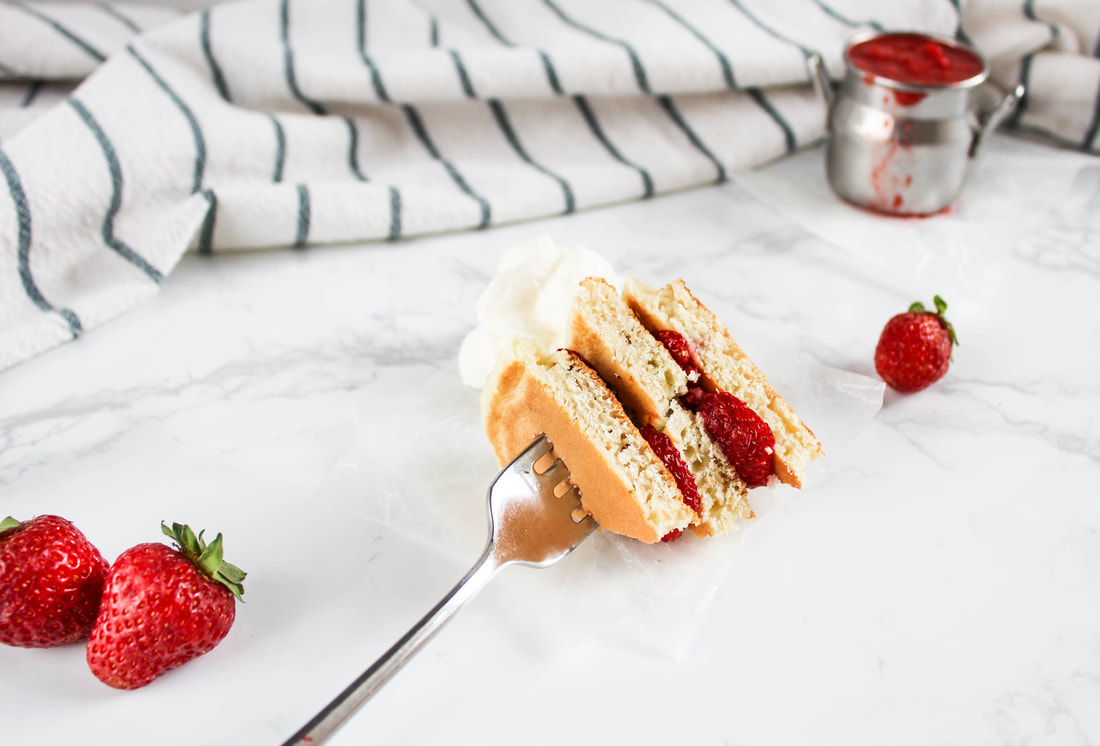 These pancakes make any weekend special. They're pretty enough to serve at a brunch, you could make the sauce ahead of time and use it throughout the week, or the pancakes by themselves are great for enjoying with classic butter and syrup. They definitely throw it back to those yummy shortcake days and put a fun twist on breakfast!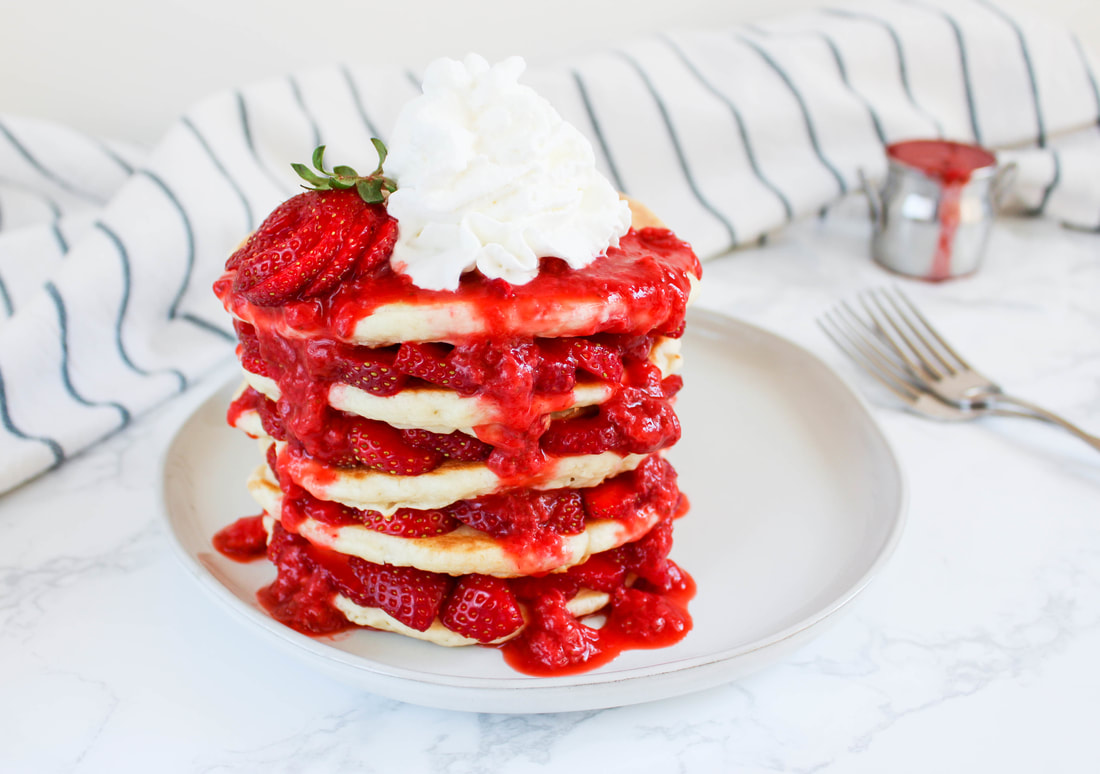 ---
Strawberry Shortcake Pancakes
Ingredients:
Pancakes:
1 cup flour

1 tablespoon baking powder

1 tablespoon sugar

¼ tsp salt

1 cup 2% milk

2 eggs

1 tablespoon vegetable oil

Splash of almond extract
Strawberry Sauce:
2 cups sliced strawberries

1 tablespoon honey

½ cup water

1 teaspoon fresh lemon juice

1 tablespoon cornstarch + 1 tablespoon cold water
Garnish:
Fresh strawberry slices

Whipped cream
Directions:
For the pancakes, combine the dry ingredients in a bowl with a whisk. In a separate bowl, add the wet ingredients and whisk thoroughly to combine. Add the dry ingredients to the wet ingredients and whisk until just combined. Let the batter sit for about 5 minutes.

Using a ¼ cup measuring cup, spoon the batter onto a hot, greased skillet. Cook for about 4 minutes on one side, flip, and cook for an additional 2-3 minutes on the other side.

For the sauce, combine the strawberries through lemon juice in a small saucepan. Cook over medium heat, for about 15 minutes, until the strawberries start breaking down. Stir often. Mash the strawberries with the back of a wooden spoon. Mix the cornstarch and cold water together. Add to the sauce, stirring constantly, and cook until thickened, a few minutes more. The sauce will continue to thicken as it cools.

To assemble, layer the pancakes with sliced strawberries and top with the sauce and whipped cream.
Makes about 8 pancakes
Notes: there will be extra strawberry sauce, which you can keep in the fridge up to 5 days. Other ideas for using up the sauce are in oatmeal or on top of yogurt.
---