This fresh, Mediterranean salad comes together in minutes and is just as flavorful as it is customizable.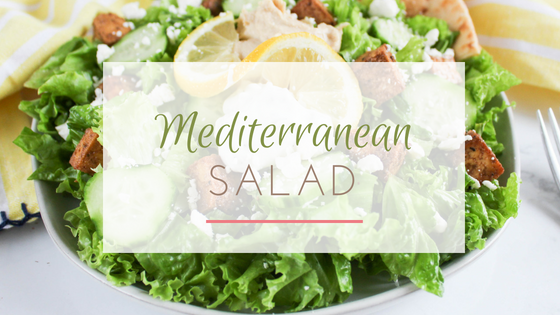 Lately I'm all about making meals as quick as possible. As soon as the weather gets nice, I want to spend less time on dinner and more time being able to be outside. I also tend to crave fresh foods like salads, smoothies, sandwiches more when it's warm outside. Since it's National Salad Month, I figured I'd throw together a quick salad recipe for the blog before the month was over.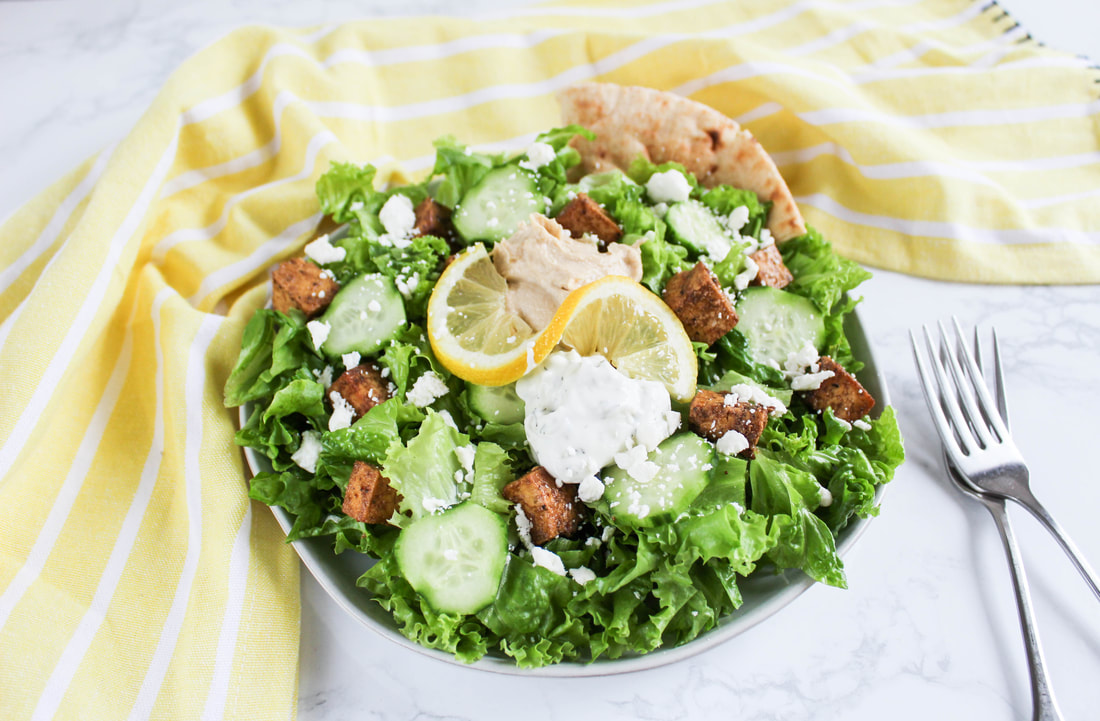 I've been really loving Mediterranean flavors lately due to CAVA opening up near my apartment a couple months ago. It's so fresh and flavorful! I've also been obsessed with tofu since we serve it almost every day in the dining halls at work. It's great to not have to prepare it myself because I think it can be a little intimidating. I've honestly never prepared it myself! When I heard about
Nasoya's
new
Toss'ables
tofu, I knew I had to give them a try because they are all ready to go. Toss'ables are seasoned, baked, and ready to serve making them perfect for throwing on top of salads or in grain bowls. Combining these two things I've been loving lately to create a spring salad, was a no brainer.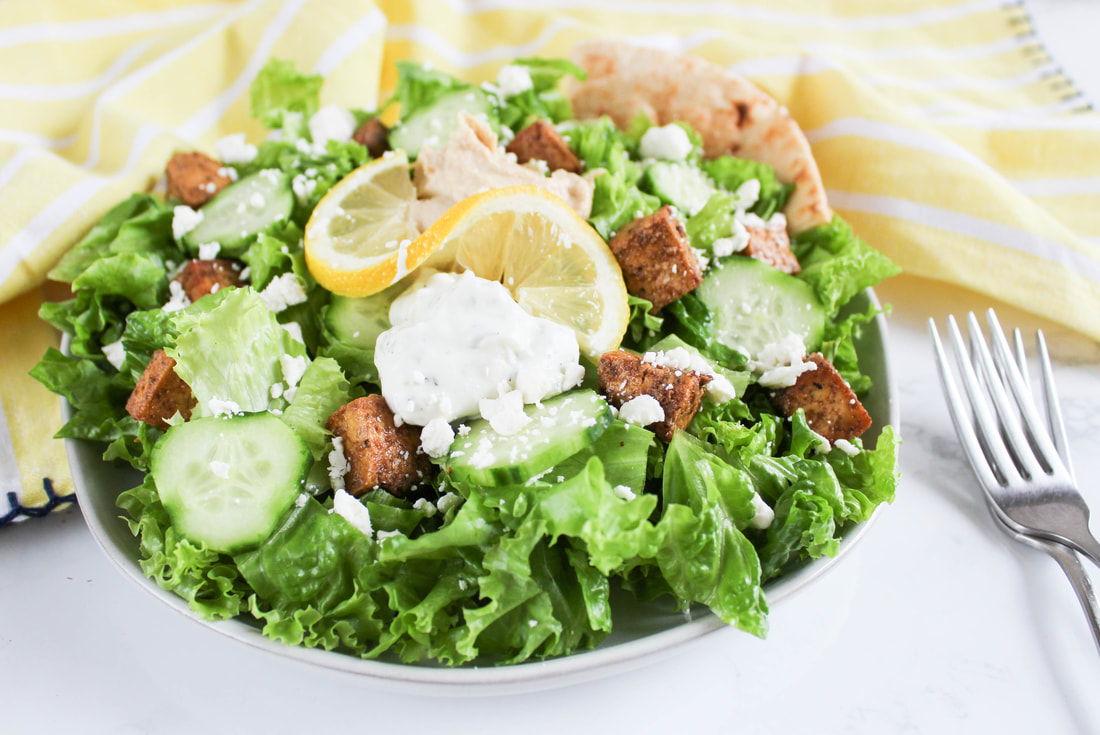 This salad takes minutes to throw together, is filled with fresh flavors, and thanks to the plant protein coming from the tofu, it fills you up. For me to actually enjoy eating a salad, I need lots of toppings on it. It's taken me years to actually like eating salad (ironic, I know) and even now, I really have to be in the mood to eat a salad for a meal. Even when I do have it for a meal, I need other things on the side, as well. Salads just don't fill me up for long. By topping this salad with tofu, it actually felt like a meal and added a nice texture contrast to the crisp lettuce.
This salad is really customizable, you can add extra toppings like olives, tomatoes, or other Greek flavors. You could use any flavor of hummus you prefer. I like creating recipes like this that serve as a basis, but open to adding and making your own depending on your preferences. I'd love to hear your favorite salad toppings below!
This post is my entry for a contest with Nasoya. This is not sponsored. All options are my own.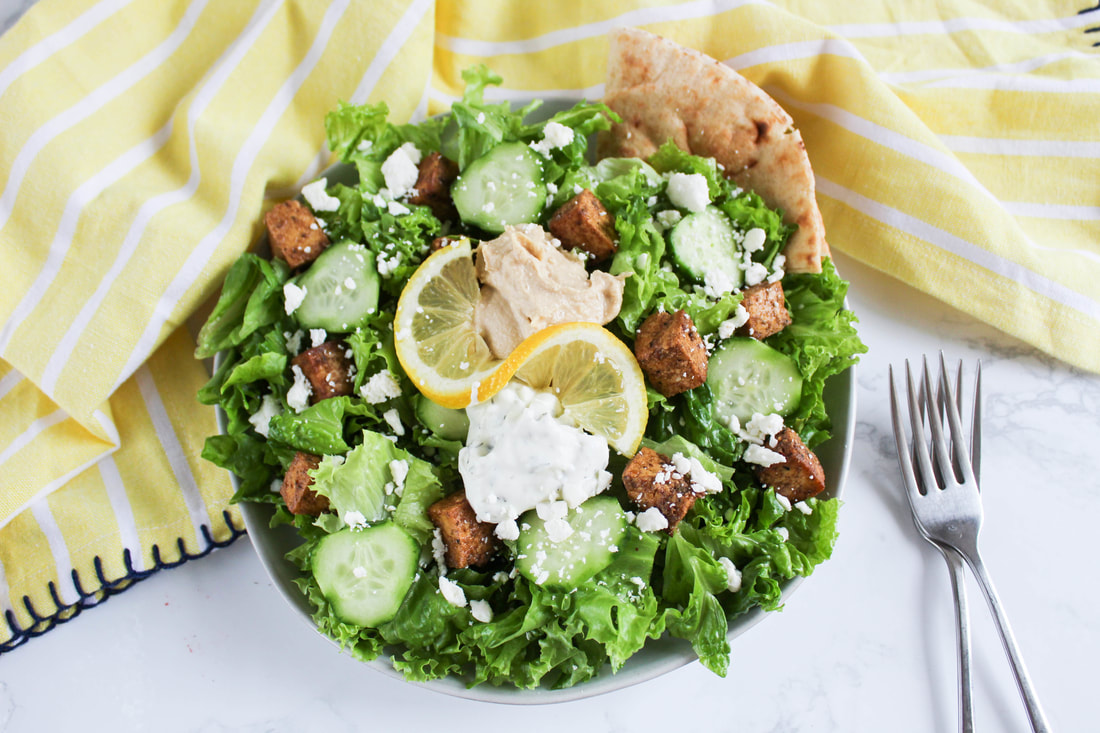 ---
Five Minute Mediterranean Salad
Ingredients:
2 cups chopped green leaf lettuce
½ bag of balsamic vinaigrette Toss'ables tofu
¼ cup sliced cucumbers
2 tablespoons tzatziki
2 tablespoons garlic hummus
Feta cheese
Pita
Directions:
Wash and dry chopped lettuce. Place on plate.
Top with Toss'ables, cucumbers, tzatziki, and hummus. Garnish with feta cheese and serve with a pita on the side.
Makes 1 salad
---