Follow along on my trip to a North Carolina pig farm where I met the farmers, experienced first-hand how a pig farm is operated, and learned about animal welfare and sustainability in the pork industry.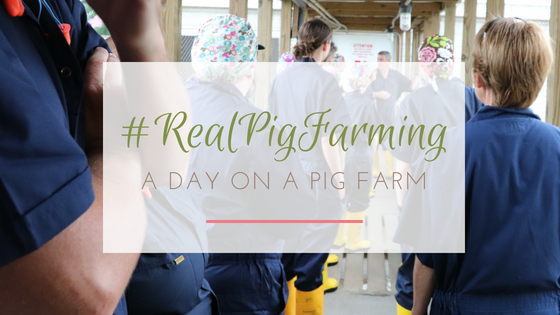 Disclosure: I attended the 2018 RD Farm Tour with the National Pork Board and Smithfield. My travel and accommodations were paid. I did not receive additional compensation and I was not compensated to write this post. All opinions are my own and do not necessarily reflect the views of the National Pork Board or Smithfield.
As you may know, I grew up in a very small, rural farm town in Upstate New York. A lot of my classmates had family farms and I got to experience quite bit about dairy farming first-hand. I've helped feed cows, bail hay, clean stalls, but most importantly I've seen the pride these small town farmers had that comes from raising animals to help feed our country. So when I was given the opportunity to tour a
Smithfield
pig farm in Eastern NC, I knew I had to go! I honestly didn't know a lot about other avenues of farming and couldn't pass up the opportunity to learn and see with my own eyes how pigs are raised.
The other reason I jumped at the chance to go is that there are so many myths about large-scale farming and a lot of confusion with the food industry. I strongly believe that as a dietitian, one of my main purposes is to bridge the gap between the farmers, the food industry, and the consumer. To be honest, previous to attending this tour, I was a little skeptical of indoor pig farming. I wondered how it measured up to raising pigs outdoors, where in my mind (previously) there is much more room for pigs to be, well, pigs! So, here's a little bit about what I learned on my tour with the National Pork Board, NC Pork Council, National Pork Producers Council (NPPC), and Smithfield.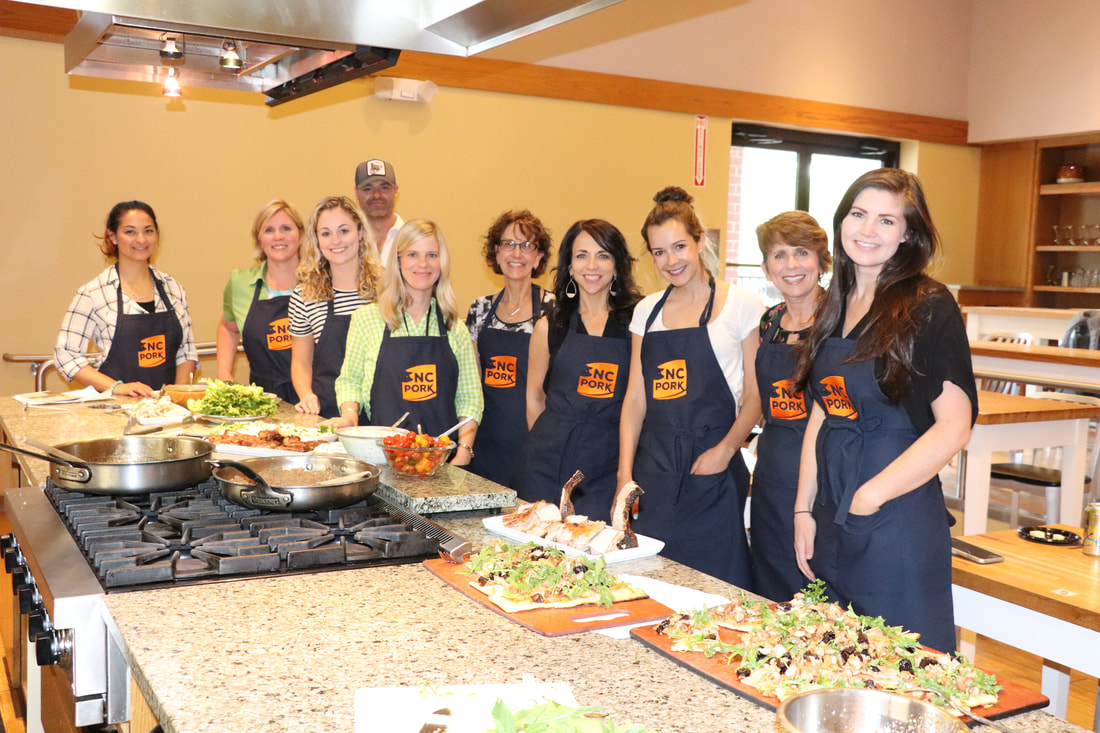 Indoor pig farming gets an unnecessary bad rap

When driving down the backroads of Eastern NC, you see a lot of farms with big barns that clearly hold a lot of animals. At first glance, it's easy to pass these off as "factory farms," but after visiting Southern Pines 8000 in Garland, this is not what you see on those scary Netflix documentaries. The farm was very clean (it's a working farm so take that as you will) and never once did I feel the animals looked stressed out or confined or scared of people. It was very clear that the farmers truly care about the well-being of their pigs and they become like family to them. After speaking with the farm managers, I realized how much thought and research goes into why these farms do certain things. There are cooling systems in place to keep the pigs comfortable and the pigs have access to water at all times. And while it may be thought that indoor farming is too confining, the piglets are housed with their mothers for 21 days, until weaned. Then they move to the nursery for 6-8 weeks and finally the finishing barn for 16-17 weeks, until they reach market weight of 280 lbs. From wean to finish, the pigs are housed in group housing where they have plenty of space to walk around, lay down, have access to food, and play with their "herd." During a sow's pregnancy, which lasts about 114 days, they are housed in group housing for the majority of gestation, except for the first 35 days of their pregnancy when they are at high risk for injuring the litter and the 3 weeks of wean time after birth.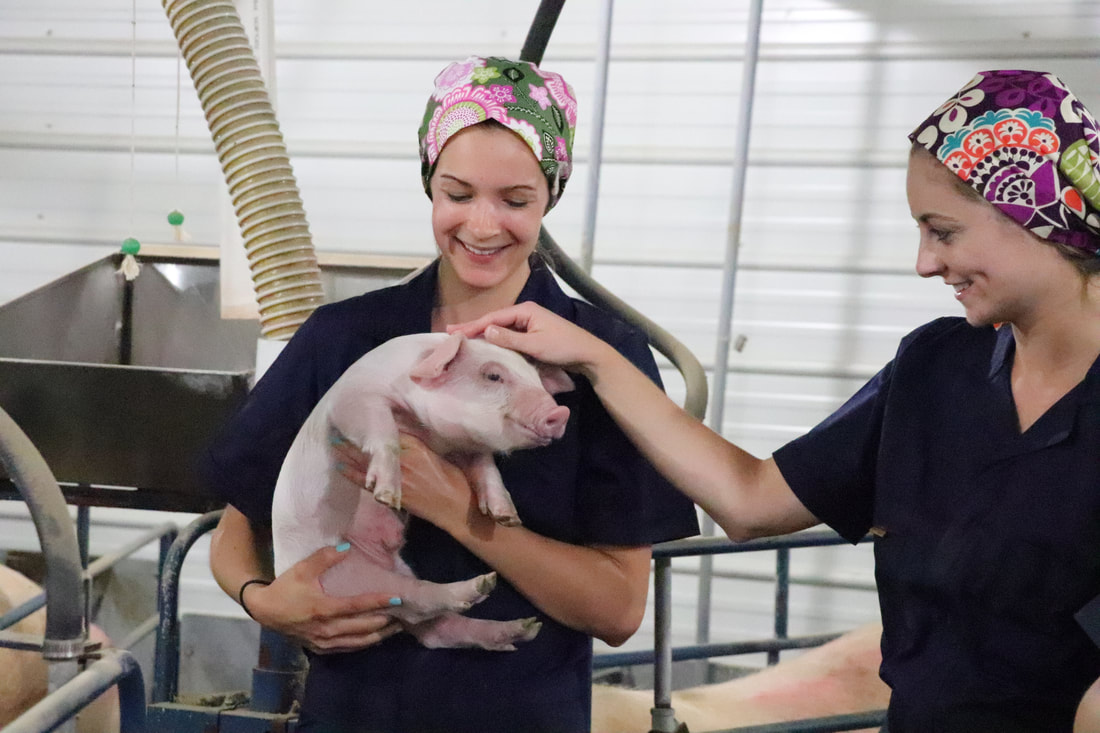 Often times pasture-raising hogs can get romanticized in being in the only option to raise a pig humanely and sustainably. And pasture-raised pigs was a thought I could get behind. But after visiting the farm and meeting the farmers, my horizons have definitely been broadened. Pigs are naturally "rooting" animals. Their noses are made for digging and they will tear s**t up! This can cause a lot of damage and erosion to the land if they aren't properly pastured. Pigs are also very susceptible to sunburn, which we know is never any fun! By raising pigs indoors, you can avoid these issues, as well as improve food safety. Trichinosis is a foodborne illness associated with undercooked pork. It is caused by a parasite that is found in the soil, which pigs ingest when raised outdoors.
So I'm not saying one way of pig farming is better than the other. We met farmers who have raised pigs both indoors and outdoors throughout their career. I think there is room for both in our food industry and that we actually need both types of farming for the pork industry to survive. But, I have to say that the pigs that are being raised indoors are being treated just as well as any other pig outdoors.
There is no hormone use…ever
Packaging in the grocery store is very misleading when it comes to pork and poultry, actually. The package often says "no hormones added" or something along those lines, which seems to imply that other packages of pork or poultry have hormones added to them? This is false. Hormones are not allowed in raising pigs and poultry. Those "no hormone" packaging claims are just an unfortunately misleading marketing tactic. If you read the fine print on the package you will see the statement, "
federal regulations prohibit the use of hormones
."
Antibiotics are also used very sparingly when raising pigs. One of the vets on the tour with us described the process behind giving pigs antibiotics and it's very labor intensive with strict record keeping regulations. The vet has to fill out a veterinary feed directive, which has the length of antibiotic course, dosage, withdrawal time, which pigs are receiving the medicine, and more. They're definitely not just giving antibiotics willy-nilly. The only reason antibiotics will be used are to treat an illness when a pig gets sick, to control the spread of illness in neighboring pigs, and to prevent illness in specific times of vulnerability. I like to think of antibiotic use in animals as I do in humans – we try doing everything we can first before going to the doctor to be prescribed a medication when we are sick, and this philosophy is applied to pigs, as well.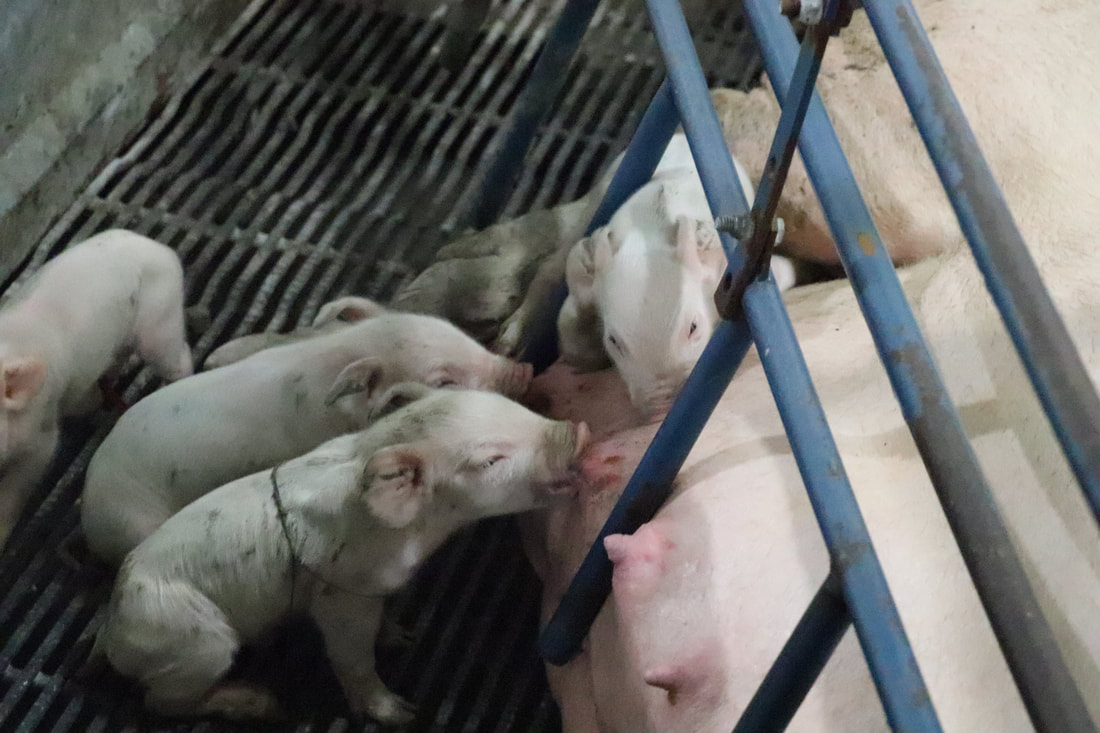 Animal welfare and sustainability are top of mind
I never quite realized just how similar the anatomy of humans and swine are. This is why biosecurity is so important when it comes to raising pork. There is a strict shower in, shower out policy in all barns that everyone must follow. We had to take a full shower upon arrival at the barn, change into clean coveralls and boots, and then shower again before leaving the barn. This is not only to protect the pigs, but also ourselves and other people due to that extreme similarity between us.
We also learned about the We Care initiative, which is a joint effort between the National Pork Board and NPPC, as well as state organizations. It promotes practicing farming in a responsible way. The initiative encourages the farmers to always use best practices when raising their pigs and it's also a promise to the public that our country's pig farmers are committed to responsible and ethical animal agriculture.
Pig farming is also very sustainability focused. Manure from pig farms is moved to a lagoon where it is broken down and used as fertilizer on neighboring farms' crops. Those crops are then harvested to help feed the pigs, so it's a great sustainable circle. At dinner, I was chatting with Jan Archer, who uses her pigs' manure to fertilize the hay they also grow on the farm. That hay gets sold to the goat farm down the road, who make goat cheese, and repurpose the whey for food for Jan's pigs. Another sustainable practice is that the pork industry utilizes the whole pig during processing. The parts of the pig that are not popular here in America get shipped to countries, like Mexico and China.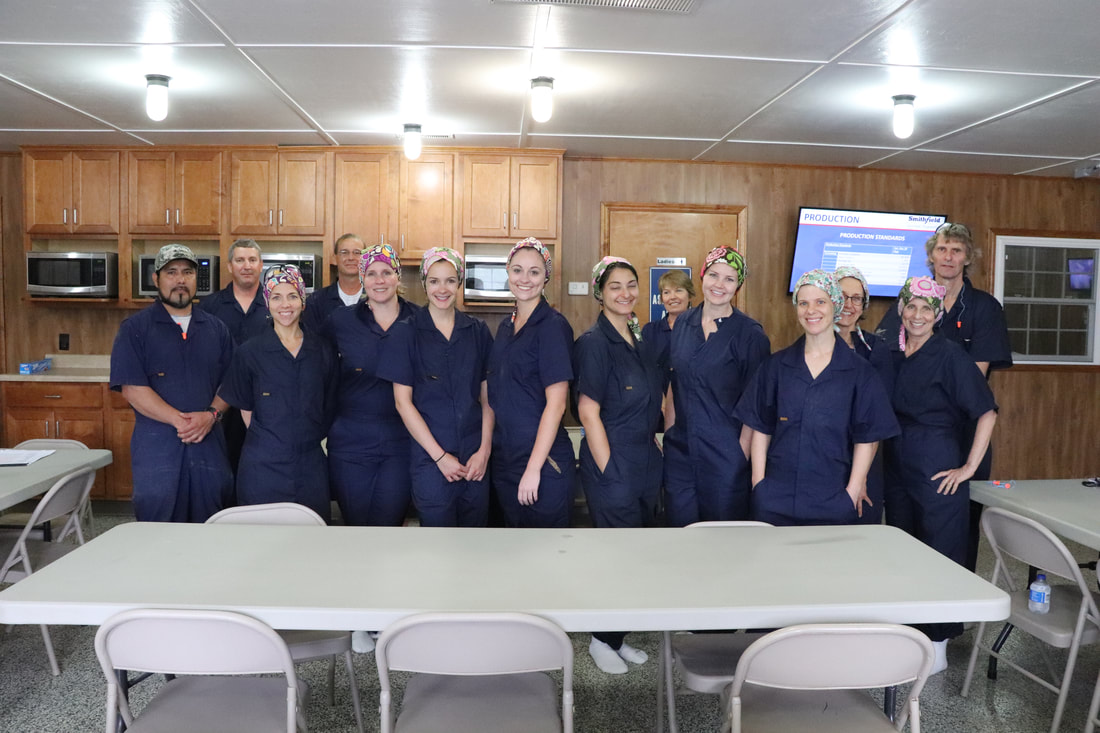 It was a whirlwind of a trip, but it was such a great learning experience! Not only did I get to connect with amazing dietitians, but I can now confidently support commercial pig farming, the safety and quality of the pork I'm buying, and all the benefits it brings to our food industry and local North Carolina economy. The pork industry employs 46,000 people in North Carolina and more than 80% of hog farms are locally owned and operated by North Carolina families. These farmers take great pride in their work and truly care about the wellbeing of their animals and the impact they make on so many hungry people across the country.
---