A simple, fall flavored pumpkin cornbread recipe topped with whipped maple butter. This twist on a Southern classic can be perfectly paired with homemade soups and chili this fall season.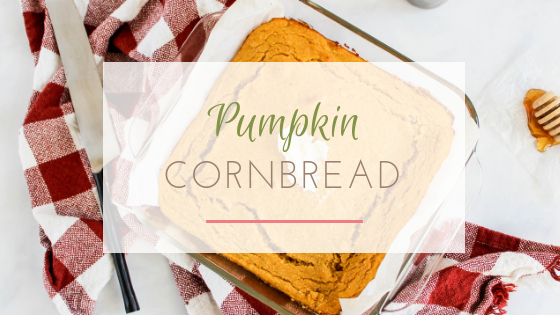 Now that the weather is finally agreeing that it actually is fall (it's the end of October!), I finally feel like it's time to start breaking out the pumpkin! I have to admit, pumpkin spice lattes are not my thing. I know, gasp! I just can't get behind them. Give me a plain old vanilla latte and I'm good. I do like pumpkin desserts though. Pumpkin bread, pumpkin chocolate chip cookies, pumpkin cheesecake…yum! I've never really gotten into or tried making savory pumpkin dishes though. This month's the ladies of The Recipe Redux challenged us to make something fresh from the pumpkin patch. They encouraged us to think past pumpkin spice everything, which I really enjoyed!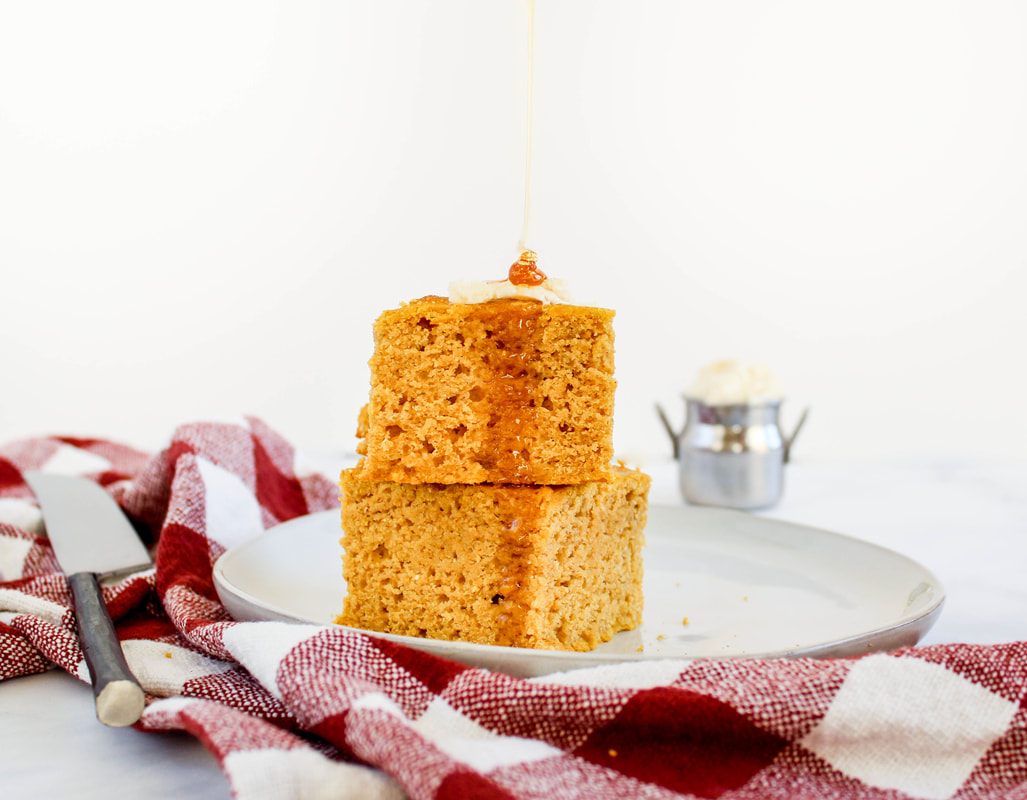 You can probably tell from the other recipes on my site, I gravitate towards baking and breakfast food. They're just two things I really love, so it's fun to come up with those kinds of recipes. So to come up with a recipe that wasn't pumpkin spiced was hard, because my first instinct was to bake something. Then it came to me – pumpkin cornbread.

Now this pumpkin cornbread is not in-your-face pumpkin, but that's what I think the cool thing is (and the purpose of this challenge) – pumpkin is more than just an accompaniment to warm fall spices. Pumpkin adds great moisture, can be used as an ingredient substitute (mainly for eggs or fat), and packs a whole lot of nutrition. Plus, soup and chili season is here which means we need a new cornbread recipe to add to our arsenal.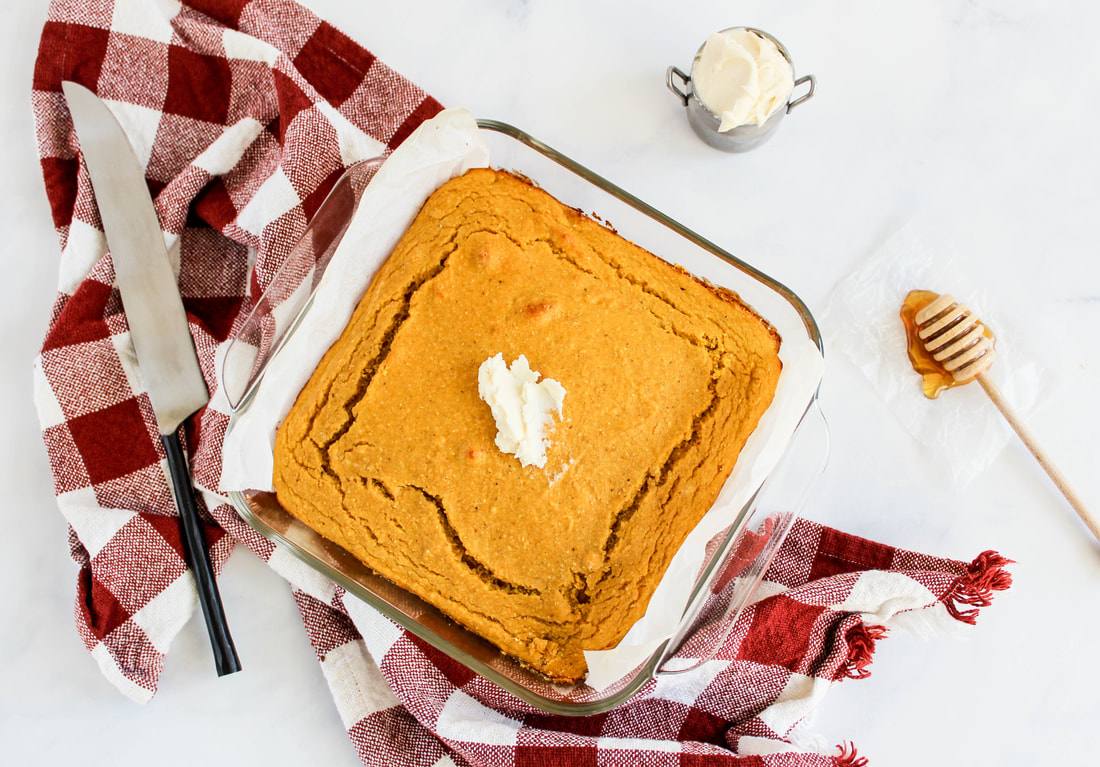 I've really been wanting to add a cornbread recipe to my site since moving to the South. But I've honestly been intimidated by it. Cornbread is taken so seriously here and I didn't want to mess it up. This pumpkin cornbread is a winner! Also, there is this great debate about whether you add sugar to your cornbread or not? I think it's a regional thing, but I don't really know because we didn't grow up eating cornbread.

So do you add sugar to your cornbread, or not?!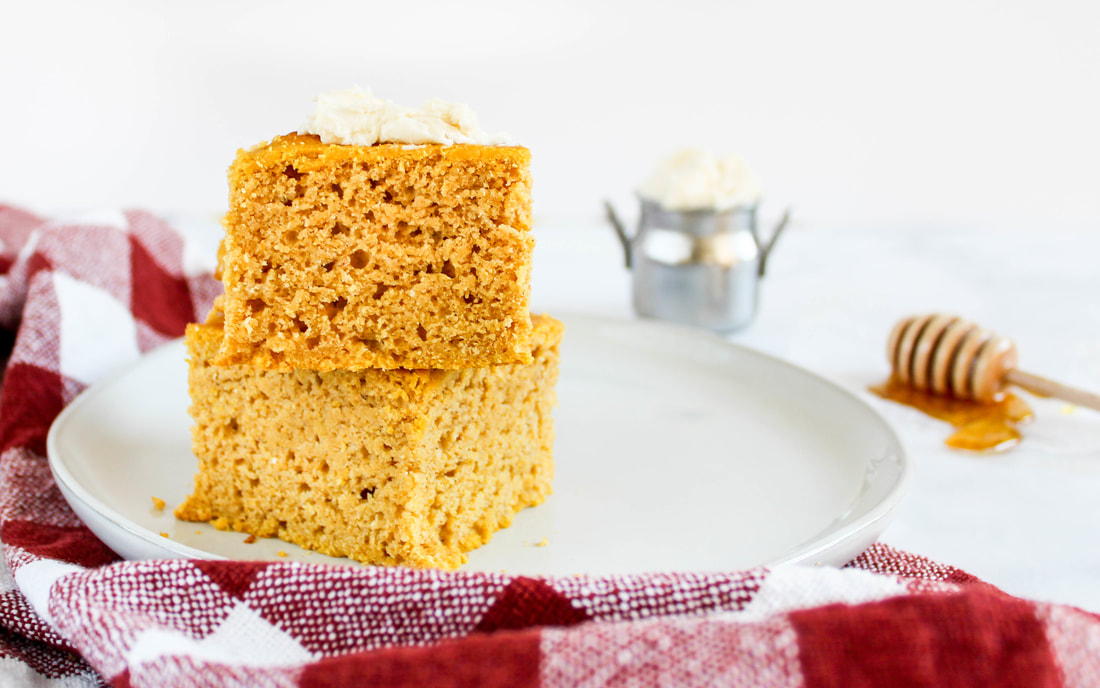 The best part about this cornbread is the whipped maple butter that I made to put on top. It's literally the bomb! I want to put it on everything! Plus, it's so simple – just butter, milk, and maple syrup. Now I want to make allllll the whipped, flavored butters.
Have you ever made your own butter to slather on top of all the things?
Check out more fresh from the pumpkin patch recipes below.
---
Pumpkin Cornbread with Whipped Maple Butter
For the Cornbread
Ingredients:
1 cup yellow cornmeal
1 cup white whole wheat flour
1 teaspoon salt
1 tablespoon baking powder
1 egg
¼ cup pumpkin puree
1 ¼ cup milk
2 tablespoons honey
Directions:
Preheat the oven to 425 degrees. Line an 8 x 8-inch baking pan with parchment paper.
In a large bowl, combine cornmeal, flour, salt, and baking powder. In a medium bowl, whisk together the rest of the wet ingredients.
Make a well in the dry ingredients and add the wet ingredients to the center of the well. Mix with spatula until just combined. Do not overmix.
Pour batter into the square baking pan. Bake for 20-25 minutes, until a toothpick inserted in the center comes out clean.
Serve warm with whipped maple butter and a drizzle of honey. Store covered in the refrigerator.
For the Whipped Maple Butter
Ingredients:
1 stick salted butter, softened
2 tablespoons whole milk
2 tablespoons pure maple syrup
Directions:
Place all ingredients into a mixing bowl and whip with a hand held mixer or stand mixer until light and fluffy.
Store in the refrigerator. Let butter soften to room temperature before using.
---