Calling all donut lovers! This Apple Cider Donut Bread combines your fresh cider and fall spices with the ease of a quickbread.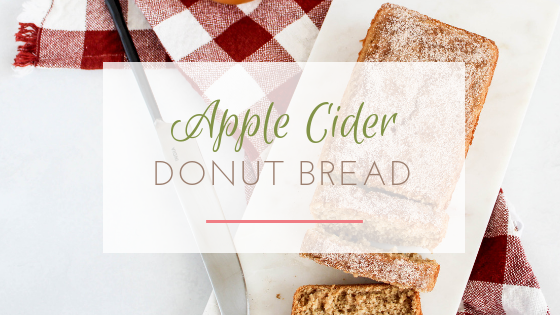 I'm sitting here wrapped in a blanket on this chilly fall day, super excited for what I just created in my kitchen. For some reason this fall, I've had a really strong craving for apple cider donuts. Every weekend, we seem to have other things going on and we don't make it to an orchard that has donuts, as well. I was struck with a brilliant idea, that I could make apple cider donuts into a quickbread form and it would be glorious! I could finally get my apple cider donut fix and also bake more. Win-win!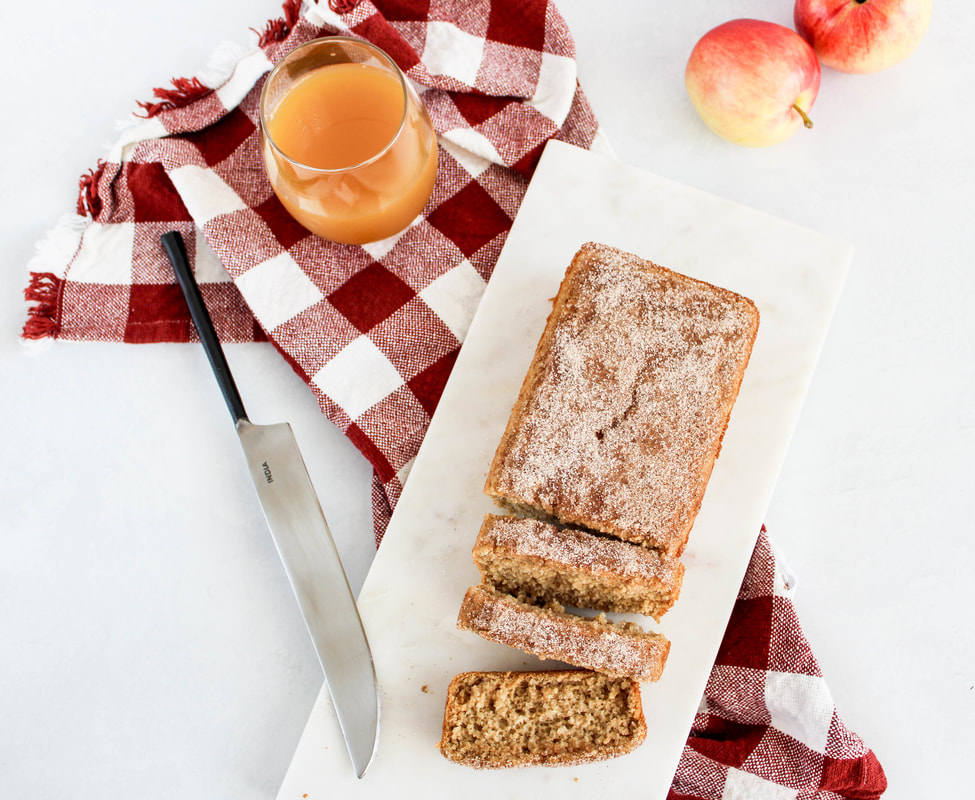 Since apple cider donuts have that cake-like basis, I knew that they could perfectly transform into a bread and I wanted to play around with some
Simple Mills
products. I tried their products for the first time at FNCE last month and fell in love with the quality, taste, and mission behind the woman-owned company. Their pancake and waffle mix came in clutch for this recipe. The almond flour gave the bread a nice texture and I love the simple, real ingredients of their pancake mix. While I don't eat gluten-free, I like trying new products that come out so I know firsthand the types of products that are available for those who need to.
After sifting through some traditional apple cider donut recipes, I came up with a good base to give that cake-like texture, found the typical spices, and discovered reducing the apple cider will help really get that apple cider flavor (go figure!). The apple cider also makes the bread moist without being too dense. Then that literal sugar on top – the cinnamon sugar coating really takes this bread to the next level.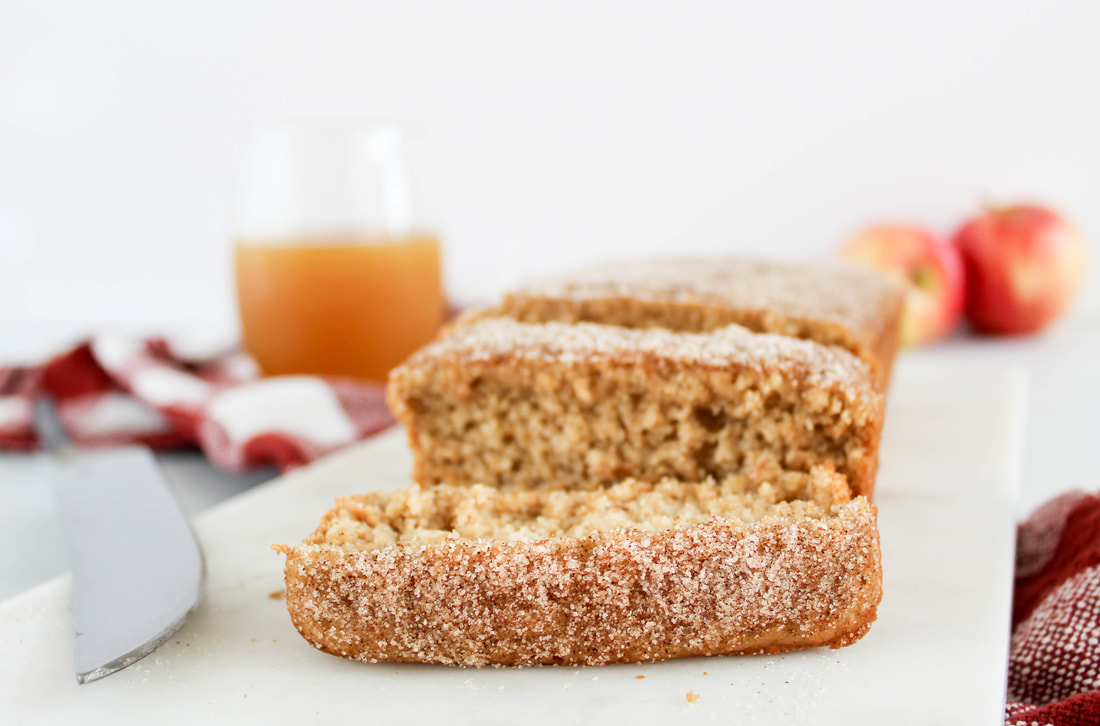 ​You've probably noticed a theme, that I love when baking season rolls around every year. There's just something so comforting when I'm in the kitchen, have fall candles burning, and end up with something super tasty. I love quickbreads like this because they are super easy to make, can be a simple snack or part of breakfast, or you can dress them up a little bit to make them more of a dessert. That's my kind of a baked good!

Now that it's finally getting chilly here in NC, this bread is definitely going to be made a bunch more. It really came out spot on. This would be perfect for football Sundays, Thanksgiving morning, or just any regular day. The other great thing is that it's super easy to make, so you can get in and out of the kitchen and back to cuddling on the couch in your blankets!

What's your favorite fall baked good to either enjoy or make yourself?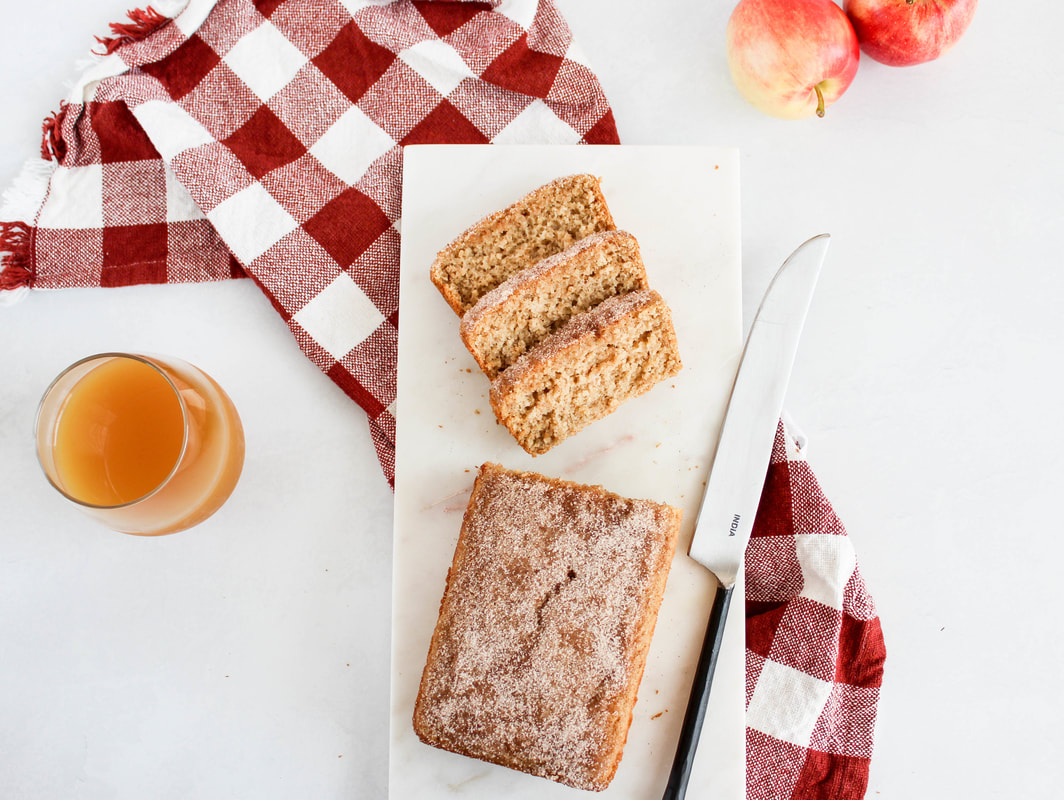 ---
Ingredients:
1 ¼ cup apple cider
¾ cup oat flour
3 Tbsp brown sugar
1 ½ tsp baking powder
¼ tsp baking soda
¼ tsp salt
¼ tsp each: cinnamon, nutmeg, cardamom, allspice
1 egg
2 Tbsp butter, melted
Topping:
1 tsp melted butter
2 Tbsp white sugar
½ tsp cinnamon

Directions:
Preheat oven to 350 degrees.
Bring apple cider to a boil over high heat and reduce for about 12 minutes. Let cool.
Meanwhile, combine dry ingredients in a medium bowl. Combine egg, butter, and cooled apple cider in a small bowl.
Make a well in the dry ingredients and add in the wet. Mix until just combined.
Pour into a greased bread pan and bake for 25-30 minutes, until toothpick comes out clean.
Brush melted butter on top of bread and coat with cinnamon-sugar mixture. Slice & serve warm.
*Notes: May sub in different brand of pancake mix. Choose one that requires addition of egg, oil, and liquid.
---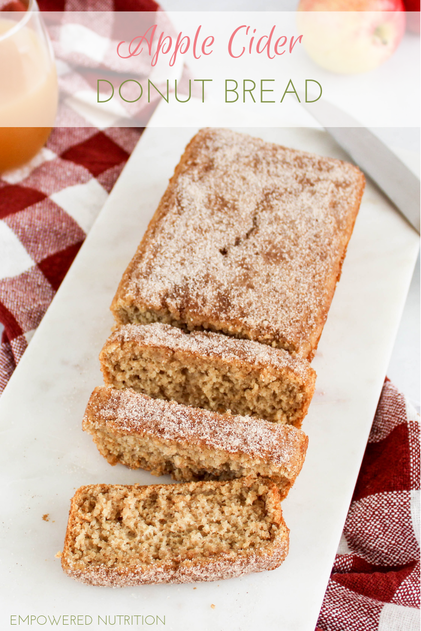 Original post published 11/11/2017.
​This post was not sponsored. All opinions are my own.