A quick and easy sheet pan meal for those busy Fall nights. Sweet cider glaze over tender chicken thighs with crispy roasted sweet potatoes and green beans.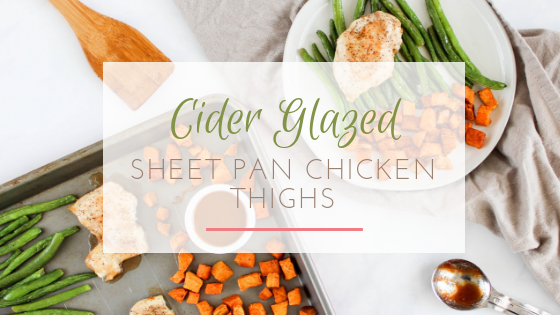 Once fall hits, I seem to get apple cider obsessed! I just want to put cider in everything! I love how versatile the flavors of apple cider can be. You can put it in smoothies, baked goods, and also make it savory, too.

I feel like when I think of things that are cider-glazed, I typically think of pork. Apples and pork just go together. I wanted to mix it up and make a glaze to go over chicken. I'm usually more of a chicken breast fan, but when I'm looking to save a little money thighs are a great option. I also wanted to add some easy and quick dinner recipes to the blog, so a sheet pan meal just made sense! I'm all about very little clean up and using less dishes to make a meal. To make this sheet pan meal even easier to clean up, line the baking sheet with tin foil.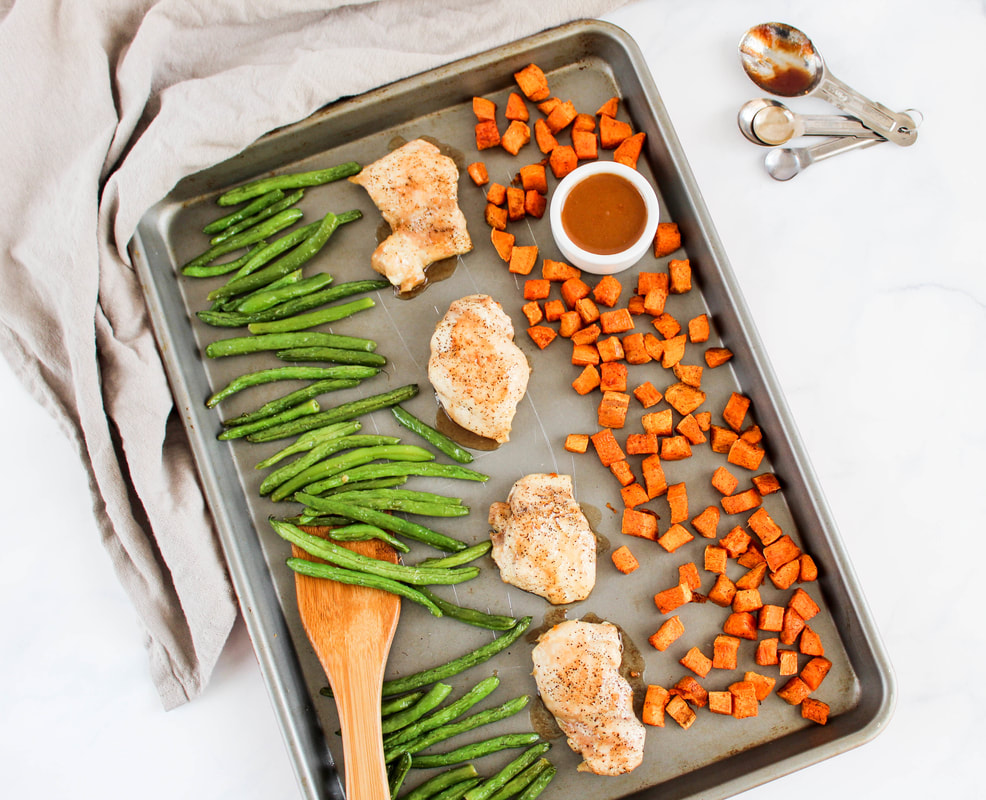 To accompany my cider glazed chicken thighs, I used sweet potatoes and green beans. The best part of sheet pan meals like these is that you can totally customize them. You could use broccoli or any type of winter squash or zucchini or white potatoes. There's so many options that you could do based on what you have on hand or what you and your family prefer. You could also serve this with rice or pasta, if that's what you're feeling.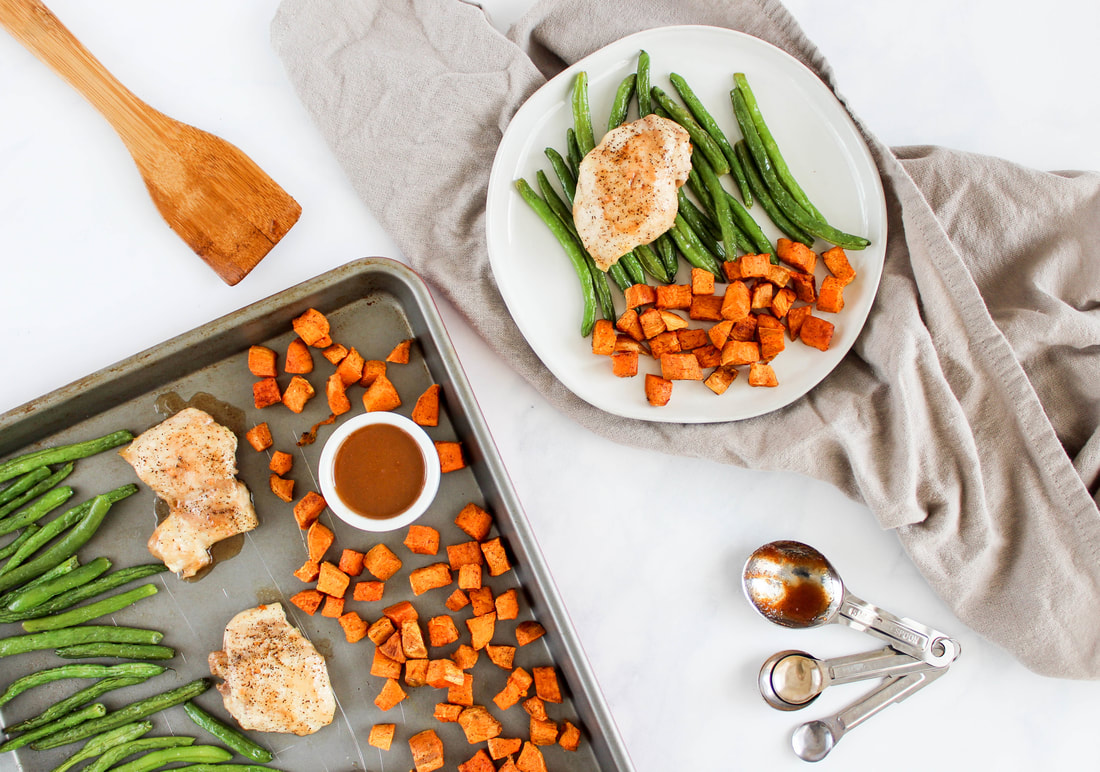 Another reason I like sheet pan meals like this is because you can prep everything and do other stuff while its baking. Also, if you have a smaller family you can get more than one meal out of this. Cook once and eat twice is the best! You could also make this on Sunday night and take it for lunch throughout the week. So many options!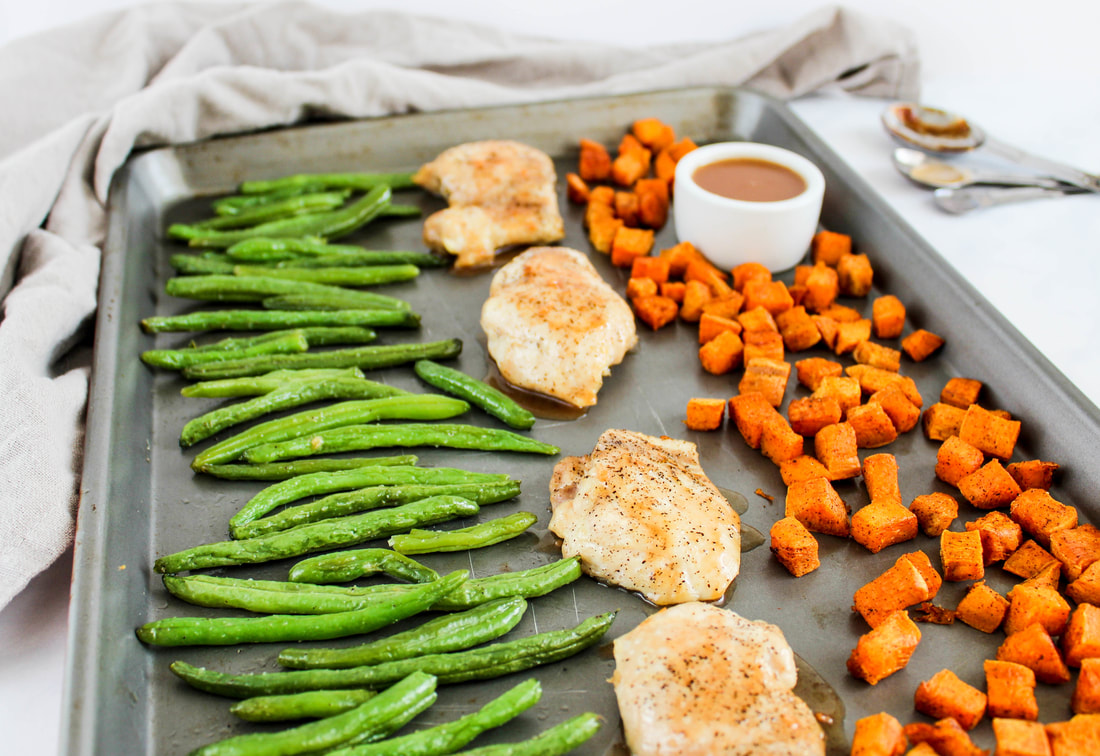 This sheet pan meal is super easy and filled with fall flavor. Why do you like sheet pan meals?
Cider Glazed Sheet Pan Chicken Thighs
Ingredients:
4 chicken thighs
1 large sweet potato, peeled and cubed
2 large handfuls of green beans
Olive oil
Salt and pepper
½ tsp garlic powder
1 teaspoon cinnamon, divided
1 ¼ cup apple cider
1 tablespoon minced garlic
Directions:
Preheat the oven to 375 degrees. Line a sheet pan with tin foil for easy clean up.
Start your glaze by placing the apple cider, minced garlic, and remaining ½ teaspoon of cinnamon in a small saucepan over medium-high heat. Bring to a boil. Stir occasionally while the sheet pan meal is baking.
Meanwhile, season the chicken thighs with a drizzle of olive oil and salt and pepper. Place down the center of the sheet pan.
Season the sweet potato cubes with a drizzle of olive oil and ½ teaspoon of cinnamon. Spread in a single layer on one side of the chicken.
Season the green beans with a drizzle of olive oil and ½ tsp of garlic powder. Set green beans aside.
Put the sheet pan with the chicken and potatoes in the oven for about 10 minutes. Remove sheet pan from oven and spread green beans in a single layer on one the other side of the chicken. Bake for an additional 20 minutes, until the chicken reaches an internal temperature of 165 degrees and the sweet potatoes and green beans are cooked through.
Spoon the cider glaze over top of the chicken and return to the oven for about 5 minutes, until the glaze becomes a nice, golden brown color. Serve immediately.
---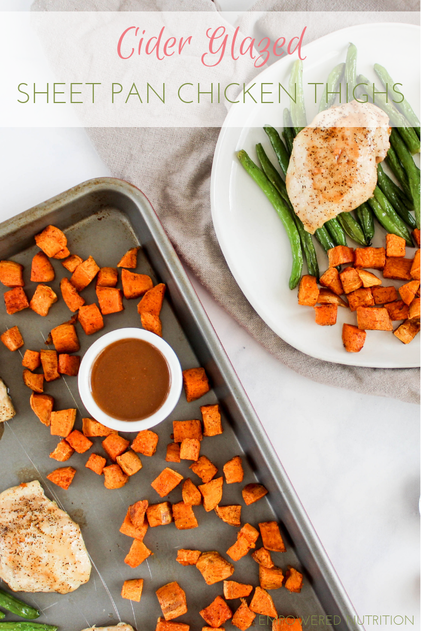 ---