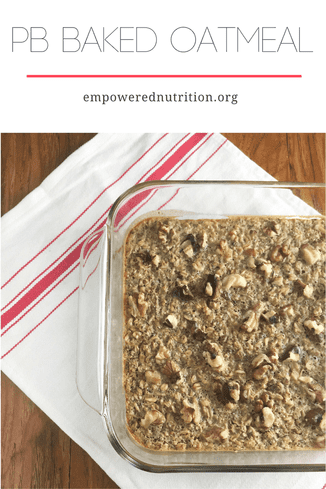 Ingredients:
1/4 cup rolled oats
1/4 cup hemp seeds
1/4 cup ground flaxseed
2 T chia seeds
1 egg
1/4 cup peanut butter (or other nut butter)
1 T coconut oil, melted
1/4 cup maple syrup
1 tsp vanilla
dash of pumpkin pie spice
pinch of salt
1 cup 1% milk (or milk alternative)
Walnuts

Directions:
Preheat oven to 350 degrees.
Mix wet ingredients, egg through vanilla in a bowl.
Add oats, hemp seeds, flaxseed, chia seeds, & spices until well combined.
Add milk to the mixture & combine. Pour into 8″ x 8″ pan. Sprinkle walnuts on top.
Bake for 30-35 minutes, until middle is set.
Serve warm or reheat slices throughout the week with your favorite toppings!