New Year's Eve is right around the corner, which means it's time to party plan! We can still indulge in the holiday with these 7 better-for-you cocktails. Mix these easy drinks up & get your party started!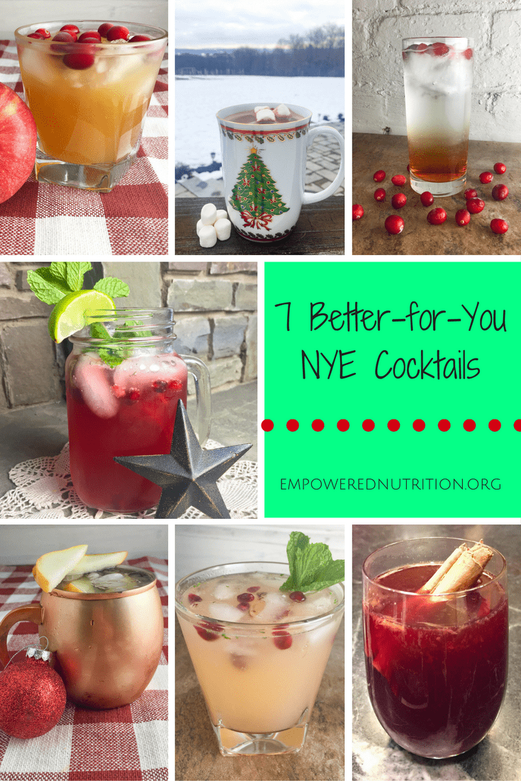 I'm so excited to let you know that this blog post is based off my guest post for Stone Soup Blog, which is live on the Food & Nutrition Magazine's website now! Check it out!
With the holiday season in full swing, its time to start thinking about what drinks you're going to serve (or request) this New Year's Eve. The New Year is one of my favorite times because it signifies a new beginning and there's tons of opportunity just waiting for us!
While I love a delicious mixed drink to celebrate special occasions, a lot of them can be filled with sugary syrups, drink mixes, and become high calorie concoctions. I have some simple tips on making your cocktails better for you this holiday season.
Use 100% juice to add natural sugars and flavors to your drinks. The number one juice to be wary of is cranberry. Most cranberry juices on the shelf are juice cocktails, which contain very little fruit juice in them. Make sure the label says it contains 100% real fruit juice to cut down on extra sugar.
Choose unsweetened flavored seltzers instead of sodas. These unsweetened seltzers still give you fizz, but less sugars and artificial flavorings than soda. Just be sure to check the label to make sure your seltzer is truly unsweetened.
Make your own 'simple syrup.' Simple syrup at the bar is a 1:1 ratio of water and sugar boiled down. Make your own substitute by using 100% fruit juice and a little pure stevia, to add sweetness with way fewer calories and sugar. I have a great flavored simple syrup substitute in one of the recipes below that you could customize to be any flavor!
So start 2017 off right with these better-for-you cocktail suggestions!
*All cocktails serve 1
---
Winter Fizz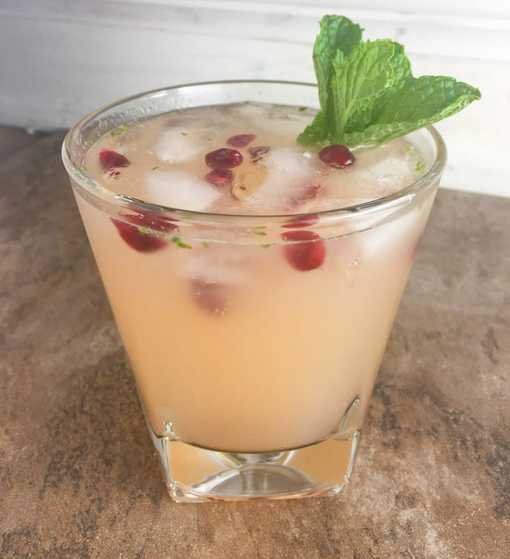 1.5 oz vodka
2 oz 100% grapefruit juice
½ tsp stevia
Unsweetened grapefruit seltzer
Pomegranate arils
4-6 mint leaves, muddled
​
Place vodka, grapefruit juice, stevia, and muddled mint in cocktail shaker and shake vigorously.
Pour in glass over ice and top with unsweetened grapefruit seltzer.
Garnish with pomegranate arils and mint sprigs.
---
Cran-Lime Spritzer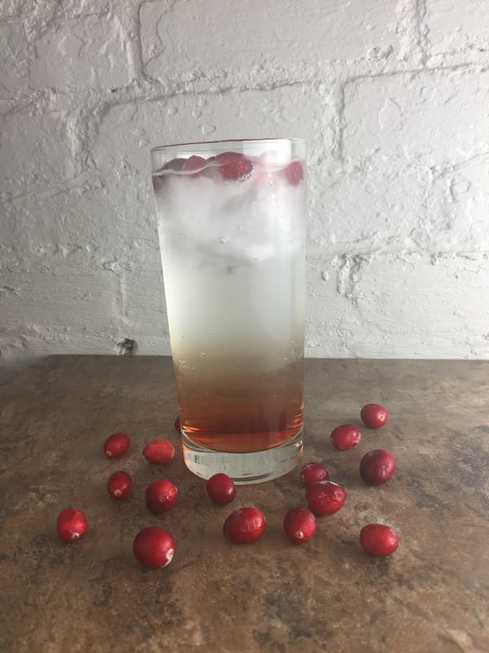 3 oz white wine
1 oz 100% cranberry juice
Unsweetened cranberry-lime seltzer
Cranberries, frozen
Lime wedges
Fill a glass with ice.
Pour wine and cranberry juice into glass and top with cranberry-lime seltzer.
Garnish with frozen cranberries and lime wedges, if desired.
---
Mulled Wine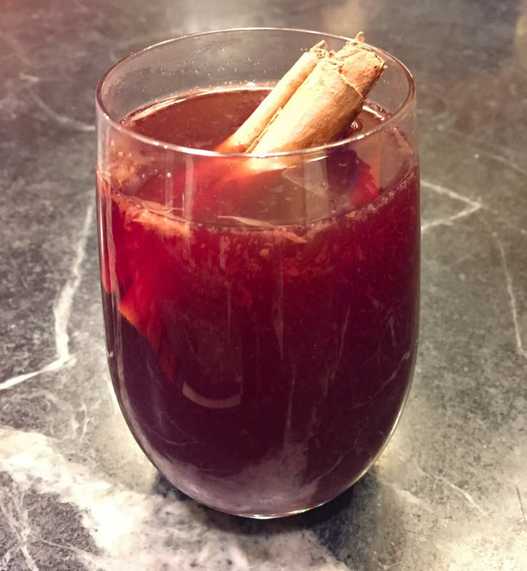 1 tsp ground cardamom
6 whole cloves
6 allspice berries
2 cinnamon sticks
1 orange, zested & juiced
1 bottle red wine of choice (not too sweet)
2 cups fresh apple cider
¼ cup Maple syrup
¼ cup brandy
Put spices in a cheesecloth or tea infuser.
Place in crockpot with 2 cinnamon sticks.
Zest and juice orange and pour into crockpot.
Pour bottle of wine, apple cider, & maple syrup into crockpot.
Heat on low for 1-2 hours, depending on crockpot.
Pour brandy into wine mixture and stir to combine.
Ladle into mugs & garnish with cinnamon stick or orange peel.
---
Pomegranate Mojito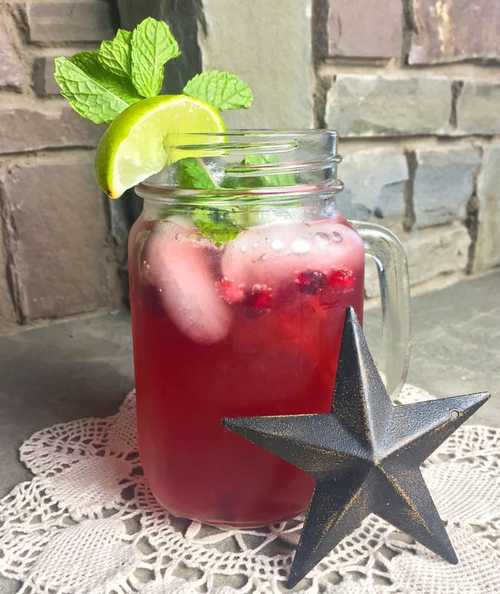 2 oz pomegranate juice
1.5 oz white rum
4-6 mint leaves, muddled
2 small limes, juiced
½ tsp pure stevia
Unsweetened pomegranate seltzer
Pomegranate arils
​
Add juice, rum, muddled mint, lime juice, and stevia to cocktail shaker and shake vigorously.
Pour liquid into glass filled with ice.
Top off glass with unsweetened pomegranate seltzer and garnish with pomegranate arils.
---
Spiced Pear Moscow Mule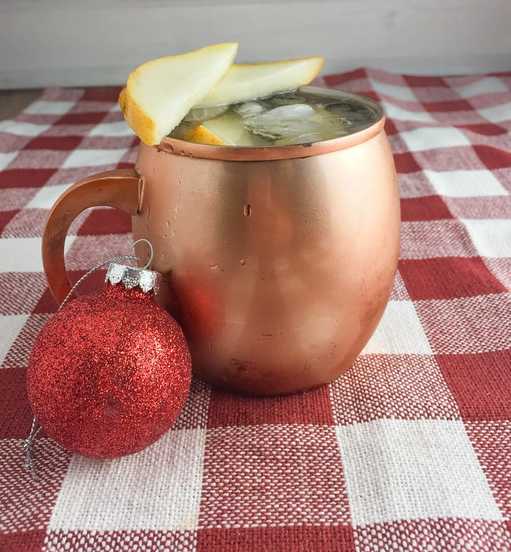 Spiced Pear Simple Syrup:
1 cup 100% pear juice (find in the baby food aisle)
1 tsp pure stevia
1 cinnamon stick
¼ teaspoon nutmeg
¼ teaspoon cardamom
1 pear, diced
Combine pear juice and stevia in small saucepan over medium heat.
Bring to boil, boiling for 1 minute.
Add spices and diced pear, cover and let steep until cooled down.
Store in airtight container in refrigerator for up to 1 week.
Moscow Mule:
2 oz spiced pear simple syrup
1.5 oz vodka
Ginger beer (Reeds Extra Ginger Brew)
Pear slices
Pour simple syrup & vodka in cocktail shaker & shake vigorously.
Pour into Moscow mule mug filled with ice.
Fill rest of mug with ginger beer.
Garnish with pear slices.
---
Twisted Hot Cocoa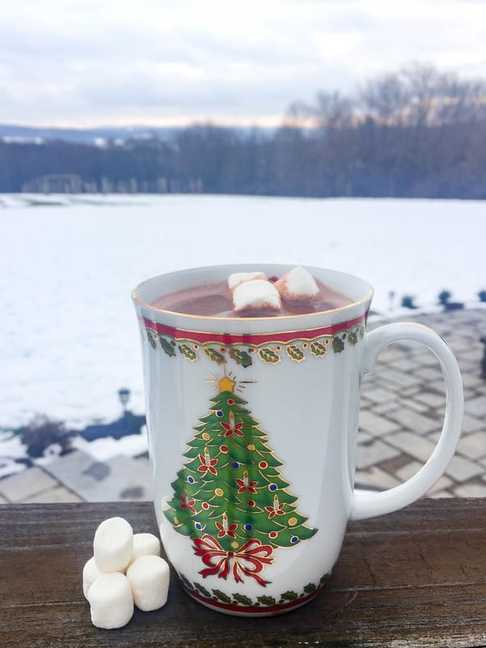 1 cup skim milk
2 T unsweetened cocoa powder
½ tsp stevia
Combine ingredients in a small saucepan and heat over low heat.
Bring to a simmer and pour into mug.
Add 1.5 oz peppermint schnapps.
Stir, add a couple marshmallows, & enjoy!
---
"Booch" Apple Cider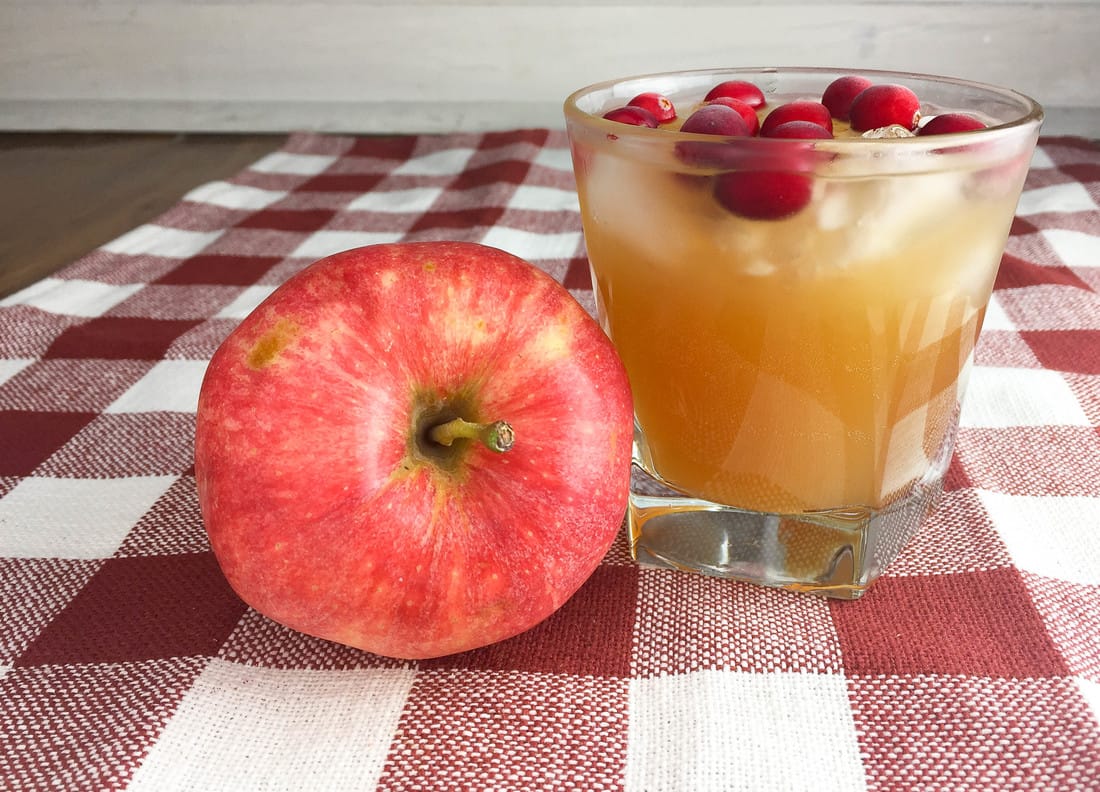 2 oz Kevita Master Brew ginger kombucha
1.5 oz vodka
3 oz pure apple cider
Apple slices
Combine kombucha, vodka, and cider in glass.
Fill with ice and garnish with apple slices.
---
---