Your favorite PB & J sandwich is now in granola bar form! Enjoy this chewy, no bake granola bar with a cool glass of milk for the perfect snack!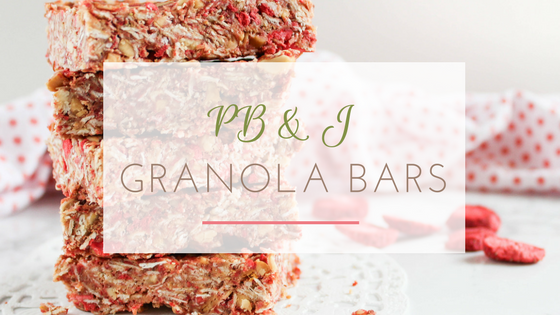 Since March is National Peanut Month, I figured why not share a few peanut recipes this month! Peanut butter is one of my favorite foods, next to ice cream, so I've got tons of peanut love! It's rare for me to go a day without eating some type of peanut product.
In elementary school I used to bring my lunch every day. My mom would pack me a peanut butter and jelly sandwich, applesauce, and cookies in my pink Minnie Mouse lunchbox. I loved it. Nothing beats a delicious PB&J on white bread!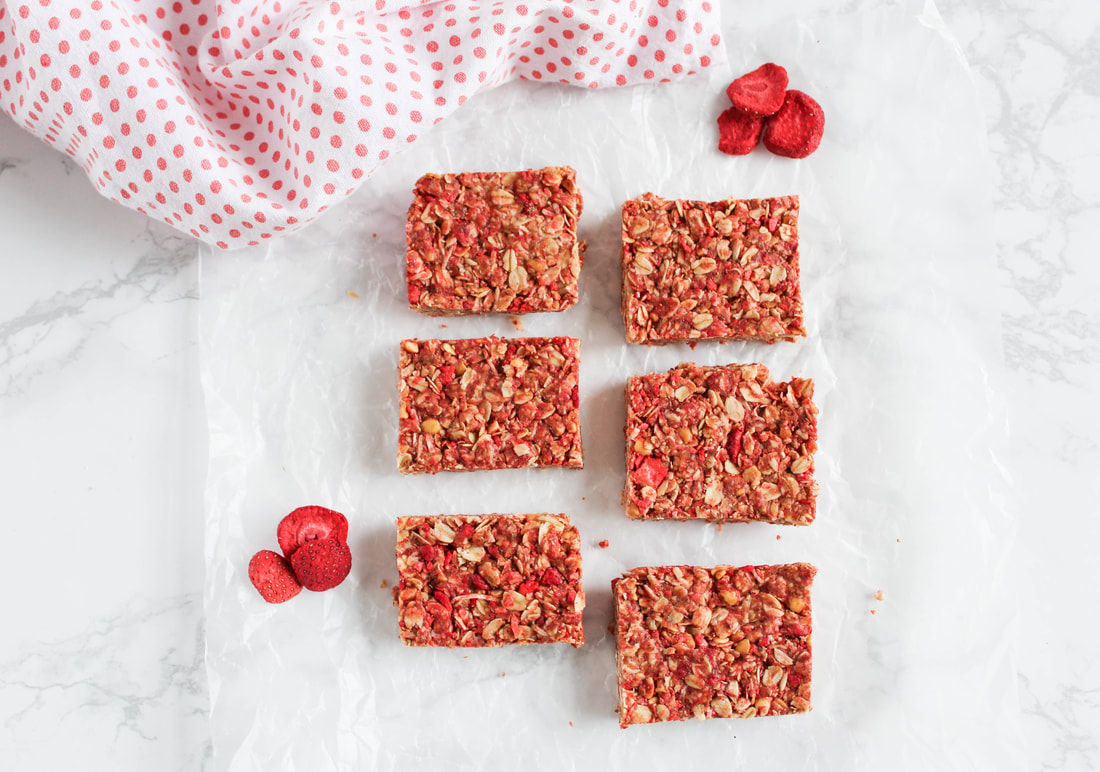 Naturally, I had to combine peanut butter and jelly in a recipe to share with you all. Ever since I made my
Chocolate Covered Strawberry Granola
, I've been hooked on buying freeze-dried strawberries. They're so flavorful, perfectly crispy, and add such pretty color. They add such a nice texture and flavor to granola bars, so I combined peanut butter and jelly flavors in a granola bar form.
Normally I'm team creamy when it comes to peanut butter, but I used crunchy in this recipe because it adds a little crunch and more texture to the bars. These bars are perfect for a midmorning snack or paired with some yogurt for breakfast. They oats add lots of filling fiber and whole grains and the peanut butter and honey create the perfect chewy bar.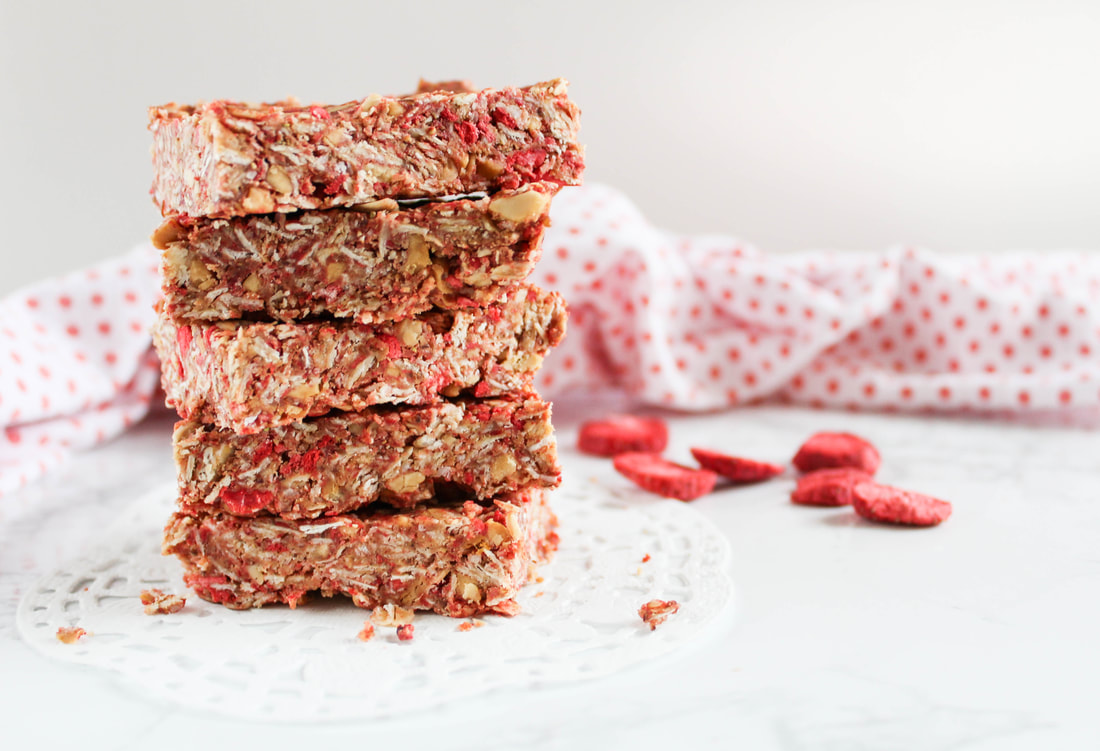 ​Granola bars are so easy to make a home. I've been trying to make more on the weekends when I have a little extra time because granola bars at the store can be expensive. We go through a lot of granola bars in our house, so it's nice to save a little money some weeks by making my own. This way I can add the ingredients I like and create fun flavors that I wouldn't typically find at the store.

Check out the recipe below and stay tuned the rest of the month for more peanut-inspired recipes!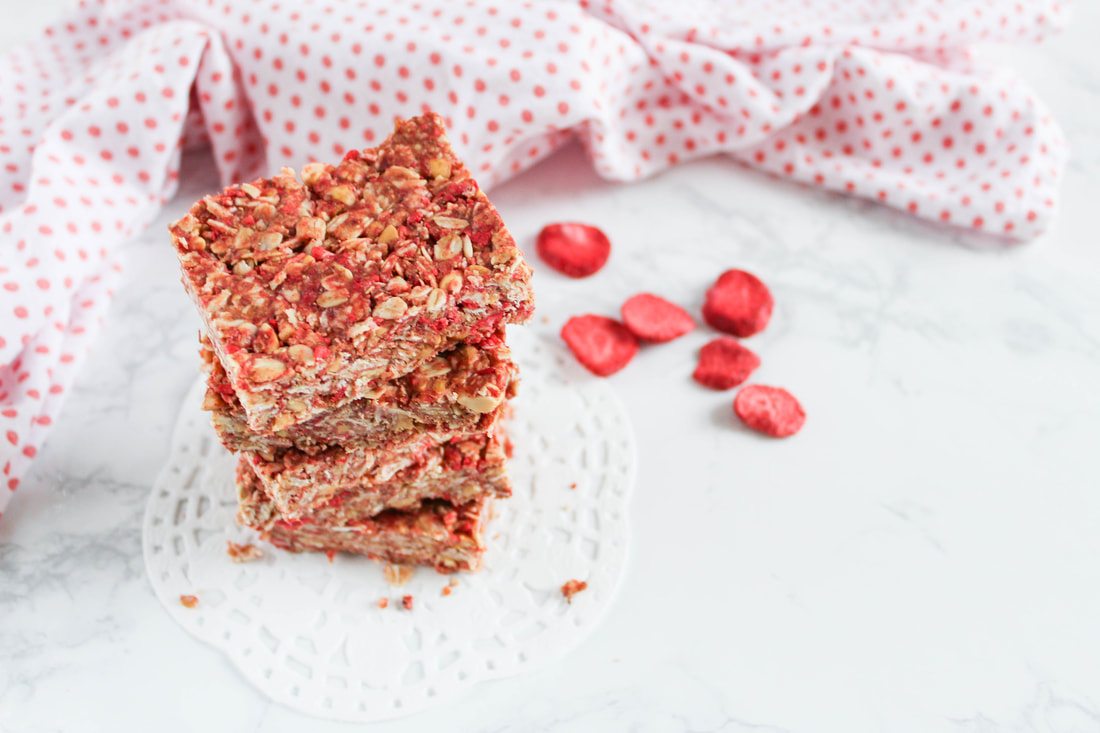 ---
PB & J Granola Bars
Ingredients:
1 ½ cups rolled oats
¼ cup ground flaxseed
¼ cup coconut flakes
1 ½ cups freeze dried strawberries, crushed
¾ cup crunchy peanut butter*
¼ cup honey
2 tablespoons coconut oil, melted

Directions:
Combine the dry ingredients in a large bowl. Add the peanut butter, honey, and coconut oil to the oat mixture. Mix well with a rubber spatula until the entire mixture is coated.
Pour mixture into a 8 x 8 inch pan. Press firmly into pan. Cover with cling wrap and place in refrigerator overnight.
Cut into squares and enjoy. Store in refrigerator.

*Notes: I use natural peanut butters that only have peanuts and salt.
---