Spring is here and so are all the pretty pastel colors! This snack mix is perfect for family get-togethers, springtime celebrations, or just a regular day.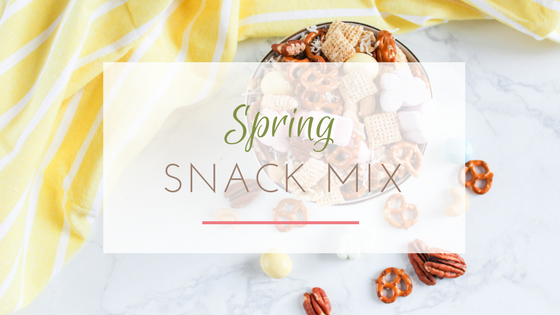 ​It's officially Spring! While it hasn't felt like it here in North Carolina the past couple days, we are finally headed towards warmer weather and more sunshine!

Since it's been a little gloomy and chilly here, I've been craving some springtime pastel colors for a pick-me-up. For March, the Recipe Redux ladies asked us to share a traditional family springtime celebration recipe. With all the bright, fresh flavors and produce coming back into season, it was hard to choose.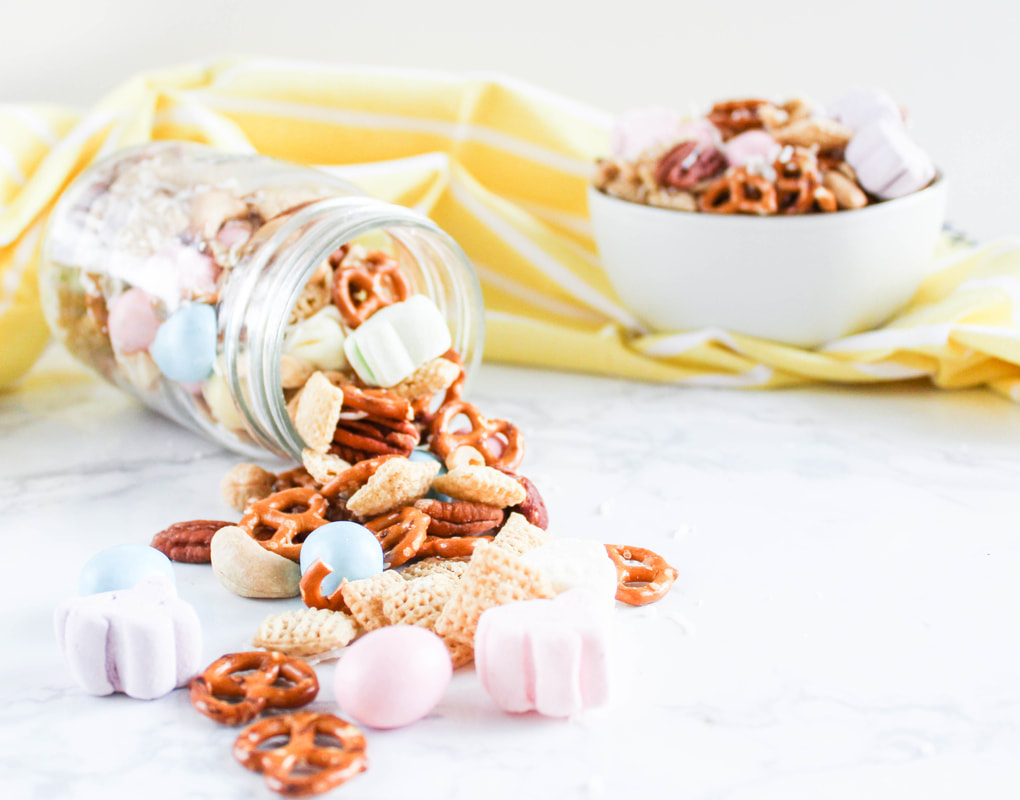 ​I decided to keep it simple with a Spring snack mix. Now this isn't a traditional family recipe, per say, but it's a tradition I've started within the last few years. One of my favorite ways to get into any holiday spirit is to roam the seasonal section of Target with all the candy, baking supplies, snacks, and other goodies. These items always somehow make it into my cart, no matter what the holiday so I've started to make holiday-inspired snack mixes with my treats. It started with a Christmas snack mix where I combined mint chocolate candies with popcorn and Chex cereal and coated it in white chocolate and has expanded from there.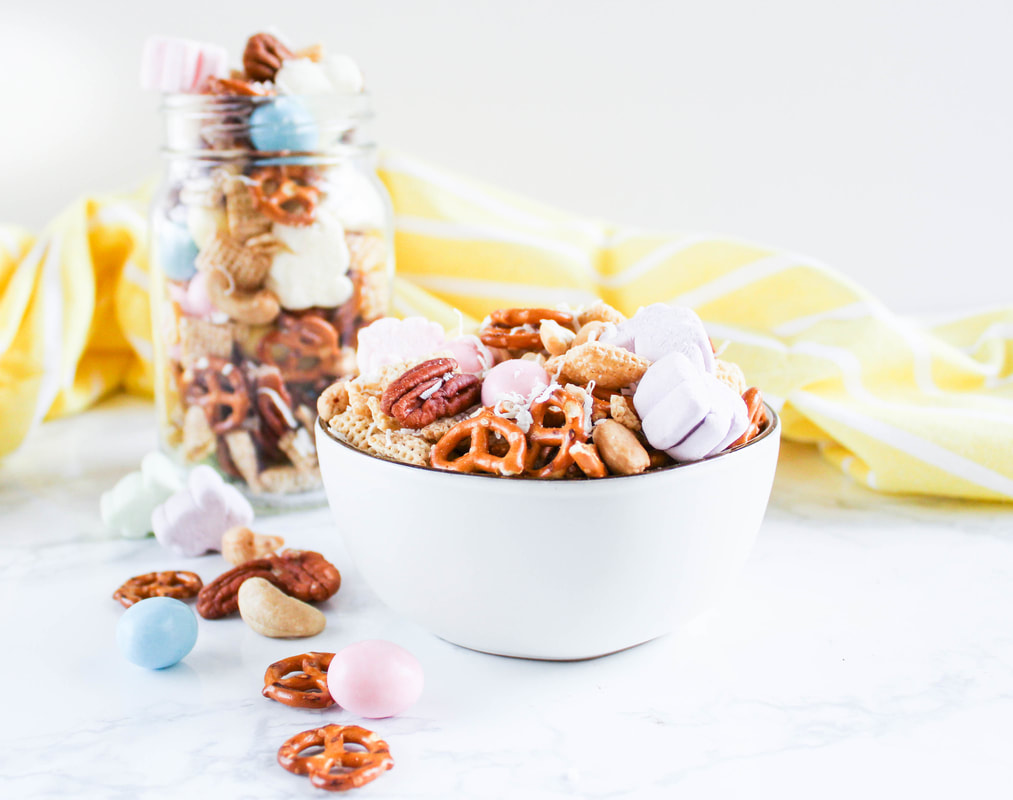 ​I love these homemade snack mixes because they can make any regular day feel like something special, or they're delicious and festive enough to serve at a family get-together. They take minutes to throw together, but look perfectly styled. The best thing about snack mixes is that they are so versatile and customizable. You can pick and choose what type of items you'd like to include and use up things you already have in your pantry.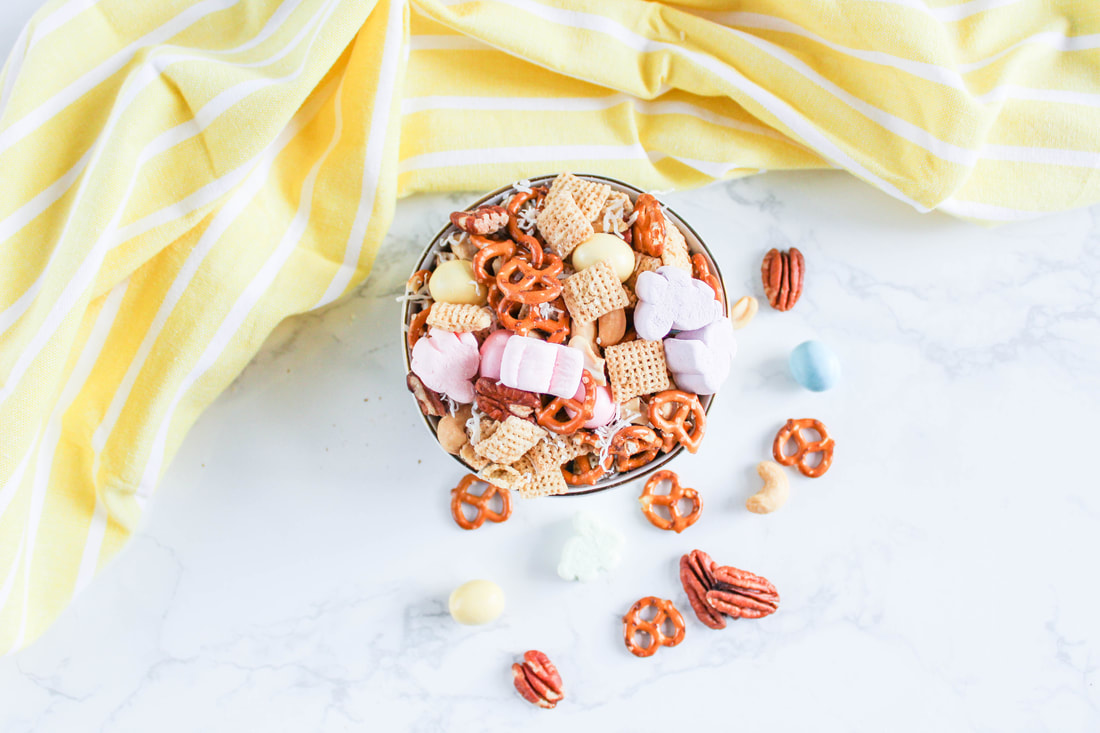 For this Spring snack mix, I used pretzels and Chex cereal as my base, added some nuts and coconut I had on hand, and some springtime pastel colored candies. I used the Jet-Puffed Bunny Mallows and Hershey's candy coated chocolate eggs for a more Easter theme, but you could use plain colored marshmallows and the pastel M&M's for other Spring celebrations. You can really add whatever you like and mix it up for different holidays and seasons!

This snack mix is perfect for serving alongside appetizers for Easter dinner, at a Mother's Day brunch, baby showers, or just a regular springtime day! Check out the link below for other springtime celebration recipes.
---
Spring Snack Mix
Ingredients:
2 cups mini pretzels
2 cups rice Chex cereal
1 cup pecan halves
1 cup cashews
1 cup colored marshmallows*
1 bag Hershey's candy coated chocolate eggs
½ cup unsweetened shredded coconut

Directions:
Combine all ingredients in a large bowl. Toss to combine.
Store in an airtight container. Enjoy!

*I used Jet-Puffed Bunny Mallows
---