Make this better-than-takeout Chicken Pad Thai tonight in less than 30 minutes!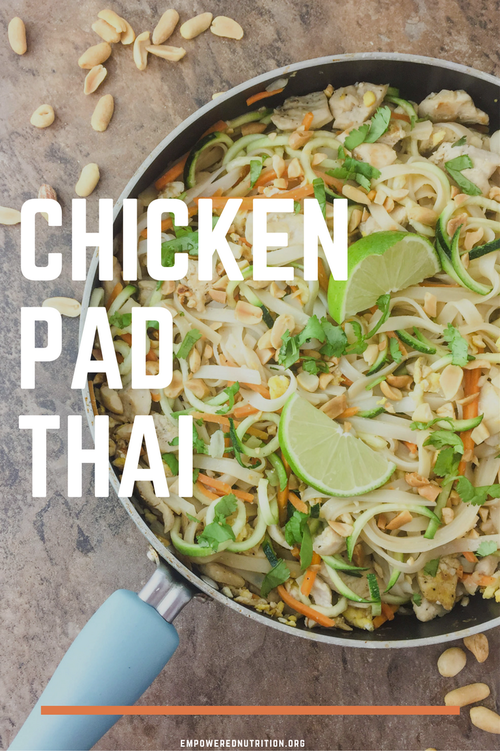 ​I had never tried Thai food until about 2 years ago when I moved to PA for my dietetic internship. I guess you could say growing up in a rural farm town didn't really expose me to a lot of ethnic flavors when I was young. So when my intern friends & I decided to get Thai food one night, I chose the least daunting item on the menu – Pad Thai. I quickly fell in love with the tasty noodle dish that combined 2 of my favorite flavors – peanuts & cilantro. To be honest, I haven't really ventured much from my go-to since trying Thai for the first time. Pad Thai is just so good!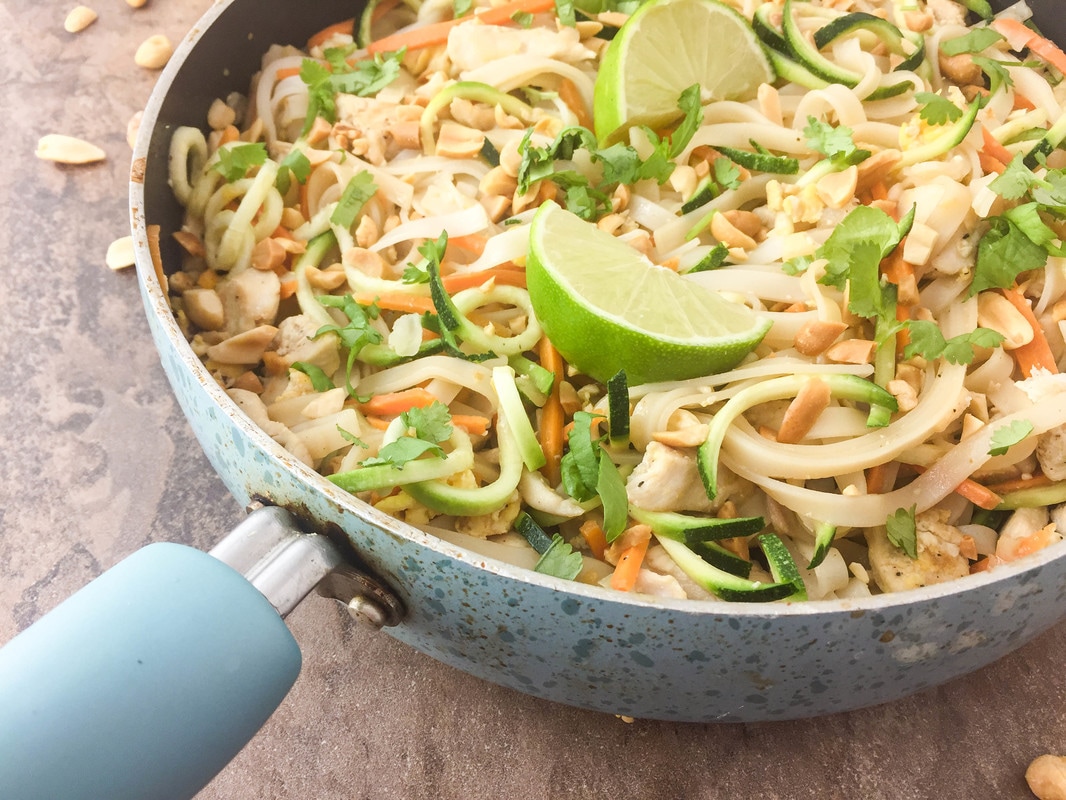 ​I've been trying to make my own version at home for a couple months, but just never felt like it stacked up to the restaurant versions. What do Asian restaurants do behind the scenes?! At first I tried to make a zoodle Pad Thai, which didn't turn out so well (read: soggy, unfulfilling dinner). But I soon realized that you can't mess too much with Pad Thai. The noodles aren't meant to be replaced! They are the dish! I did add in some untraditional veggies, like zucchini & carrots, but I like that little addition. I also left out the bean sprouts because I like to keep my recipes pretty simple & use ingredients we all typically have on hand or regularly buy. But if you have some, throw them in! You could really add whatever veggies you like to your Pad Thai & it would taste awesome!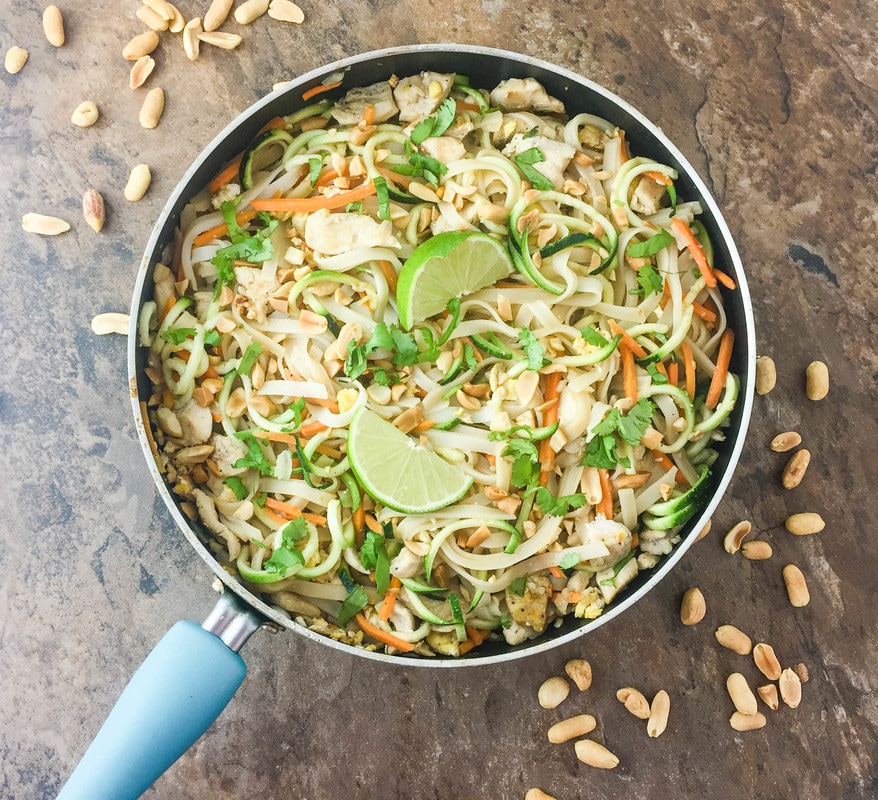 ​After a few attempts that were just, ehhhh….I finally whipped up a recipe that is pretty darn close to the restaurant Pad Thai I've come to love! I'm so excited to share it with you! The recipe can basically be made in one pot (if you have a large skillet) & it doesn't take very long to make either. I like being able to share quick, easy, weeknight meals with you that are perfect for real life. So the next time you Thai craving hits, you don't have to go out to eat. You can make your own version in the comfort of your own home & mix in your own flavors. You could easily swap out the chicken for shrimp or beef, or skip it & add more veggies. You can also make the dish as spicy as you like it by adding more or less chili powder.

Pad Thai is perfect for summer nights where you don't want to spend all night over the stove. Plus, you could this recipe gets even better the next day as leftovers because the flavors meld together very nicely. If I haven't convinced you yet, you should try this recipe tonight!
---
Chicken Pad Thai
Ingredients:
1 lb chicken breasts
½ – 16 oz bag rice noodles
1 small zucchini, spiralized
½ cup matchstick carrots
¼ cup chopped onion
1 tsp minced garlic
2 eggs
Cilantro
Chopped peanuts
Extra limes
Sauce:
½ lime, juiced
4 Tbsp low sodium soy sauce
4 Tbsp fish sauce
2 Tbsp brown sugar
2 Tbsp cornstarch
Dash of chili powder (or more if you like it spicy!)

Directions:
Cut chicken into bite sized pieces & season with salt & pepper. Heat large skillet with your favorite oil.
Place chicken in skillet over medium heat until cooked all the way through, about 10-15 minutes.
Meanwhile, spiralize (or thinly slice) your zucchini. Cook rice noodles according to directions on package.
Once chicken is cooked, push to chicken to side & place zucchini, carrots, onion, & garlic in skillet. Briefly sauté & combine with chicken.
Push chicken & vegetables to side & crack eggs into skillet & scramble until cooked. Mix with chicken & veggies.
Add cooked noodles into skillet.
Combine ingredients for sauce & pour over skillet mixture. Toss to combine.
Garnish with cilantro, chopped peanuts, & extra squeeze of lime juice, if desired.

Serves 4 – 6.