Whether you have a special occasion or an impromptu party, these Creamy Tomato Basil Bruschetta Bites will have your guests thinking you're a gourmet chef! These simple bites are quick to make & are packed with fresh, summer flavors.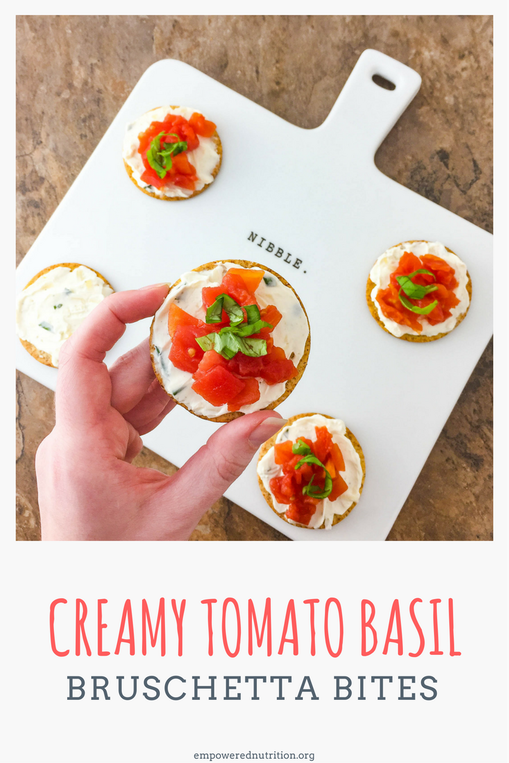 By posting this recipe I am entering a recipe contest sponsored by Breton Crackers and am eligible to win prizes associated with this contest. I was not compensated for my time.
​Summer is here! The weather is warm, we don't want to spend a ton of time in the kitchen, our schedules get a little busier, and we want to kick back & relax a little more. Most likely our weekends are filling up with parties & other get-togethers, which means…FOOD! To me, the ultimate summer party is either a backyard barbecue or light hors d'oeuvres & cocktails. I don't know why, but to me, those two themes are simple to prepare & are sure to be a hit. Making tons of little hors d'oeuvres is always a good option when having a party because they don't have to be complex to look & taste gourmet and you can please everyone by serving a variety of small bites.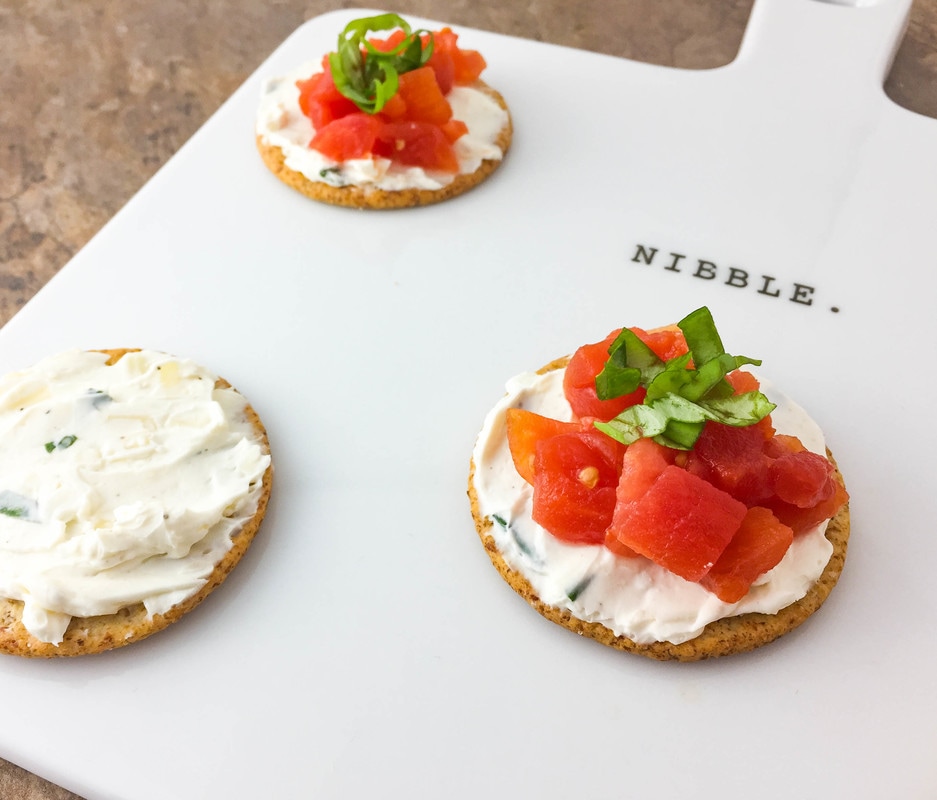 One of my favorite hors d'oeuvres is bruschetta. It's simple, you can't really mess it up, & they somehow manage to be light, yet filling. Today's recipe was inspired by a contest that I was invited to participate in through the
Recipe Redux
. As you can see, the contest is all about simple, yet impressive hors d'oeuvres using just a few ingredients. This will be the first month as a member of the Recipe Redux group, which I'm so excited about! It's basically a monthly recipe challenge founded by registered dietitians, where we aim to put healthy twists on delicious dishes. The group also hosts occasional contests for its participants, like this one. If you click the Recipe Redux link at the bottom of this post, you can see all of the other bloggers' recipes, as well!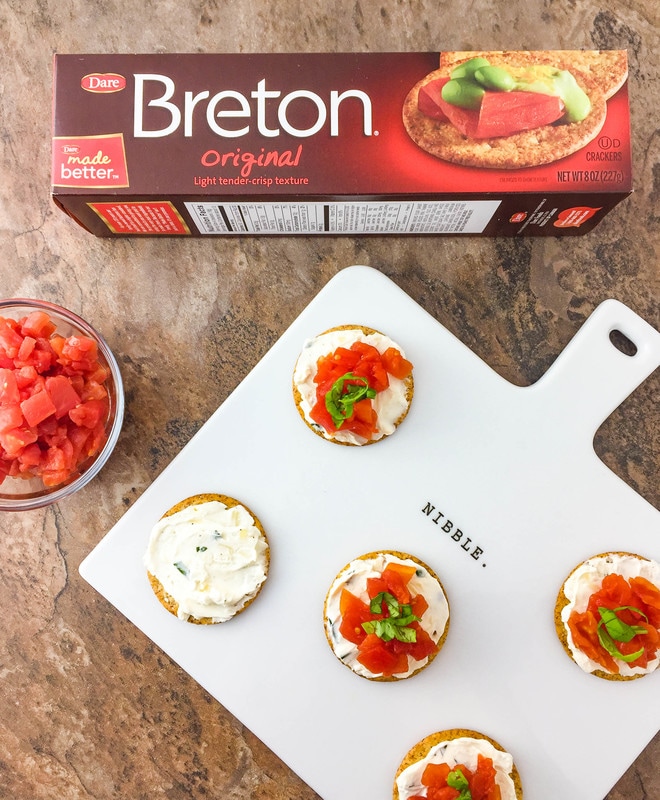 ---
---
I opted for the original cracker because they are simple & have a tender-crisp texture that is perfect for an appetizer or snack. The crackers also add that perfect flaky crunch to balance out the creamy, smoothness of the toppings.
​
I wanted to add a little twist to your typical bruschetta, so I decided to make a creamy cheesy mixture to add some extra flavor to these bites. The cream cheese & Parmesan pair so nicely together & that basil really does the trick of adding in a fresh flavor. I used the basil I have been growing on my windowsill the past few weeks & boy, was it flavorful! Sticking with the simplicity in mind, I chose to use canned diced tomatoes to cut down on time in the kitchen. This appetizer really couldn't be more simple, yet so flavorful & delicious!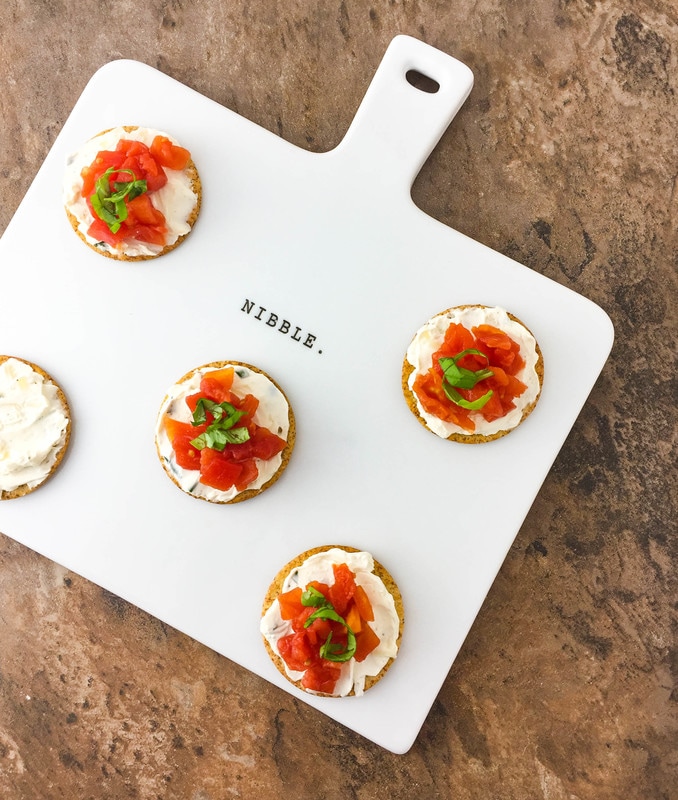 ​These bruschetta bites are a great option for a special occasion or an impromptu party because they're quick to make, require no heating up the kitchen, use seasonal flavors, & feel like an elegant hors d'oeuvres. I hope you pick up some Breton crackers the next time you're having a few friends over & throw together these tasty bites!
---
Creamy Tomato Basil Bruschetta Bites
Ingredients:
8 oz cream cheese, softened
½ cup shredded Parmesan cheese
2 Tbsp fresh basil, roughly chopped + more for garnish
¼ tsp garlic powder
Salt & pepper, to taste
1 can diced tomatoes, drained
1 (8 oz) package Breton Original crackers

Directions:
Combine cream cheese, Parmesan cheese, basil, garlic powder, salt & pepper in a small bowl. Mix until smooth.
Lay out 24 crackers. Spread about 1 Tbsp of cheese mixture on each cracker.
Top each cracker with about 1 Tbsp of diced tomatoes.
Garnish with extra fresh basil.

Makes about 24 bruschetta bites.
---