Get all the flavor of hibachi-style noodles straight from your own kitchen! These quick and flavorful noodle bowls are perfect on their own, as well as alongside chicken, fish, or steak.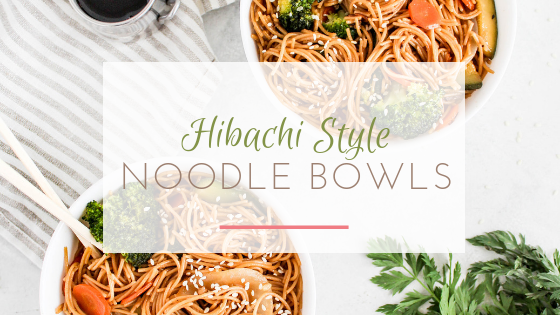 When talking about food a lot of times, I like to mention the eating experience as a whole. When we take the focus off the food itself and turn our attention more towards the experience we're having (who we're with, the atmosphere, the conversation, etc) it tends to remove a lot of the anxiety or diet-y thoughts that may pop up when we're eating. This may be helpful if you're working on ditching the diet mentality or wanting to feel less crazy around food. And while every experience isn't going to be something to write home about, it's the thought of taking in the meal as a whole – are these foods satisfying, how are they nourishing to my body, am I trying a new restaurant, catching up with friends, enjoying a date night – all these things tend to be more important that what's actually on your plate.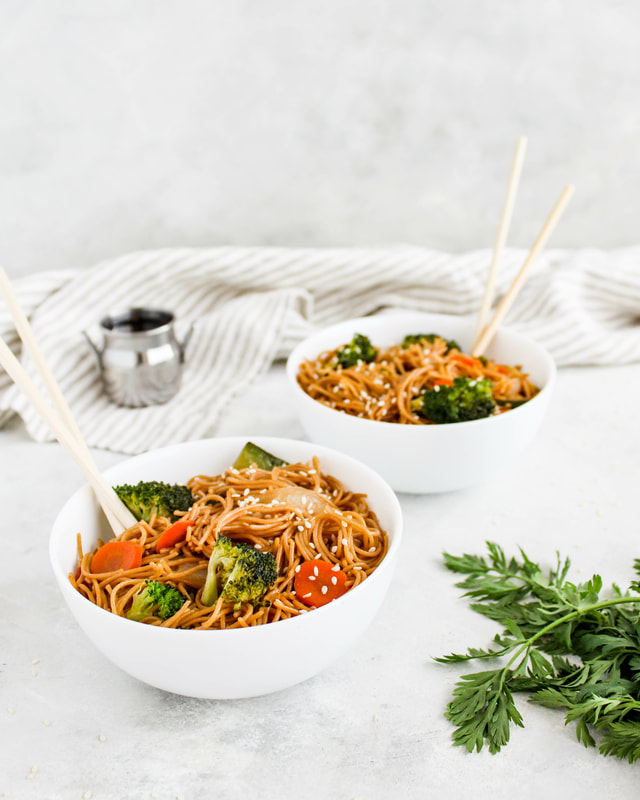 When I think about eating experiences, one of the first things to come to mind are hibachi-style restaurants. It's such an experience! The chef is preparing your food right in front of you and they tend to put on show and make it entertaining. You're laughing and enjoying the people you're with. You might be there celebrating an occasion. Food is being tossed around, it's a very playful experience.

I don't go to hibachi restaurants all that often, but when I do it's so fun and the food is delicious! I've been craving some Asian-style noodles lately so I figured I'd try to make some at home and share the recipe with you! These noodles are actually so simple, so don't be intimidated by the thought of your chef flipping, slicing, dicing in front of your table.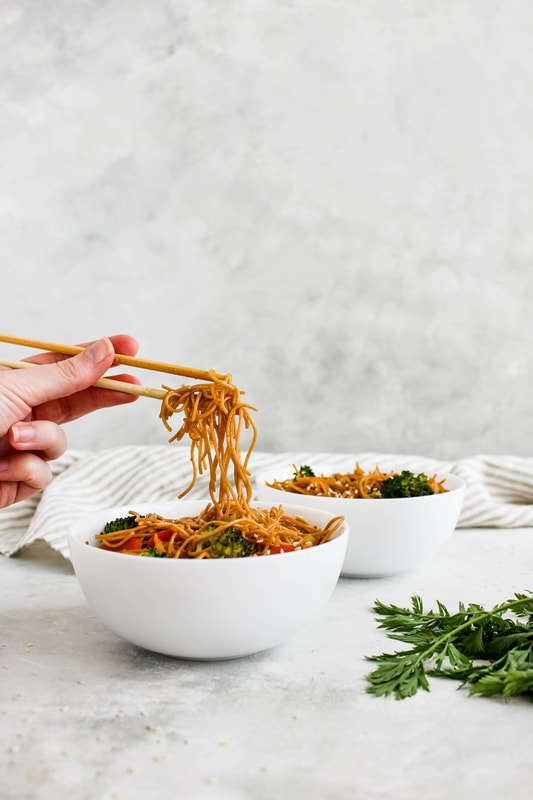 I kept these noodle bowl vegetarian, but you could add meat or another vegetarian protein option to the mix for a more substantial meal. If you are adding an additional protein to this dish, I would start cooking with that, then add the veggies to the skillet and continue with the rest of the recipe.
​
​
Some protein ideas:
Chicken
Flank steak
Shrimp
Tofu
Salmon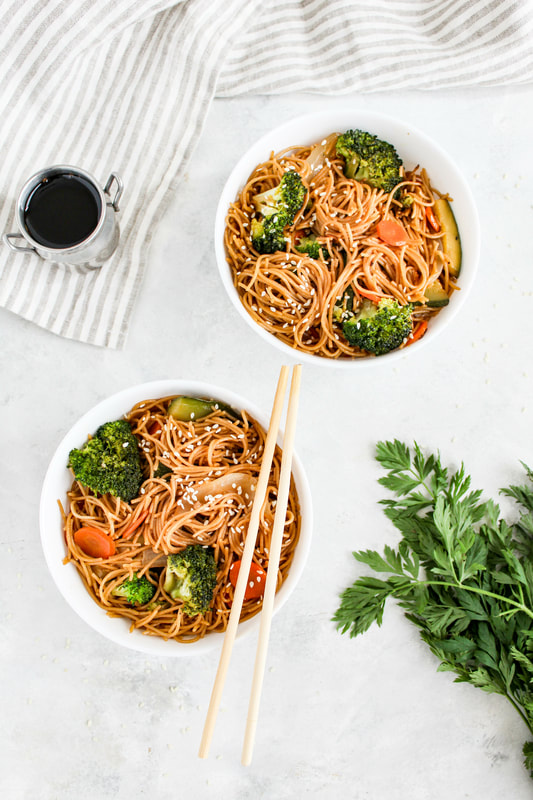 The key to getting these noodles to taste like they were made on a hibachi grill is to get them crispy with just the slightest hint of a char to them. I found that using my
cast iron skillet
* gave me the best flavor and slight crispiness (affiliate link). I also tried this recipe using my wok, which I don't think was big enough for the amount of noodles I was trying to prepare. This
wok
is a bit bigger and would most likely do a better job in giving that hibachi-style flavor (affiliate link). These noodles also work nicely as something you can prep ahead of time, just don't do the second saute in steps 5 and 6 until you're ready to serve.
---
Vegetarian Hibachi Noodle Bowls
Ingredients:
4 tablespoons avocado oil, divided
1 ½ tablespoons minced garlic, divided
½ sweet onion, sliced
1 medium head of broccoli
1 medium zucchini, sliced into strips
1 cup carrots, sliced into coins
4 tablespoons soy sauce, divided
3 tablespoons teriyaki sauce, divided
½ lb of whole grain angel hair or spaghetti
Drizzle of honey
Sesame seeds, to garnish

Directions:

Heat 2 tablespoons of oil over medium heat in a wok or cast-iron skillet.
Add 1 tablespoon of garlic, cook for 1-2 minutes until fragrant. Add remaining vegetables and cook for about 5 minutes.
Pour 2 tablespoons each of soy and teriyaki sauce into pan and continue to cook vegetables until tender, about an additional 5 minutes. Transfer veggies to a plate.
Meanwhile, cook pasta according to package directions.
Add remaining oil and garlic to the pan over medium-high heat. Place drained pasta in pan. Add the remaining sauces and saute for a few minutes, until noodles are golden brown.
Add veggies back into the pan to heat through. Garnish with sesame seeds and serve immediately.
Serves 4-6
---