Mix up this Berry Ros

é Sangria for your sweetheart this Valentine's Day! Fruity, bubbly, and sweetened with mixed berry jam, this cocktail is sure to be a crowd-pleaser.
We're approaching Valentine's Day and if you're anything like me, your plans are to stay home and make dinner on the 14th and then go out and celebrate on the weekend. I'm just not into going out to fancy dinner during the week. I'd rather wait til the weekend when we can be more relaxed and really enjoy ourselves.

I haven't quite decided on my Valentine's dinner menu yet, but I do know one item I will be having – this sangria! Whenever there is sangria available, I will have it! It's probably my favorite cocktail because I love wine and brandy. I wanted to make a lighter, fruity, pink sangria this year for V-Day because it's perfect for everyone. Whether you're celebrating with your significant other, girlfriends, family, everyone will enjoy this bubbly beverage!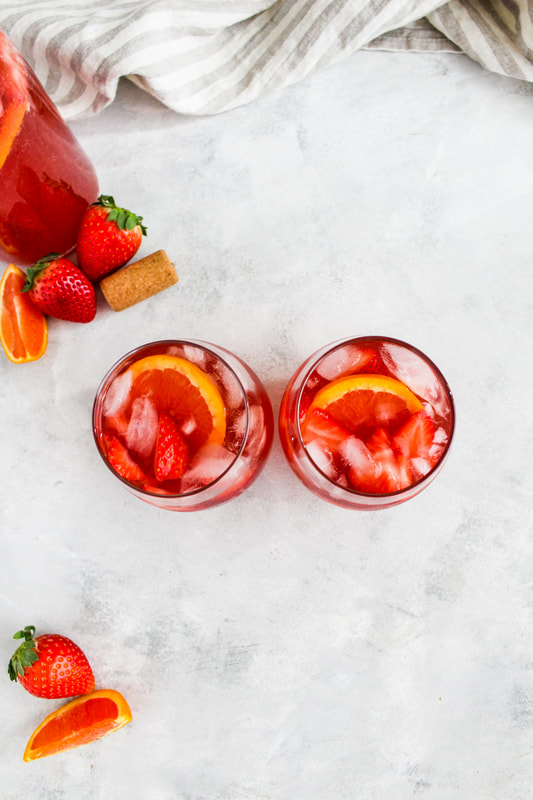 I've been loving cara cara oranges this citrus season. I think they're sweeter than regular oranges and apparently they have notes of
berry flavor
, as well. I don't know, they taste delicious and that's all that matters to me! But I figured the cara cara oranges' flavor will pair nicely with the berry theme I have going on in this sangria.
The type of rosé you use really depends on your tastes. I used a semi-sweet sparkling rosé, so I only used 2 tablespoons of jam for the sweetener, which turned out nicely. Mix and match the ratio of jam depending on how dry or sweet your rosé is.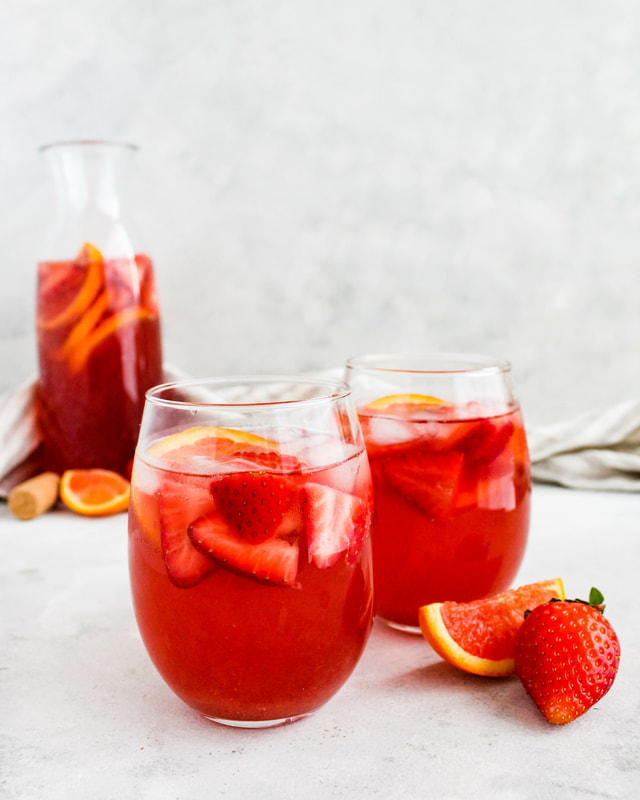 Why use jam?

I've never thought to use jam before, but when I was looking up fun cocktails I ran across several that used jam. This is such a genius idea! The jam takes the place of the simple syrup that's often used in cocktails. I like it because I didn't have to make (or buy) simple syrup, which pretty much only has one use. Whereas, I can use jam to top multiple things – toast, oatmeal, PB&J's, biscuits! I also liked using the jam because you can really enhance the berry flavor of this drink by using a mixed berry jam.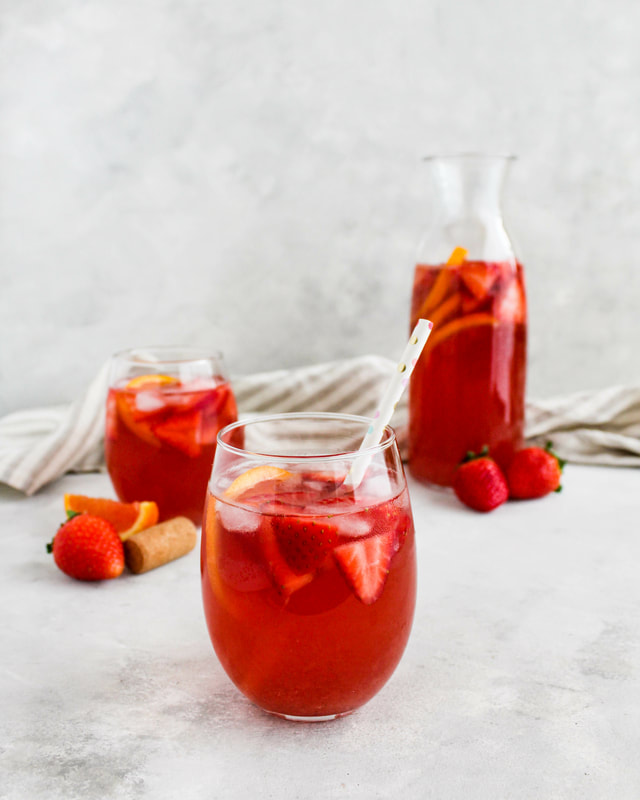 The other awesome thing about this sangria is that you can make it ahead of time (which will really enhance the flavor!) and just add the sparkling water when you're ready to serve. You're definitely going to want to mix up this pitcher of sangria this week for whoever your Valentine may be!
---
Berry Rosé Sangria

Ingredients:
2 cups strawberries, hulled and sliced
2 cara cara oranges, sliced into rounds
¼ cup brandy
2-3 tablespoons mixed berry jam
1 bottle sparkling rosé
2 cups berry flavored sparkling water
Directions:
Place strawberries and orange slices into a large pitcher. Muddle the fruit using the end of a spatula or spoon.
Combine the brandy and jam. Pour into the pitcher.
Then, pour the sparkling rosé into the pitcher. Chill for at least 1 hour in the fridge.
Just before serving, add the sparkling water. Pour into glasses, including some of the fruit in each glass.
Makes about 4 cocktails
---