These copycat Larabars are a must make for all you snack lovers out there! This bar is super satisfying, filling, and protein packed with real coconut and chocolate chip flavors.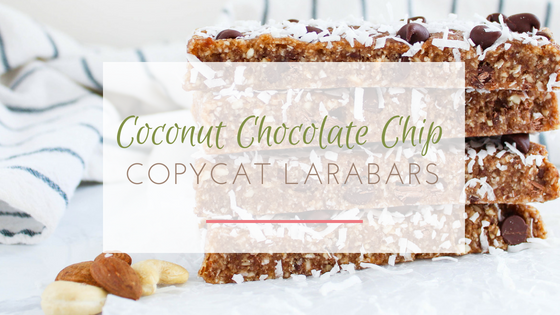 I've always been a granola bar girl. Ever since I can remember, I would eat granola bars as part of a snack. Growing up I really loved the Quaker Chewy bars, as most kids do. The s'mores flavor was the best! I was in a lot of extracurricular activities, so they were quick to just throw into a bag and bring with me. Plus this was way before all the different brands of granola bars and different on the go snack options we have today.
As I've gotten older, I still really like bars because they're so easy. Larabars are one of my go-to's when I need to bring something quick with me to keep me full in between meals. I love that there are a few simple ingredients and that there are so many flavors out there! Plus, I tend to find the best deals on them at Target (which is one of my favorite places on the planet!).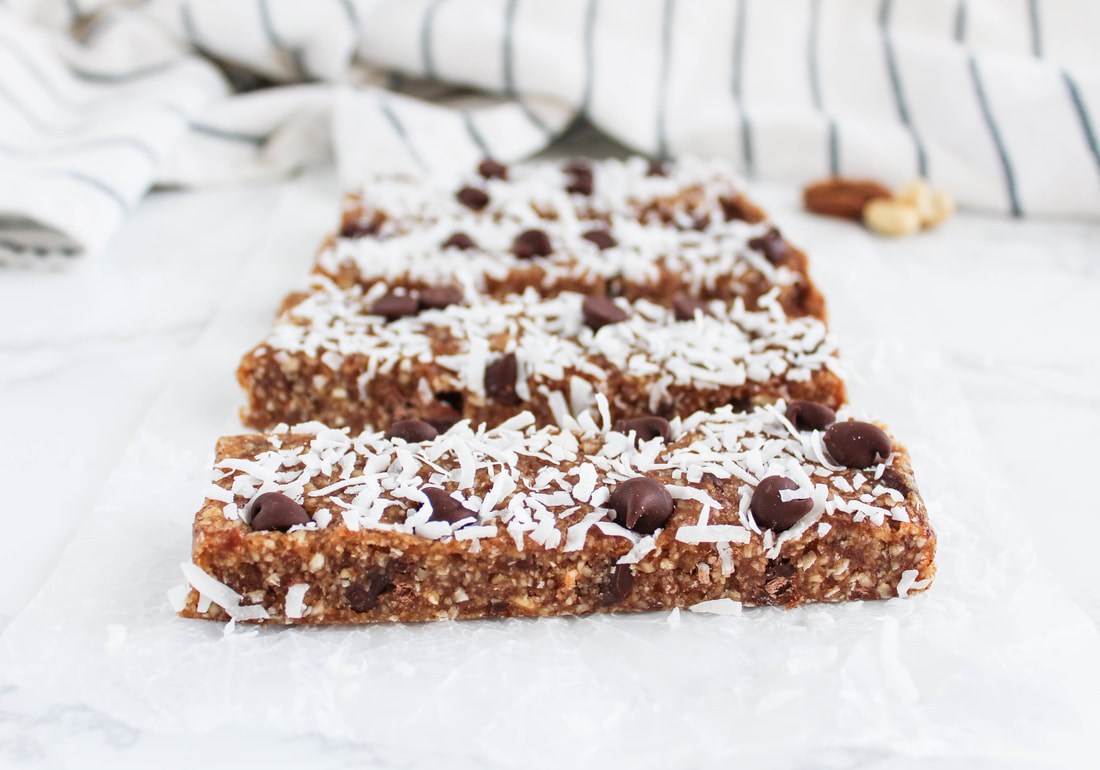 When I'm looking for a granola bar at the store, I tend to gravitate towards the ones that have simple, real ingredients and a short list of ingredients. I also like to take a peek at the amount of sugar in the bar and consider the source of that sugar (dried fruits vs. high fructose corn syrup). So even if the bar is a little higher in sugar, depending on the source (real foods) it can still be an option. I also like to make sure the bar as protein and fat, because these are the nutrients that are going to make you full and feel satiated after eating the snack.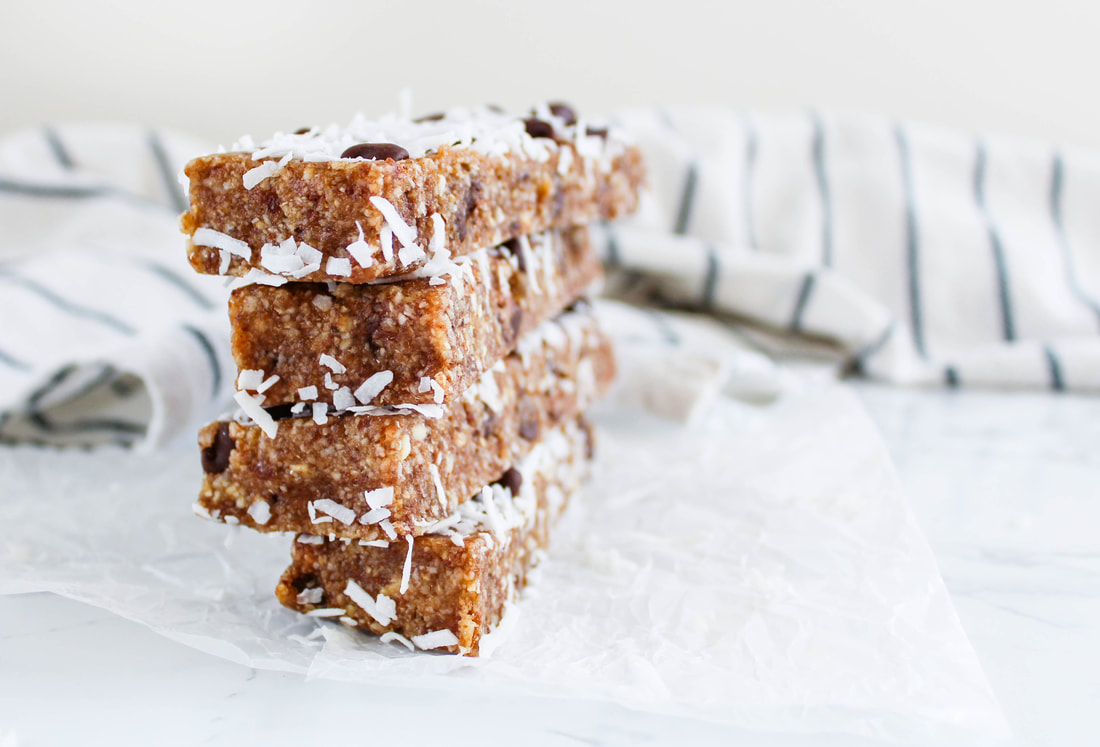 With all that being said, there are times where I make my own granola bars at home. Despite seeming like one more thing to do, making your own granola bars is super easy and can save you a lot of money! Sure, there are plenty of times where I buy store bought granola bars, but if there are weeks I need to save money, that's one of the first things to get taken off my grocery list. It's so much cheaper to make your own bars! I also like to make my own because I can create really delicious customized flavors and I know there's definitely going to be a short ingredient list (because I'm all about simple recipes!).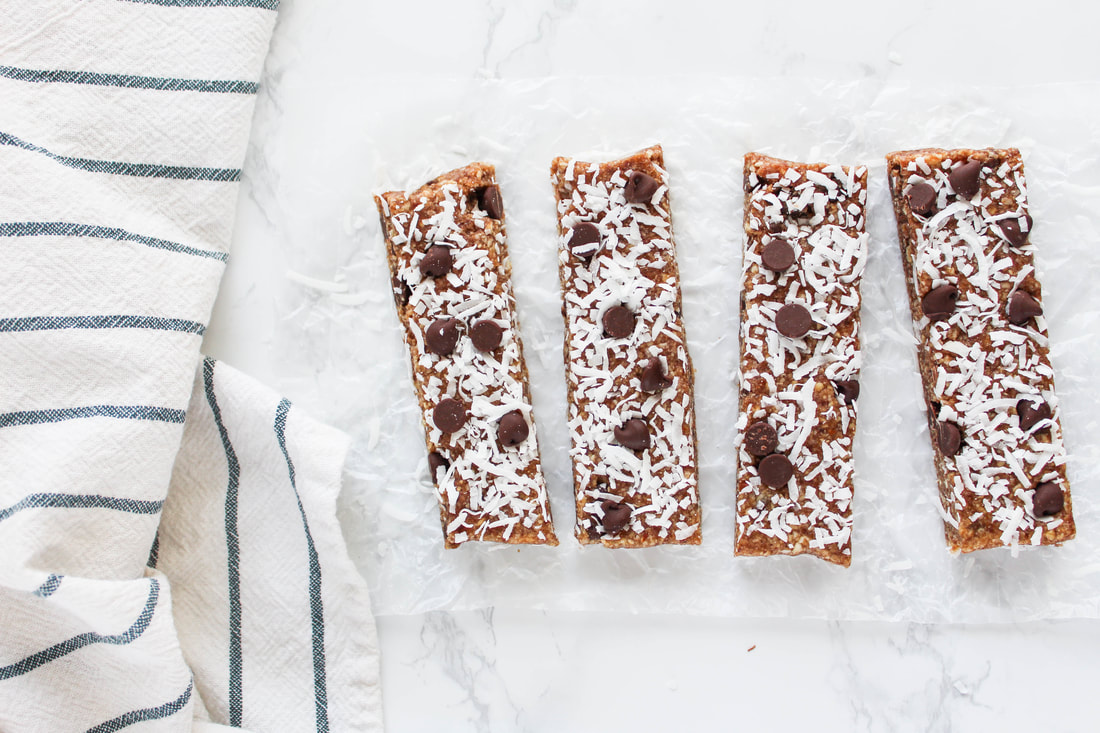 Here's where my Copycat Larabars come into play! My favorite Larabar flavor so far has been the Coconut Chocolate Chip. It has all my favorite flavors and is really satisfying to snack on! After buying a box of these one day and realizing how easy it would be to replicate them, I went straight to the kitchen. I even made these bars for a meeting at my corporate job and they were a huge hit!
---
Coconut Chocolate Chip Copycat Larabars
Ingredients:
1 ⅓ cup pitted dates
½ cup raw cashews
¼ cup raw almonds
½ cup unsweetened coconut flakes
⅓ cup semi sweet chocolate chips, roughly chopped
Directions:
Place dates in a small bowl. Fill with warm water to cover dates. Let soak for 10 minutes.
In the meantime, add cashews, almonds, & coconut to food processor. Pulse until roughly chopped. Pour chopped nut mixture into a bowl, set aside.
Drain the dates. Add dates to food processor. Blend until a paste forms.
Add the nut mixture back into the food processor with the dates. Blend until a dough forms.
Add dough back into a bowl and fold chocolate chips in using a wooden spoon.
Press dough into a baking tray lined with parchment paper. Press until desired thickness & cut into squares. Top with additional coconut flakes.
Bars can be stored at room temperature or in the refrigerator.
---