Two ingredients is all you need to whip this fluffy, satisfying yogurt mousse together. The perfect snack or breakfast item to fuel your day.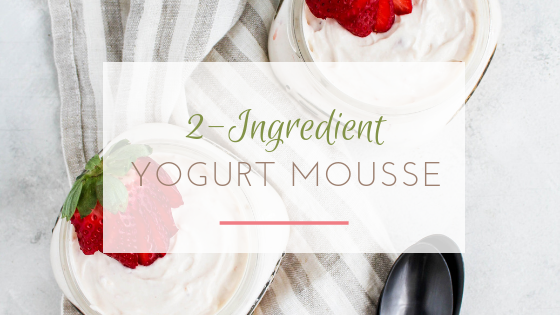 All of a sudden we're more than halfway through March and I don't know where the time has gone! Between National Nutrition Month, nearing the end of the semester, and the end of my provisional year in the Junior League, March is jam packed. While my days don't seem to be slowing down anytime soon, I know that when my schedule gets full, my want to cook declines.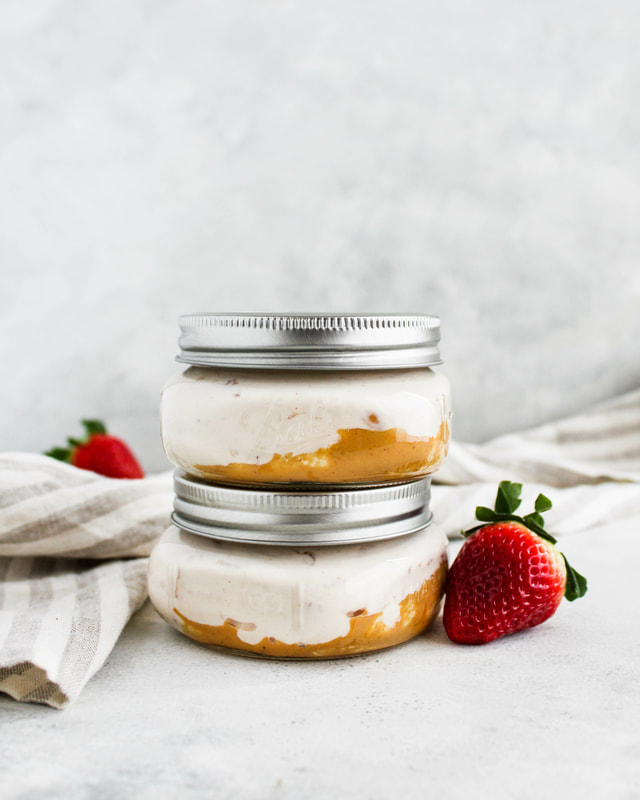 I think this is a natural reaction. Cooking has this reputation for being labor and time intensive in order to taste good and be "healthy". It's part of my mission to break down those barriers for you and show you that foods that make you feel good don't have to be overwhelming, expensive, or take a bunch of time. You can whip up quick meals and snacks, and get out of the kitchen and back to what needs your attention at the moment.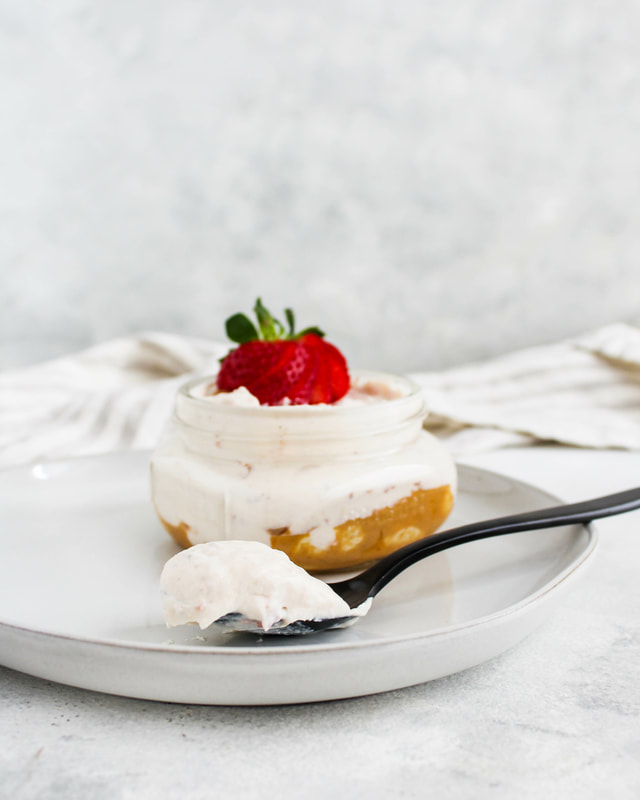 The idea for this 2-ingredient yogurt mousse came when I was looking for an easy snack one weekend. I had a full-fat container of Greek yogurt and I wanted to pour peanut butter all over it (as I naturally want to do with anything). As I mixed it together, I realized that the texture was so light and fluffy. It wasn't what I expected when I grabbed these two items, but it turned out to be a really satisfying snack. Rich in healthy fats and high in protein, this was filling and satiating.

You could make this ahead of time and keep it in an airtight container in the fridge for easy, on-the-go breakfasts. You could also top it with any fruits or granola or seeds that you'd like to give in an extra boost of texture, flavor, and nutrition.

This is the perfect recipe to sum up my feelings towards nutrition for National Nutrition Month – quick, delicious, satisfying, and simple ingredients. ​
---
2-Ingredient Yogurt Mousse
Ingredients:
3 single-serve containers full-fat strawberry Greek yogurt
¼ cup natural (drippy) peanut butter
​
Directions:
Mix together yogurt in a medium bowl with a rubber spatula. Fold in peanut butter until evenly distributed.
Cover and refrigerate for at least 30 minutes. Divide into bowls, evenly. Top with fresh sliced strawberries and an additional drizzle of peanut butter.
Serves 2-3
*Keep in an airtight container for up to 5 days.
---