Canned tomatoes are so versatile and are a great way to up your veggie intake during the winter months. Enjoy this Utica, New York classic, Tomato Pie, made with canned tomatoes!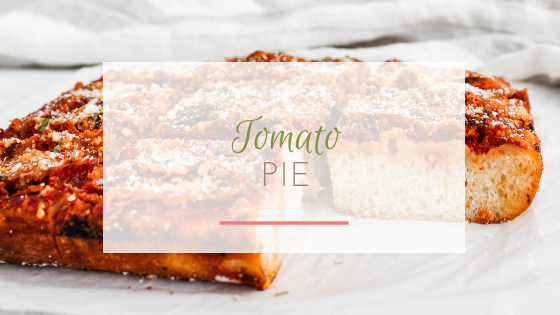 This post is for an entry into Tomato Products Wellness Council's #WhyILoveCannedTomatoes Contest. The winner gets a trip to California to experience the tomato harvest!
Just because we're still in the winter months, doesn't mean we can't enjoy the delicious taste of tomatoes! Canned tomatoes are awesome all year round and are actually my preferred type of tomatoes to enjoy. You may be thinking "why would you like canned over fresh?" I personally like the variety of canned tomatoes that you can find in the store and that there's less pressure to use them right away since they'll last in the pantry.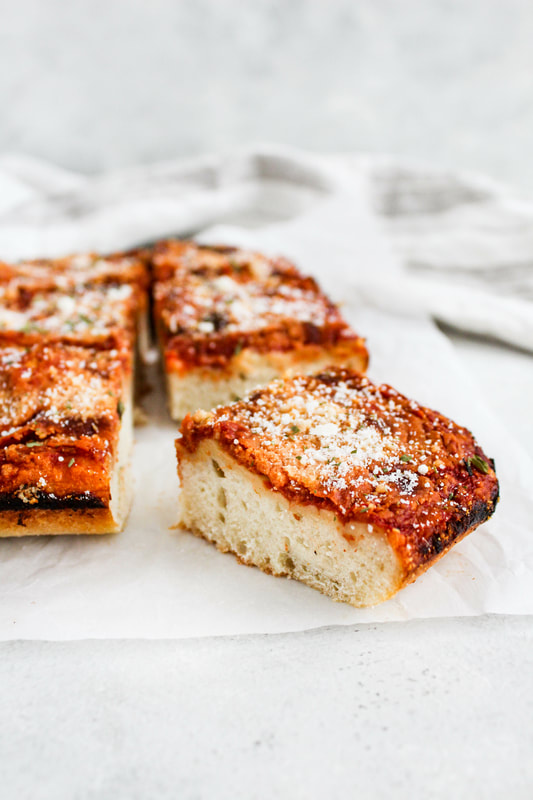 From sauce to paste to diced tomatoes, there's so many things you can do with canned tomatoes and they help get dinner on the table quickly. Most of my favorite simple dinners include canned tomatoes – homemade pizza, pasta with meat sauce, chili, tacos. Canned tomatoes also help me to get a little more veggies into my meals without a ton of effort. Which is awesome in my book! Another cool thing about canned tomatoes is that the cooking that's involved in canning tomato products actually changes the antioxidant, lycopene, into a form that's more easily used by the body. There's so many awesome recipes and ways to enjoy canned tomatoes on
Tomato Wellness's
site.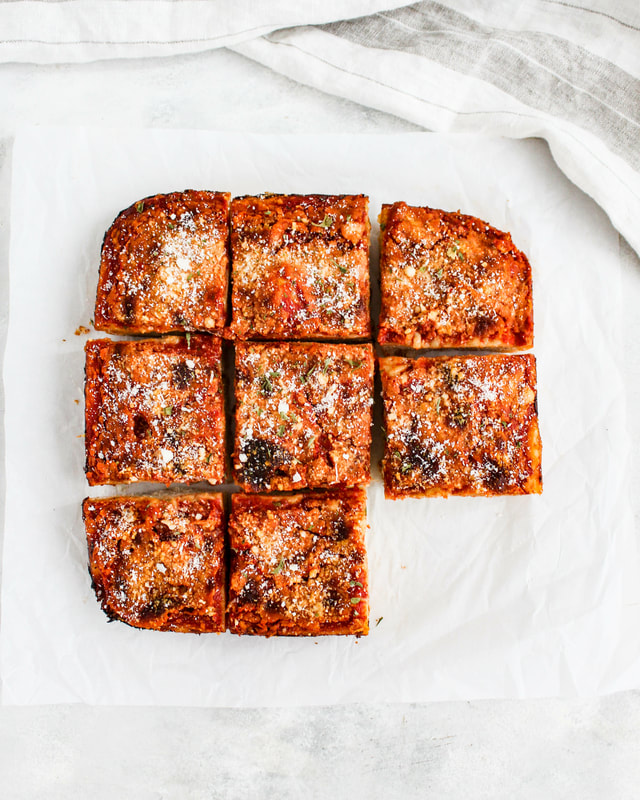 My grandma used to make meatballs and sauce almost every time we visited. Her version uses only canned tomatoes, which in my opinion is so much easier and tastes just as good as using fresh tomatoes. I don't always have all day to simmer sauce, so sometimes I'll make a quick version using tomato paste, herbs, spices, and water. Of course the all-day version is much better, but this quick recipe is a great stand-in. So I used this semi-homemade sauce as the stand-out ingredient in this classic
tomato pie
.
Growing up just outside of Utica, New York, tomato pie was a huge thing in the area. When you walked through the bakery section of the grocery store, you could always find tomato pie. People would serve this cross between pizza and focaccia bread at parties and the thing that sets it apart is that it's almost always enjoyed at room temperature. Now, at first glance, it definitely looks like pizza, but I assure you it's not! While it has the same basic ingredients – crust, sauce, cheese – it's just a little different. A thick, chewy crust serves as the base, topped with a very flavorful tomato sauce that's sprinkled with a dusting of grated pecorino romano cheese.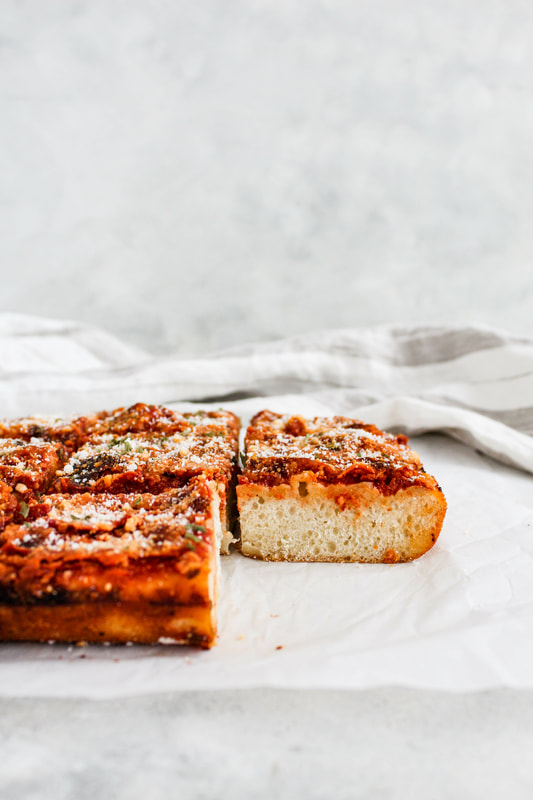 It was a no-brainer that I had to make my own version of tomato pie for this contest. I'm obsessed with local traditions when it comes to food. So it just made sense to marry the Utica Tomato Pie and my love of canned tomatoes! Let me know in the comments below if you've ever heard/had tomato pie!
---
Tomato Pie
Ingredients:
1 (16 oz) ball of pizza dough
1 cup tomato sauce*
¼ – ½ cup grated pecorino romano cheese
Directions:
Preheat oven to 450 degrees. Grease an 8×8-inch baking pan.
Press pizza dough evenly on the bottom of the pan. Poke holes in crust using a fork.
Spread tomato sauce on top of crust. Sprinkle liberally with grated cheese.
Bake pie for 15-20 minutes until crust's edges are golden brown. Let cool to room temperature before serving.
*See recipe below for quick homemade tomato sauce
Quick Tomato Sauce
Ingredients:
1 tablespoon olive oil
1 tablespoon minced garlic
1 (6 oz) can tomato paste
1 ½ cups water
Dash of onion powder
Dash of dried basil
Salt and pepper, to taste
Directions:
Heat olive oil in a medium saucepan over medium heat until shimmering. Add minced garlic and cook until fragrant, about 3 minutes.
Add remaining ingredients to saucepan. Bring to a boil. Turn heat down to low and simmer for 5-10 minutes to let the flavor develop.
Either use immediately or let cool and store in an airtight container in the refrigerator for up to 5 days.
---