Upgrade your favorite store bought hummus with these three simple recipes! Perfect for snacking or your next get-together.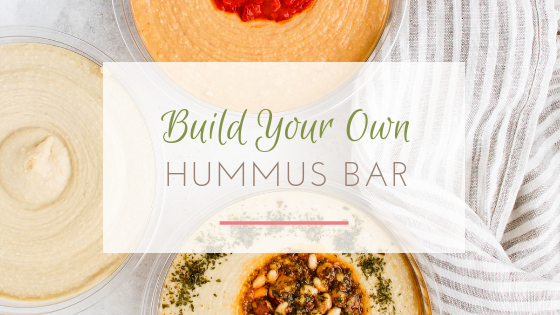 These days I'm all about convenience. The spring always seems to be a busy time of year and it's also when people start to have more get-togethers again after climbing out of winter hibernation.
I've come up with the perfect way to keep entertaining and snacking easy this spring with a build your own hummus bar! Hummus is always a crowd favorite and goes perfectly alongside pita chips or any type of cut up veggies. This hummus bar utilizes the convenience of store bought hummus, but steps it up a notch with delicious mix-ins. While there are so many different flavors of hummus out there on the grocery store shelves, these flavors are a little something different. It's the perfect example of how simple snacks can be amplified and dressed up a bit for any type of party.
Any of these hummus flavors would also be perfect for mixing up and using for snacks or lunches throughout the week. These hummuses keep nicely in the refrigerator for up to 5 days. Plus hummus is also so versatile, you can use it for various things besides dipping.
What are some things I can do with leftover hummus?
Toss veggies with hummus and roast on a sheet pan
Use hummus as a spread on a wrap or sandwich
Spread hummus on top of chicken or salmon and roast in oven
Mix with canned tuna for a different twist on tuna salad
Mix things up with any of these three, delicious hummus dips!

---
Build Your Own Hummus Bar
Pimento Cheese Hummus Dip
Ingredients:
1 container roasted red pepper hummus
1 cup shredded sharp cheddar cheese
1 cup shredded colby jack cheese
1 tablespoon dijon mustard
¼ cup garlic powder
¼ cup onion powder
A few shakes of tabasco sauce (depending on how spicy you like it)
Basil Pesto Hummus
Ingredients:
1 container pine nut hummus
¼ cup fresh basil pesto (found in refrigerated section)
Juice from half a lemon
Golden Turmeric Hummus
Ingredients:
1 container plain hummus
1 teaspoon ground turmeric powder
Dash of ground nutmeg
Dash of black pepper
Juice from half a lemon
Directions:
Combine all ingredients together in a medium mixing bowl. Serve immediately.
---