I'm welcoming my favorite season – strawberry season with this fluffy, protein packed mousse. This Strawberry Lemon Mousse is the perfect springtime dessert for two!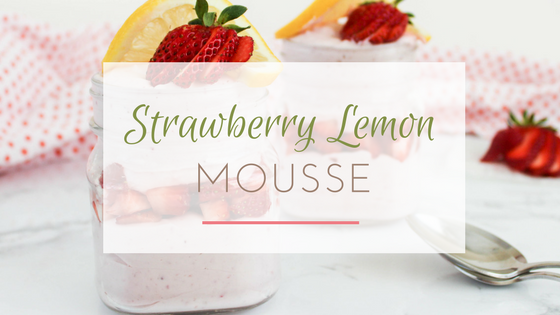 We've officially entered my favorite season – strawberry season! When asked what your favorite season is, most reply with summer, or fall. But mine honestly is strawberry season! Although short, it is the best few weeks of the year because I can get loads of locally grown, perfectly sweet red berries. It also signifies that the weather is going to stay warm and summer is just around the corner!
I seriously don't know what's better than digging in to a homemade strawberry shortcake or strawberry pie or just eating strawberry slices plain on a warm afternoon! Coming from someone who grew up in Upstate New York and now living in North Carolina, the difference between store bought strawberries and ones grown locally is so crazy. They're so much sweeter, flavorful, and all around fresher when bought from a little farm stand on the side of the road.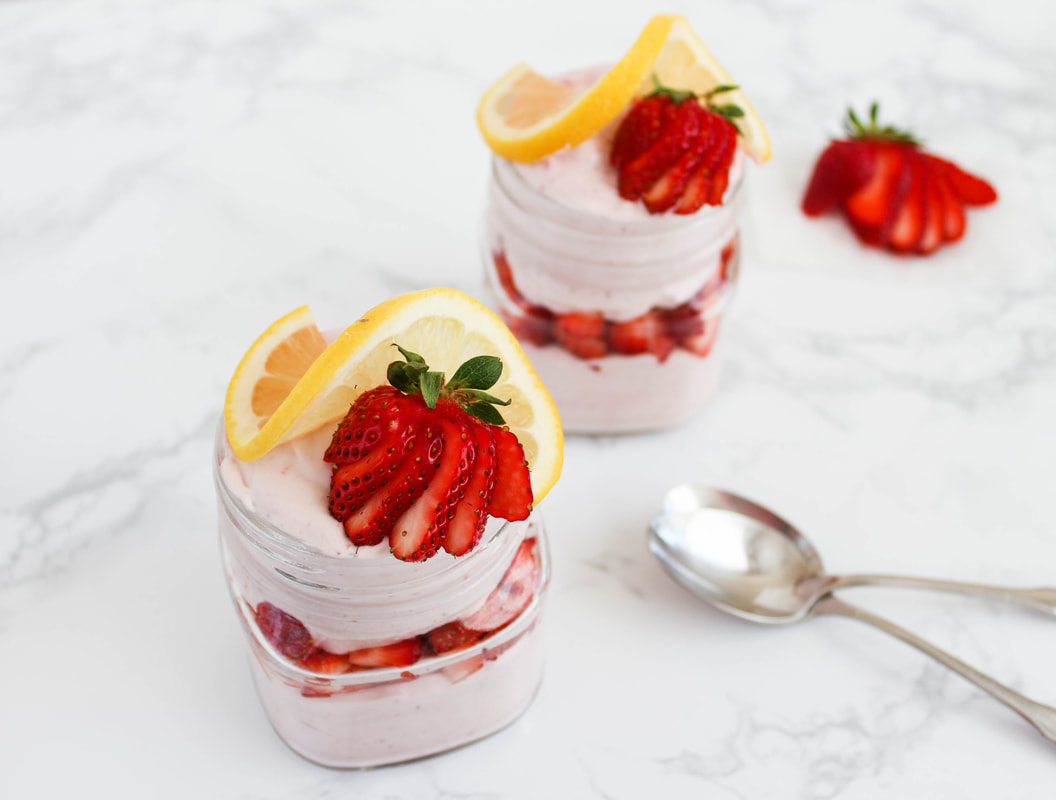 After moving to NC, I feel so spoiled a lot of times with the amount of locally grown produce we have and for how much longer the growing seasons can be for some types of produce. It's amazing that I get to enjoy strawberries in April & May!
Clearly, I'm pumped for these little red berries which will be the star of my Instagram feed for a bit. When I thought about what I could do with the big container of strawberries I bought this weekend, I wanted to do something a little different. I've never really made a mousse of any variety before and that sounded so good paired with strawberries, so I went for it.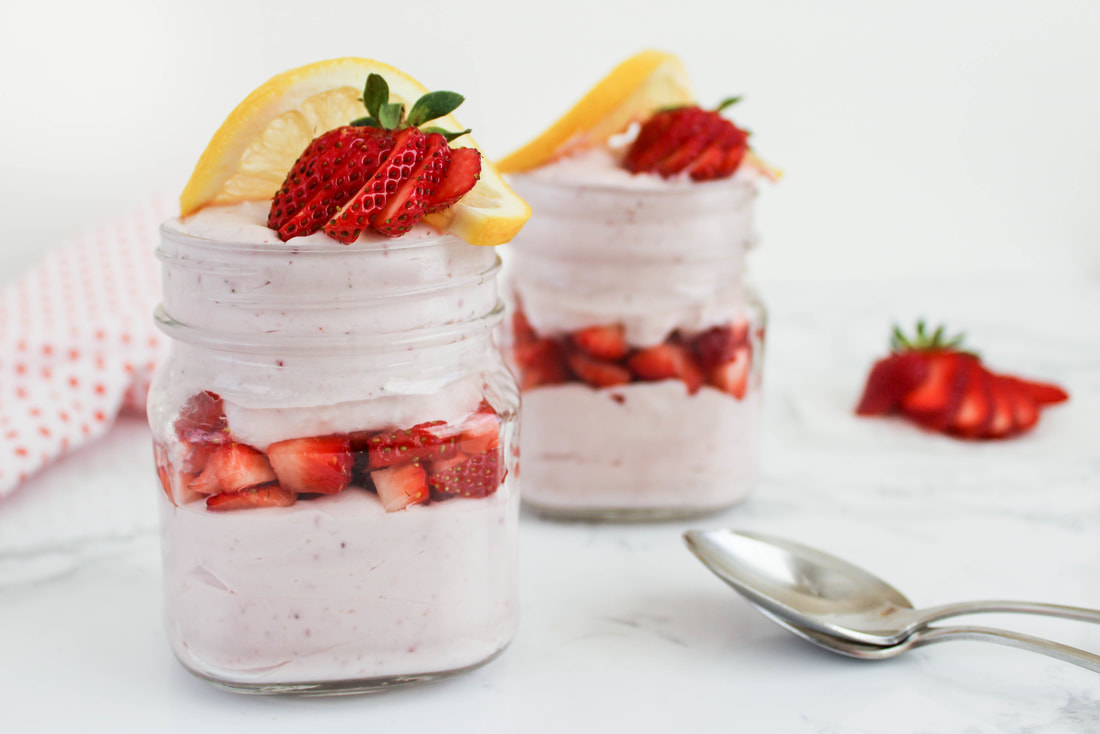 This mousse is a little different than what you typically think of with the decadent chocolate variety. It's light, fluffy, packed with spring flavors and protein! Every time I buy the Chobani Lemon & Cream flavor, I think of how perfect this would be in a dessert of some sort. Since lemon and strawberry flavors pair so nicely together, I figured why not combine them in this mousse. This Strawberry Lemon Mousse for 2 whips together in no time and is the perfect sweet treat to share with a friend or loved one. You basically just throw everything in the food processor and then mix it with some whipped heavy cream and call it a day! This would be even more delicious with a little graham cracker crumbs as well to make it like a mini cheesecake. Get creative and into the kitchen!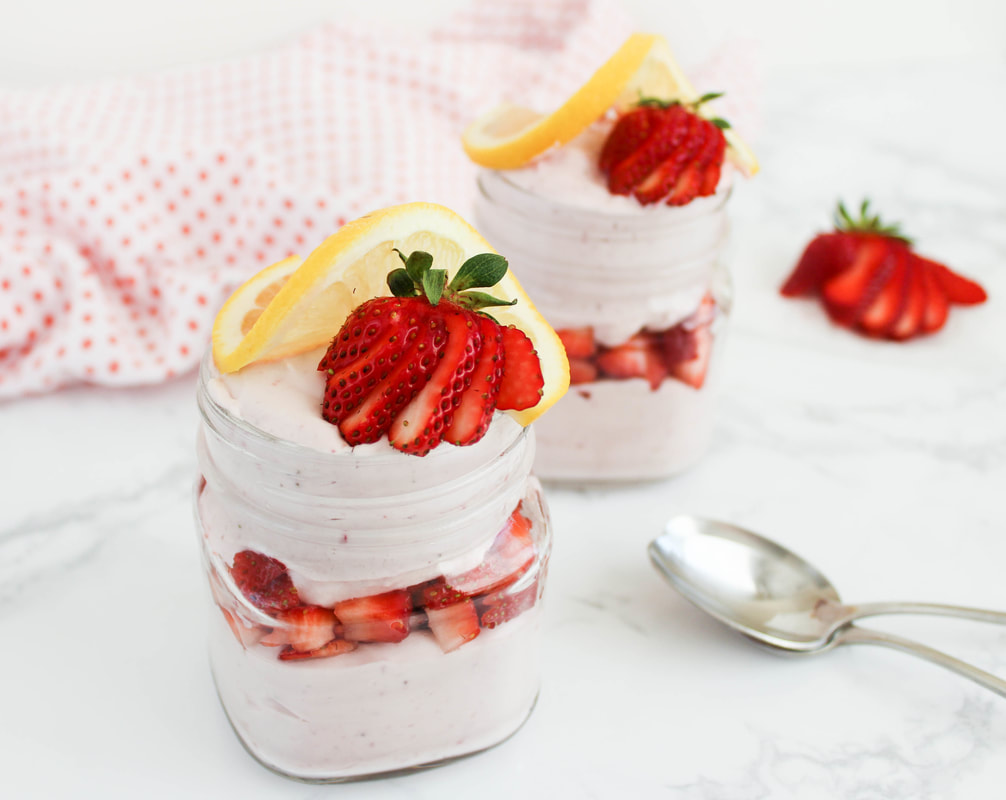 ---
Strawberry Lemon Mousse
Ingredients:
½ cup chopped strawberries
1 (5.3 oz) container Chobani Lemon & Cream Greek yogurt
4 oz Neufatchel cheese (or regular cream cheese)
1 tablespoon honey
¼ tsp salt
⅓ cup heavy cream
Extras:
Directions:
Puree the first 5 ingredients together using a food processor.
In a mixing bowl, whip the heavy cream with a mixer or whisk until a stiff whipped cream is formed.*
Fold the whipped cream into the strawberry mixture.
To assemble – fill a small glass container halfway with mousse, add a layer of diced strawberries, top with mousse until filled.**
Notes:
*Chill your bowl and beater or whisk beforehand for best results.
**I used a small 8 oz mason jar.