Spiced brandy paired with seasonal pear flavors topped with hard cider make for a festive, holiday cocktail.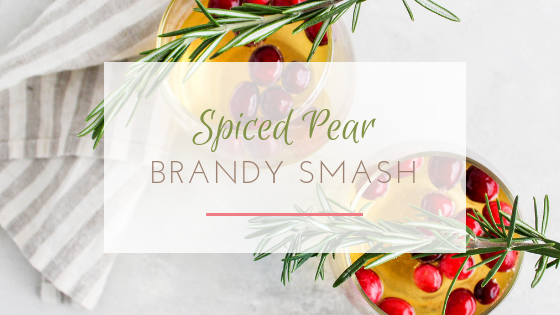 Do you ever have a drink at a restaurant that's so good and then you're on a mission to recreate it at home? No? Just me? Well, back in October I went out to dinner to a Cajun style restaurant and I had the most delicious fall cocktail. Ever since I had it, I've been trying to track down the ingredients to make my own version at home during the holidays. The cocktail had pear simple syrup,
Tuaca
, and hard cider. It tasted like fall in a cup! It was amazing!
What type of brandy should I use?
I searched high and low for Tuaca, but couldn't find it anywhere in Charlotte. Tuaca is an Italian brandy that has a blend of citrus, vanilla, and spice flavors. So when I was home for Thanksgiving, I stopped in the liquor store and found this
Korbel XS
brandy, which sounded pretty similar. I always like to try out a new cocktail at our Thanksgiving dinner to spice things up a bit. I mixed up a few different versions of this brandy smash cocktail and it was a hit! For my final taste test, I used Dom Benedictine B&B Liqueur, which had a very similar taste profile to the spiced brandy. I think it was a little sweeter than when I made the cocktail with regular brandy, but it was still equally delicious. The warm notes of the brandy and nutmeg mixed with the sweet pear flavors make for a cocktail that is festive, fun, and easy to drink.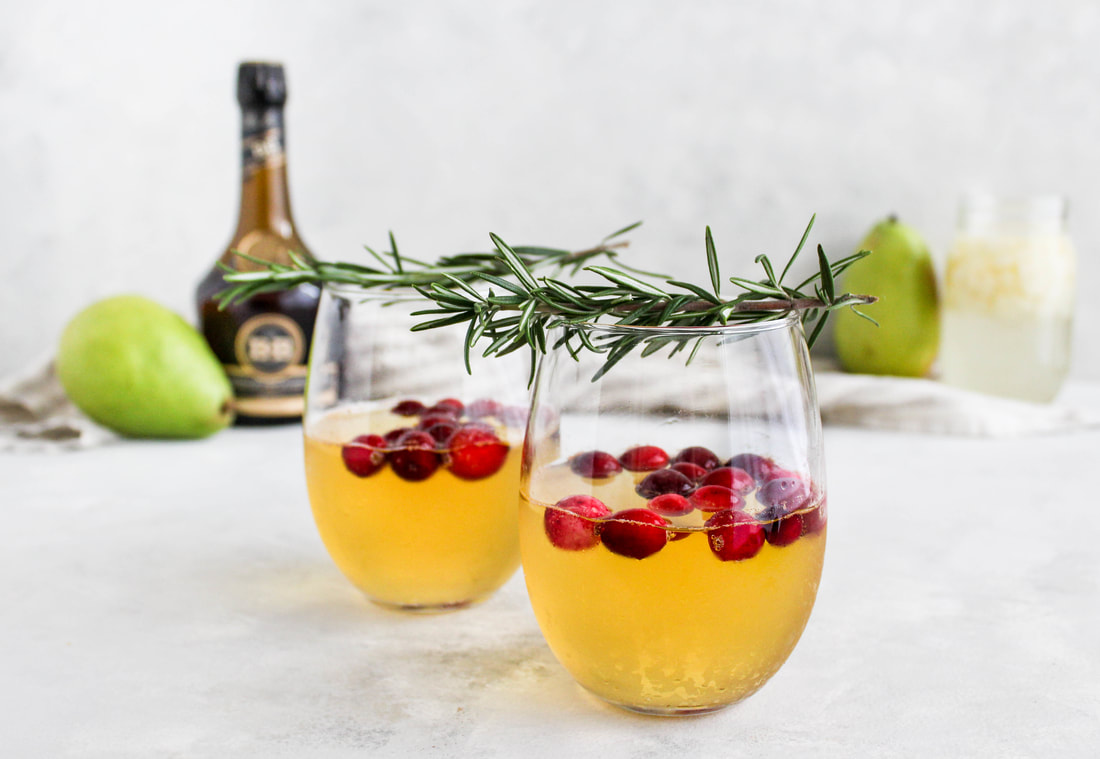 What if I don't want to make pear simple syrup?
I made my own pear simple syrup by simply using a 1:1 ratio of sugar to water, added chopped pear, brought the mixture to a boil and simmered until the sugar was dissolved. See below for my exact recipe. If you don't feel like making your own, you could use store bought plain simple syrup or pear juice instead.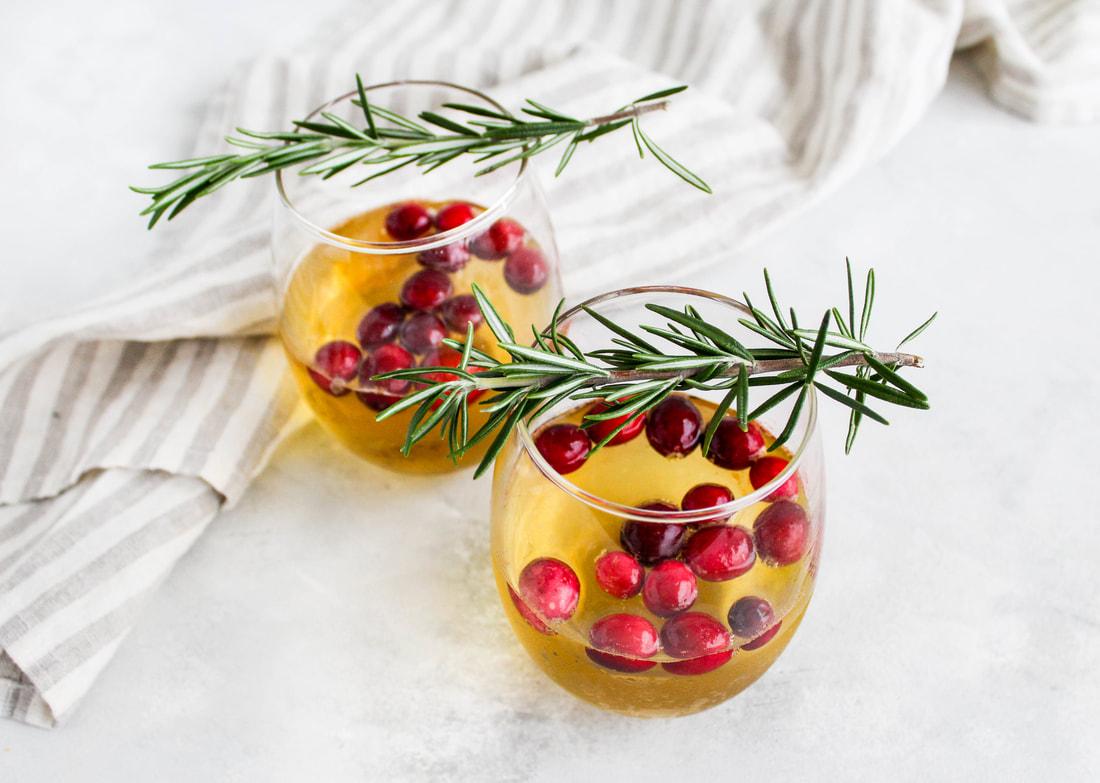 But I can't find pear hard cider!
To make my cocktail, I used a local hard cider brand,
Bold Rock
. They have a really tasty pear cider that I love. It's very light and fresh tasting with a little bit of sweetness. If you can't find a pear hard cider in your grocery store, you can just use your favorite hard cider flavor/brand. There's some really yummy sounding spiced ciders out there this time of year, which would be super delicious in this cocktail.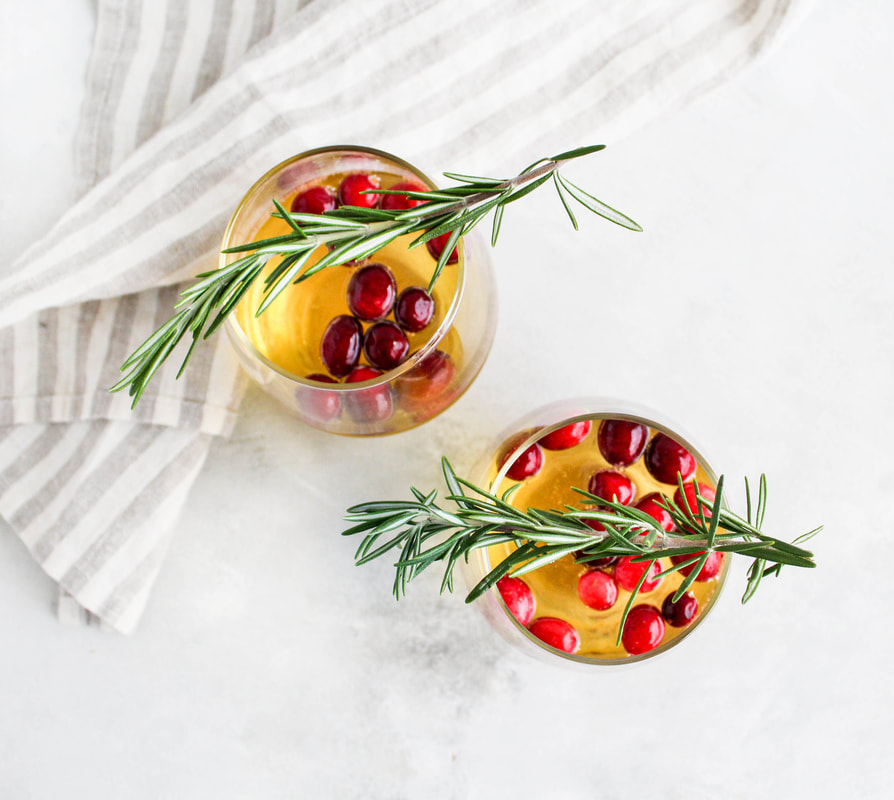 I'm definitely going to be making this cocktail again when I'm home for Christmas because it's that good! I just love how the wintery flavors come together for a perfectly balanced beverage. Now I just want to curl up on the couch with this cocktail in hand and watch some Hallmark movies!

Do you have a favorite holiday cocktail that you're making this year?

---
Spiced Pear Brandy Smash
Ingredients
2 oz spiced brandy
1 oz pear simple syrup (see recipe below)
⅛ tsp nutmeg
12 oz pear hard cider
Ice
Frozen cranberries
Directions
Pour brandy, syrup, and nutmeg into a cocktail shaker filled with ice. Shake until well combined and chilled.
Pour the brandy mixture evenly into two glasses. Top each glass with 6 oz of hard cider.
Garnish with frozen cranberries, if you wish.
Makes 2 cocktails
Pear Simple Syrup
Ingredients
1 cup sugar + 1 cup water + 1 pear, chopped
Directions
Add all ingredients to a small saucepan of medium high heat. Bring mixture to a boil. Simmer for about 3 minutes, until sugar is dissolved.
Let syrup cool completely. Store in refrigerator in an airtight container for one week.
---