Celebrate the international year of pulses by learning the health benefits of these great dried seeds & how to incorporate these nutrition powerhouses into your meals.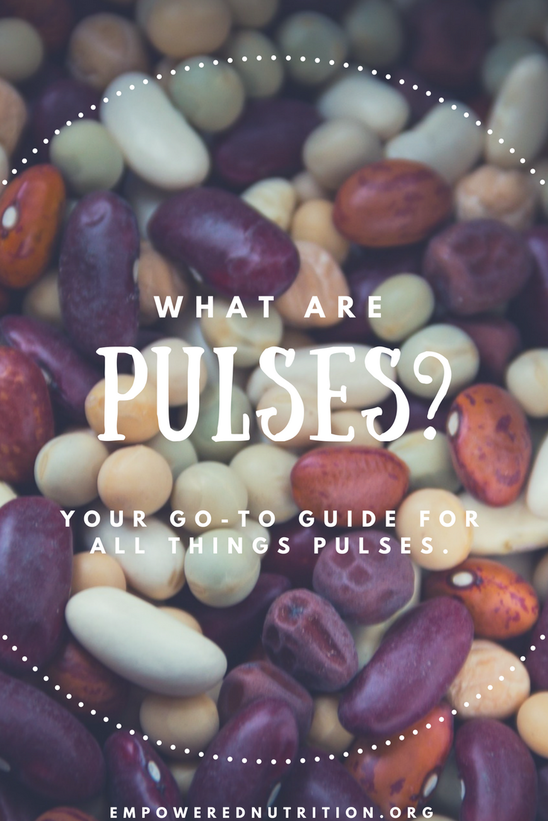 ​What exactly is a pulse? No, I'm not talking about that thing the nurse takes when you go for a check-up…I'm talking food (surprise, surprise).
Pulses are the dried seeds of legume plants. The term, "pulse" refers to the crops that are harvested as a dry grain. Most of us are already familiar with the dried seeds, but didn't associate them with being called pulses. I'll be the first to admit that I'd heard the term tossed around, but didn't know what they heck they actually were until last month when I attended FNCE & learned how awesome pulses are!
There are 4 main types of pulses: beans, chickpeas, lentils, & dried peas. There are over 100 different varieties of pulses that are grown all around the world!
​So why are pulses so great?! First things first, they help reduce the risk of chronic disease & improve our health. How could these tiny little guys do that, you ask? Well, pulses are rich in protein & fiber, high in vitamins & minerals, and low in fat. All of these factors are great for weight management, which helps decrease your risk of developing a chronic disease.
Pulses are also a complex carbohydrate, which means they take longer for the body to break down than other simple carbs (white bread, cake, candies). Since these dried seeds are bursting with protein, fiber, & complex carbs they keep you fuller longer & provide sustained energy.
All of this ties into blood glucose management for diabetes prevention & control. November is National Diabetes Month where we can all raise awareness, find a cure, & help individuals with diabetes better manage the condition. Pulses' high fiber content helps regulate blood sugar levels by not causing spikes that other simple carbs do. When you keep your blood sugars regulated, you reduce your risk for developing diabetes. You also lessen your chances for developing the associated health risks of poor blood glucose management if you already have diabetes.
​Pulses are also a heart healthy option & research has shown they can lower blood pressure & cholesterol. They are low in trans & saturated fats, which also helps decrease your risk for developing heart disease.
Check out this infographic below to see 10 surprising facts about pulses!
As you can see, pulses are a highly sustainable crop, environmentally efficient, provide great nutritional benefit, & are budget-friendly. They are the one food that I can fully get behind in calling a "superfood". Just check out fact #10!
I have two great chili recipes to share with you that both incorporate pulses! The first is a lightened up traditional chili, using lentils instead of beans & the other is a fun twist on a white chicken chili.
Before we get to that, I'm going to leave you with one last thing. If you visit pulsepledge.com, you can sign up to take the pledge to incorporate pulses in your diet once a week for 10 weeks. Join the global food movement & celebrate the year of the pulse!
---
Lightened Up Turkey Chili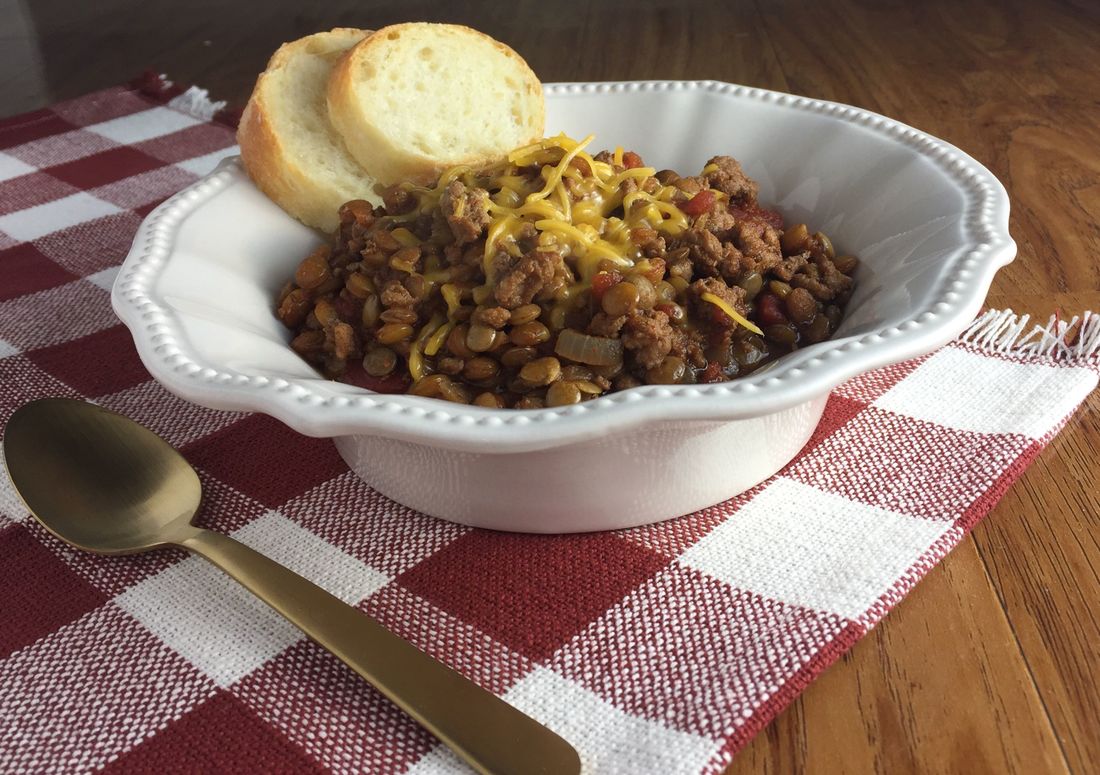 Ingredients:
1 lb ground turkey
1/2 bag (8 oz) brown dried lentils
1/2 large onion, chopped
3 T tomato paste
2 tsp minced garlic
1 T chili powder
1 tsp ground cumin
2 tsp oregano
1 can no salt added diced tomatoes
14 oz reduced sodium vegetable broth
Salt & pepper to taste

Directions:
Brown ground turkey & chopped onion in a skillet.
Rinse lentils.
Place browned turkey & onion, lentils, and remaining ingredients in crockpot.
Cook on low for 4-6 hours, until lentils are tender.
Garnish with cheddar cheese & fresh cilantro.
---
White Chicken Chili with Pesto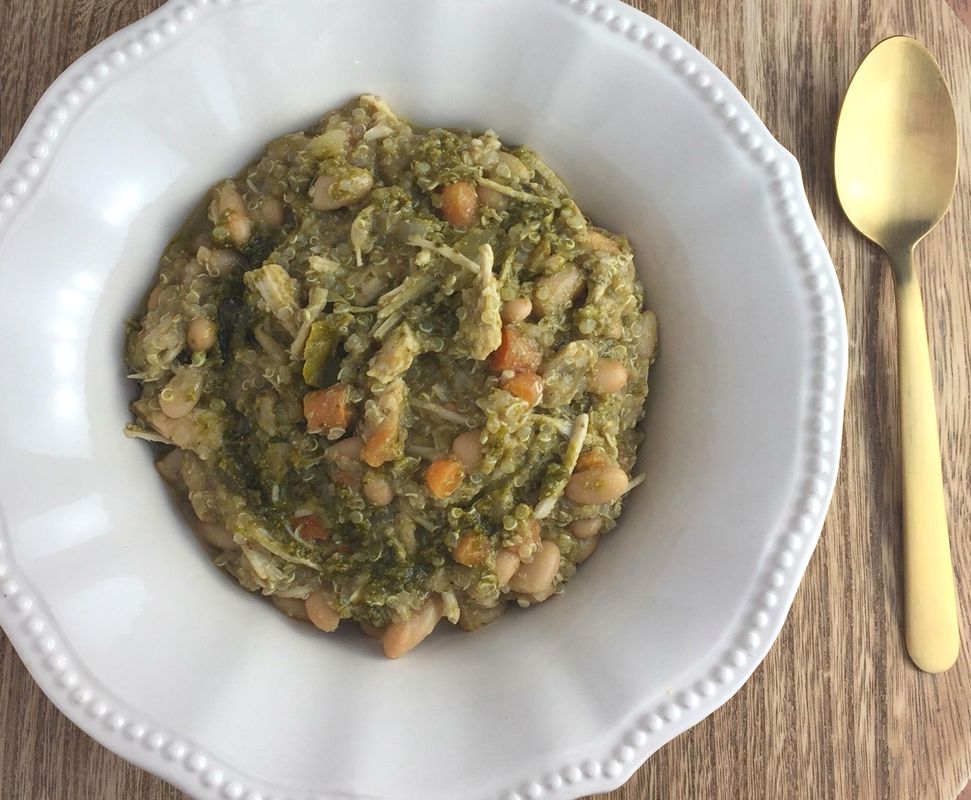 Ingredients:
1 lb chicken breasts
1/2 bag (8 oz) dried great northern beans
1/2 large onion, chopped
1 cup carrot, finely chopped
1-4 oz can green chiles
2 tsp minced garlic
1 1/2 tsp chili powder
1 1/2 tsp ground cumin
14 oz reduced sodium vegetable broth
Salt & pepper to taste
1 cup cooked quinoa
3 T pesto

Directions:
Rinse beans.
Place ingredients, chicken through salt & pepper in crockpot.
Cook on low for 6-8 hours, until beans are tender & chicken is cooked through.
Before serving, cook quinoa according to package directions. Add 1 cup cooked quinoa to chili.
Stir in 3 T of pesto & serve. Garnish with mozzarella cheese.
---
---
Like & Follow!
---