A festive, lower in sugar fudge that's sure to be a crowd-pleaser at your next holiday get-together!
I've been on a quest to make a festive, holiday fudge for the past week. Fudge is a staple in our house around Christmas time and I'm a big-time fudge lover! My great aunt would always make chocolate fudge for our Christmas get-together, which I was a super fan of. Apparently when I was about two years old, I kept going around to all the adults asking for a little bit of fudge and they all would give me some, which ended with me getting sick at the end of the night because I ate so much fudge! Nothing has changed; I'm still a sucker for homemade fudge! Then when I was in high school, Rachel Ray came out with her five-minute fudge recipe that my mom, sister, and I loved and would make all the time. It's super easy and tastes great and you can't mess it up! (My kind of recipe!)
So I wanted to make a fudge that was reminiscent of that, simple to make, but figure out a way to lessen the amount of sugar a tad bit. Now, you know me…I'm all for using regular sugar, enjoying recipes made with real ingredients, and savoring richer foods. So this is by no means a "healthy" fudge recipe, it just as a tad bit less sugar than it's original counterpart. It still tastes super indulgent and makes the perfect holiday treat for everyone to enjoy!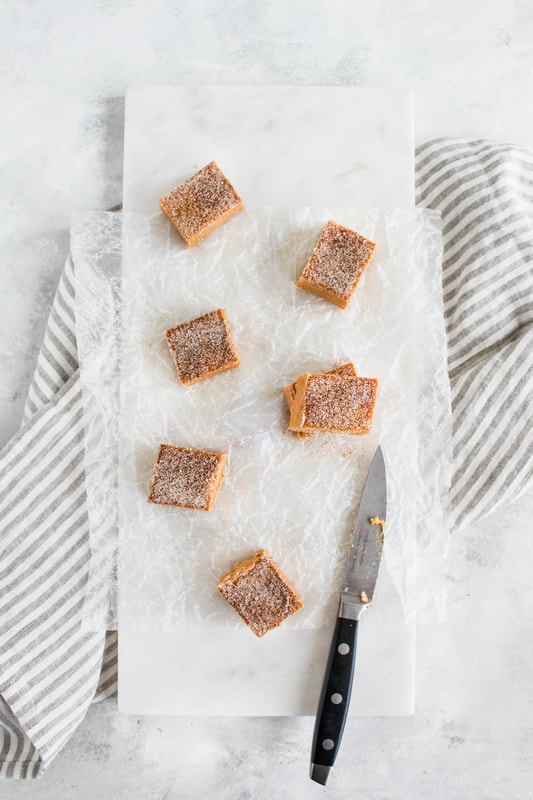 ​When I was testing different recipes, I did try to make a version of "healthy" freezer fudge. You know, the ones that are made with nut butter and melted coconut oil and they have this texture similar to fudge. I honestly wasn't a fan. The coconut oil was too greasy of a mouthfeel and it just felt like I was eating a diet food, and I hated that. Then I tried the never fail fudge with marshmallows, but I think I changed the recipe too much and it was too sticky for my liking. I finally settled on this recipe which combines Rachel Ray's five-minute fudge technique with a bit of homemade sweetened condensed milk.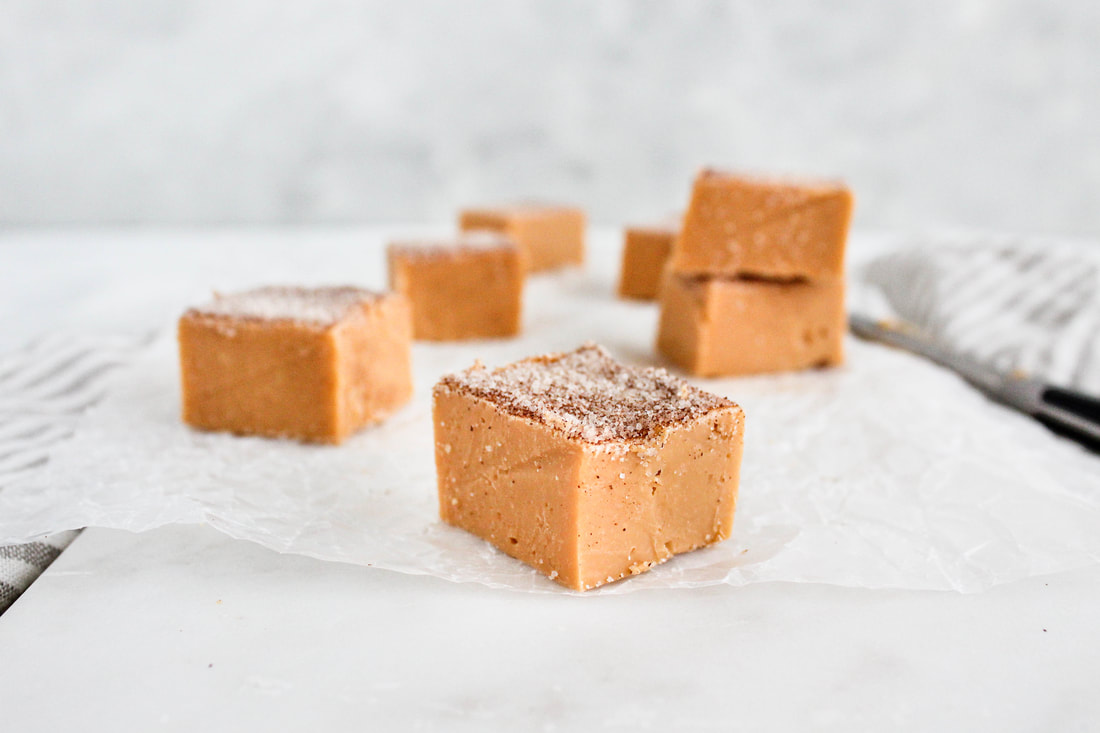 Making homemade sweetened condensed milk is a little time consuming because you have to wait for it to boil down and thicken, but that's literally the longest part of this fudge recipe. Once that's made, you just combine it with white chocolate and butterscotch chips to melt together and you're done! This sweetened condensed milk could be used for so many different recipes, so you could make a larger batch and save the extra for later use.
A few months ago I bought Splenda Naturals Sugar & Stevia Sweetener Blend for a recipe contest where I made Muscadine Crisp. So I had a bunch of the sweetener left over and figured I could definitely use it in this homemade sweetened condensed milk recipe. So this was my trick to reduce a little bit of the sugar content, but still have it taste amazing and not have that gross, artificial sweetener flavor.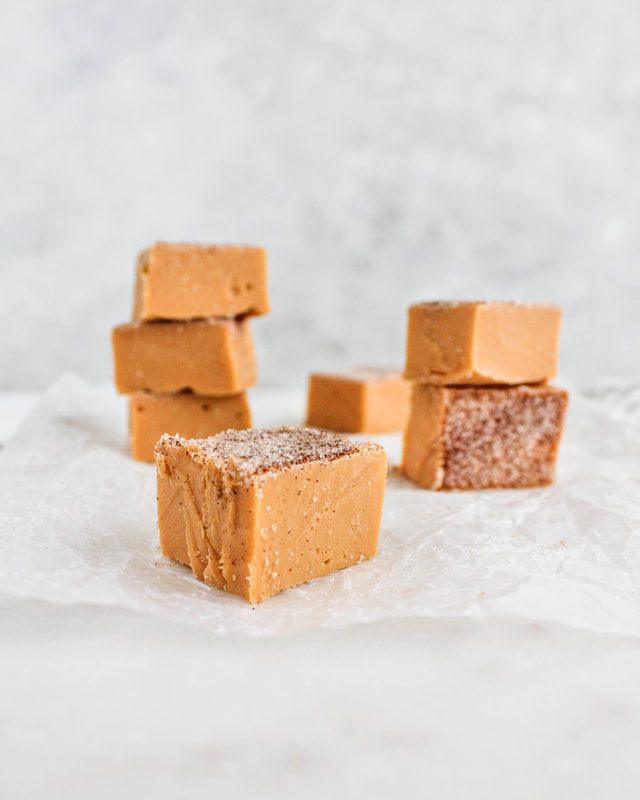 ​I went back and forth on the flavor of the fudge, but finally settled on snickerdoodle because it's something different and very cozy to me. I played around with sugar cookie, pecan praline, and traditional chocolate, but snickerdoodle won out. I think this is a fun, simple recipe that makes the perfect holiday gift or sweet addition to your next get-together!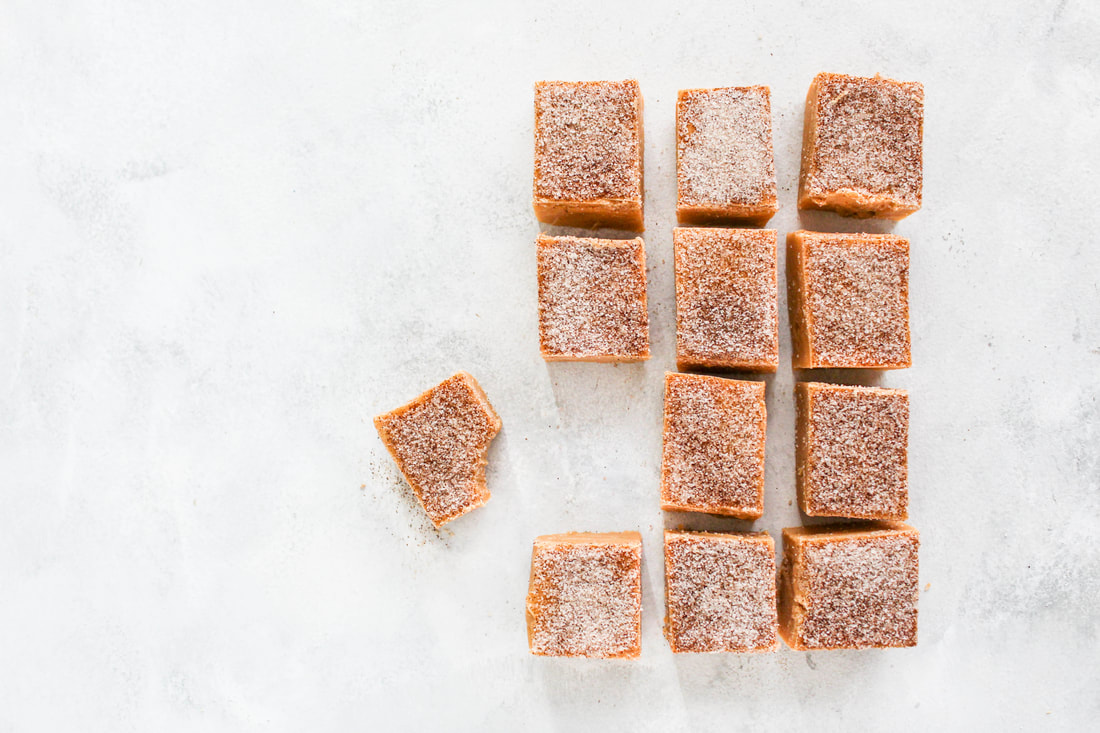 ---
Butterscotch Snickerdoodle Fudge
Ingredients:
1 can sweetened condensed milk (or Homemade sweetened condensed milk*)
1 bag white chocolate chips
1 bag butterscotch chips
1 tsp vanilla extract
2 tablespoons white sugar
1/2 tsp cinnamon

Directions:
Line an 8×8-inch pan with aluminum foil.
Combine sweetened condensed milk with both bags of chips in a medium saucepan over low heat. Stir together until melted.
Take off heat, add in vanilla.
Pour into the prepared pan.
Combine sugar and cinnamon in a small bowl. Top fudge with sugar mixture.
Let set at room temperature, about an hour before cutting and serving.

*Sweetened Condensed Milk: 1 can of full-fat coconut milk + ½ cup Splenda Naturals Sugar & Stevia Sweetener. Place in a small saucepan and bring to a rolling boil. Simmer for 20-30 minutes until thickened. Cool & place in airtight container to store in the fridge. Store in fridge for best results; Homemade sweetened condensed milk cooks down to about 12 oz.
Substitutes: ​Play around with different flavors of chips to create your own flavor!