This brightly colored, festive frozen yogurt bark will make the perfect addition to your holiday table!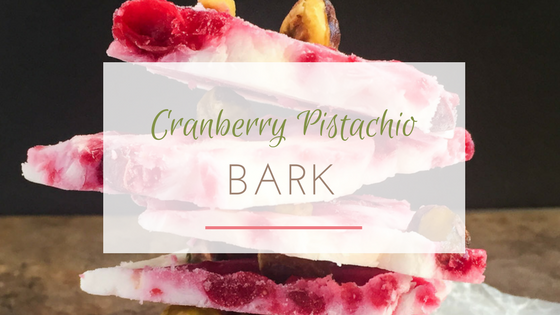 ​The holiday season is here! Bring on the tasty dinners and sweet treats! The holidays are a time of joy. I love spending time with my family, taking a break from work, and enjoying all the seasonal eats!
Sometimes the holiday table can get a little bland, color wise, so this month's Recipe Redux challenge was to bring a punch of color to the festivities. There are so many brightly colored, nutritious foods that are available this time of year, so there were a lot of options in deciding what to make. The key to this challenge was making holiday fare that is naturally colored or dyed. Fresh cranberries are the first thing that comes to my mind when I think of bright, natural colors during the holidays. I gravitate towards the sweet treats during the holiday season, so I started thinking about desserts or snacks that I could make.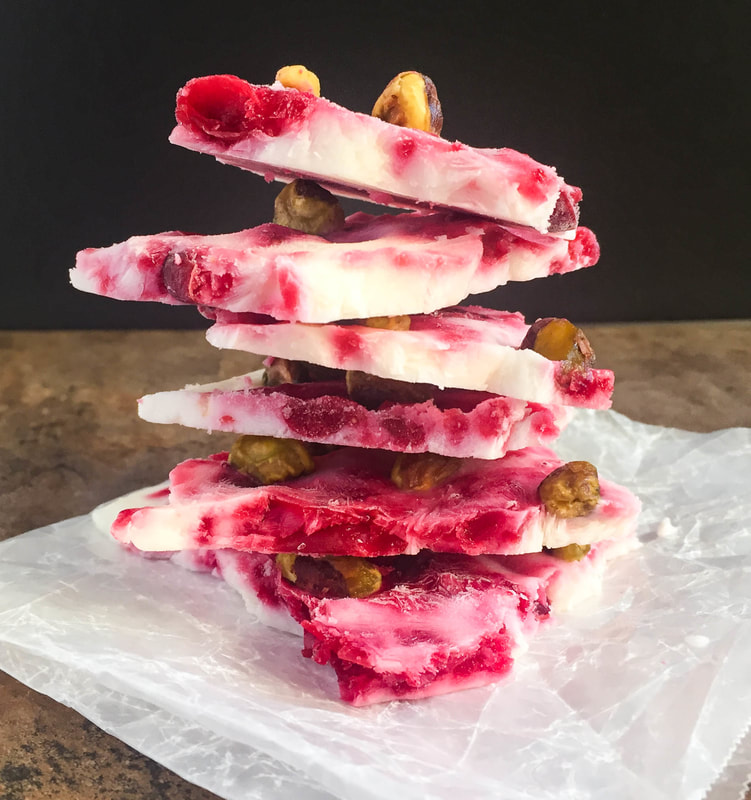 ​I love holiday bark, mainly ones that have a chocolate base (obviously!). But that's not really all that colorful and I wanted to do something different. I figured vanilla yogurt would be tasty and cranberries and pistachios would be the perfect burst of festive color. Plus, making bark is super easy, looks kind of fancy, and is perfect for holiday snacking.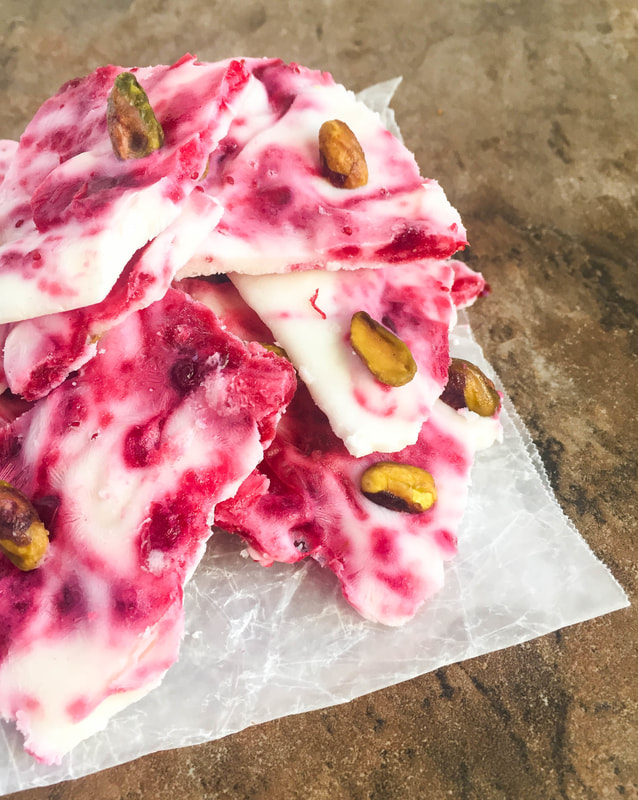 ​I made a cranberry sauce specifically for this recipe, but this would be a perfect way to use up that leftover homemade cranberry sauce from your holiday meal. The key to making this bark super creamy and delicious is using a full-fat yogurt. I also used regular yogurt, not Greek, because it's a little less tangy. You could also use a different flavor of yogurt if you'd like. I stuck with vanilla since I wanted the cranberry flavor to really come through. This bark is super customizable, so you could add a bunch of different toppings to it. You could really get creative and add other types of nuts, dried fruits, chocolate chips, pretzels…whatever strikes your fancy!
Be sure to click on the link at the end of the page to check out all the other creative ways to add natural colors to your holiday table!
---
Ingredients:
½ cup water
1 Tbsp honey
½ bag fresh cranberries
2 cups whole milk vanilla yogurt
Shelled, roasted pistachios

Directions:
Place water and honey in a small saucepan. Bring to a boil.
Add cranberries. Bring back to a low boil for about 10 minutes. Stirring occasionally.
Once thickened, let cool.
While cranberry sauce is cooling, spread yogurt in a thin layer on a wax paper lined baking sheet.
Add dollops of cranberry sauce to yogurt layer. Swirl with a knife. Top with pistachios.
Place baking sheet in freezer for 3-4 hours until frozen solid. Break into pieces and serve.
Keep extra bark in the freezer for easy snacking.
---
---