Mix up your pasta routine with this flavorful sausage spaghetti dish topped with an herbed white wine sauce for a quick and delicious dinner!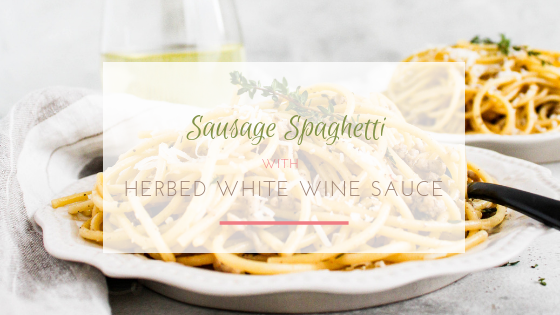 While I love cooking, lately I've been turning towards super fast and simple meals. The less dishes and cooking processes, the better! But even though we all want dinner on the table quickly, we don't want it to be the same old boring thing. So I've been getting creative with my pasta dishes to break up the monotony of one of my go-to quick dinners.
Typically, I tend to lean towards pasta with meat sauce or pasta alongside some chicken. Ever since I took part in a
dietitian farm tour
with the
National Pork Board
over the summer, I've been incorporating more pork into my cooking. I'd never really thought to buy ground pork before, I just seem to pick up beef or turkey most times. For this dish I used ground pork and seasoned it to have a sausage flavor and kept the sauce very light and fresh.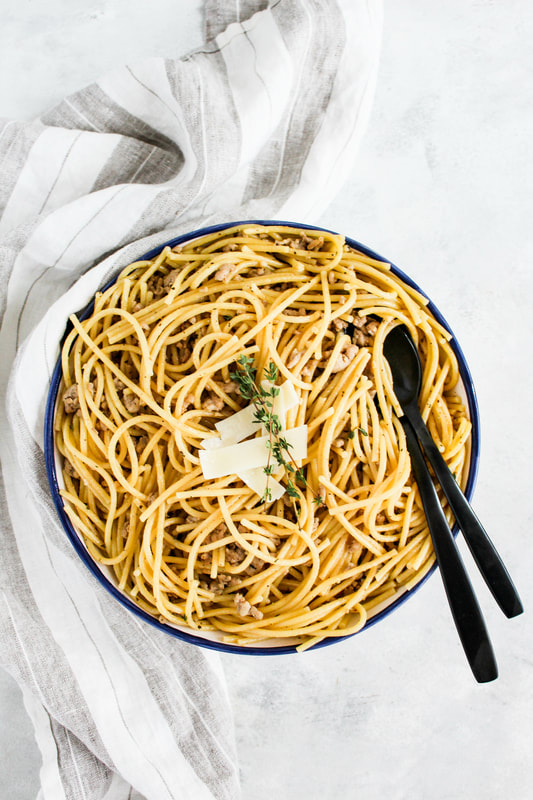 I really wanted to make an herbed sauce using white wine, so I riffed off of one I found online. The results were awesome! This dish had so much flavor and took so little time! It was one of those recipes that just worked the first time I came up with it. I used a pinot grigio to make my wine sauce, just because that's what I had on hand, but you can use whatever white wine you prefer. It's probably best to stay with a semi-dry or dry white wine though. If you don't have any wine on hand, you could substitute with chicken or vegetable broth.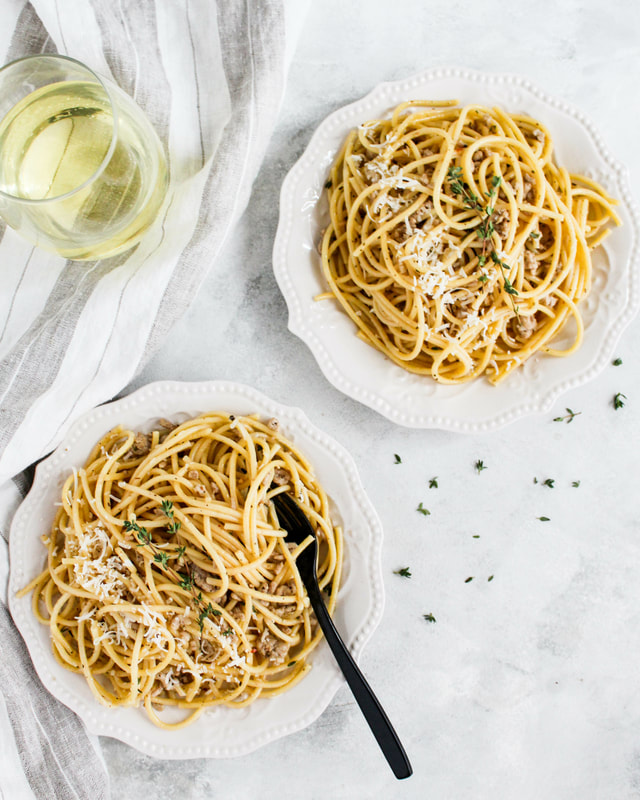 I love this because you use the same skillet to cook the pork in as you make the sauce, so the flavor really develops well. If you don't have spaghetti, you could easily switch it up with a different cut of pasta. You could also use a whole grain pasta or a gluten-free pasta, like
Banza
! The Asiago cheese puts the perfect salty, cheesy finishing touch on this dish.
I hope you love this simple dinner dish just as much as I do!
---
Sausage Spaghetti with Herbed White Wine Sauce
Ingredients:
1 lb ground pork
¼ teaspoon onion powder
¼ teaspoon garlic powder
¼ teaspoon dried parsley
Salt and pepper, to taste
4 tablespoons salted butter
1 tablespoon minced garlic
2 tablespoons fresh thyme
½ tablespoon dried basil
½ cup dry white wine
Dash of red pepper flakes
1 lb spaghetti, uncooked
Asiago cheese, for garnish
Directions:
Place ground pork in a large skillet over medium heat. Season with onion powder, garlic power, dried parsley, and salt and pepper to taste. Cook pork thoroughly. Set aside.
Add butter to skillet and increase heat to medium-high. Cook until butter is browned, about 3-5 minutes. Add thyme and basil, cook an additional minute. Add wine, continue to cook for another 3-5 minutes.
Meanwhile cook spaghetti according to package directions. Drain.
Add cooked pork and spaghetti back into the skillet and mix to combine thoroughly. Serve immediately, topped with shredded Asiago cheese.
Serves ~4 people
---