This Thai inspired chicken ramen bowl is an easy weeknight dinner that tastes like a gourmet meal.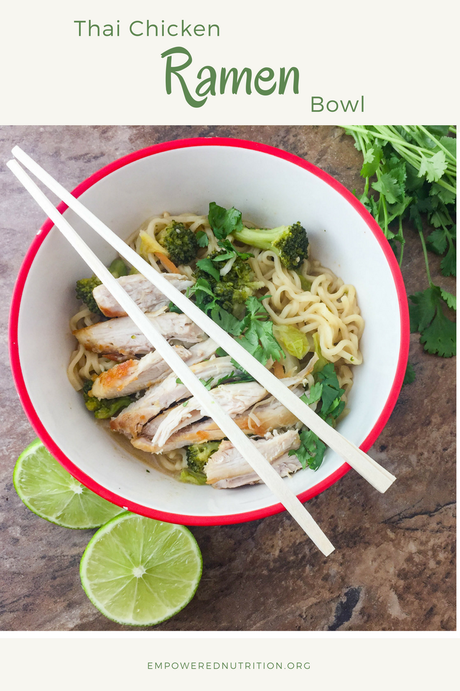 ​I've been perfecting my homemade ramen recipe for a while now. Ever since ramen bowls started becoming more popular in restaurants I wanted to make my own version at home. My sister & I loved ramen noodles growing up, the chicken flavor. We would eat a big bowl of steamy noodles on snowy days after sledding or making a snowman. I feel like ramen is such a comfort food & I'll be the first to admit that it's delicious straight out of the package, but there are so many more things you can do with it that make it taste like a gourmet meal!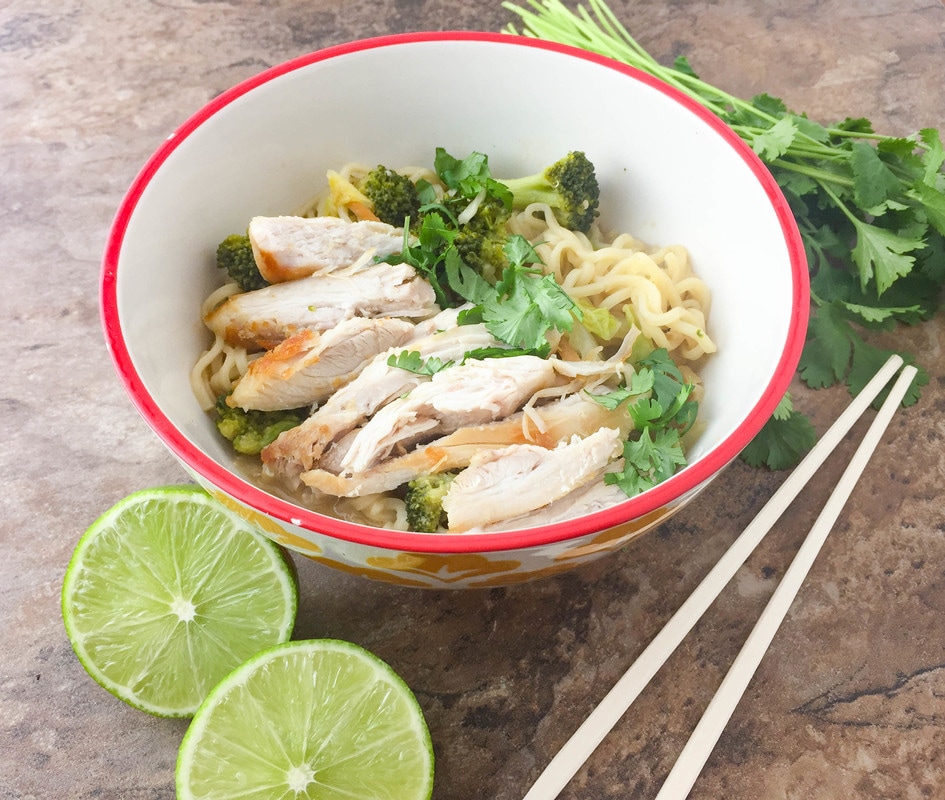 ​I had a really great pork ramen bowl when I was in Boston this past fall, which really sparked my interest in creating my own. I made a simple chicken & broccoli ramen bowl a couple months ago & it was good, but I knew I could get even more creative with it. I've been having a love affair with Thai food lately. The flavors, like cilantro & peanut, are some of my favorite additions to meals because of the brightness & nuttiness they add. So a couple weeks ago after going out to a local Thai restaurant, I knew a Thai ramen combo had to happen!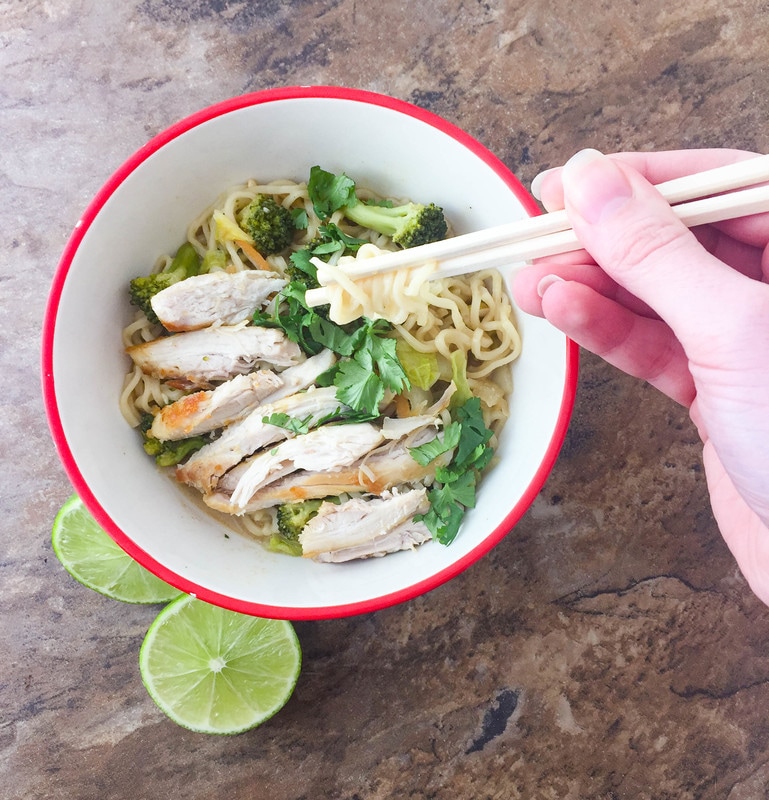 ​Ramen bowls are truly so simple to make & look like you were in the kitchen all day cooking this delicious meal. They're also easy to mix & match with flavor combinations & different ingredients. The basic formula is to sauté some veggies, add broth & other flavorings like soy sauce &/or spices, bring to a boil & add the ramen noodles without the seasoning packet. You could either use pre-cooked meat, like a rotisserie chicken or prepare your favorite meat to add on top of everything. It's super easy to make on weeknight if you use already cooked meat & frozen veggies – it takes about 15 minutes to prepare & tastes like a meal you ordered at a restaurant.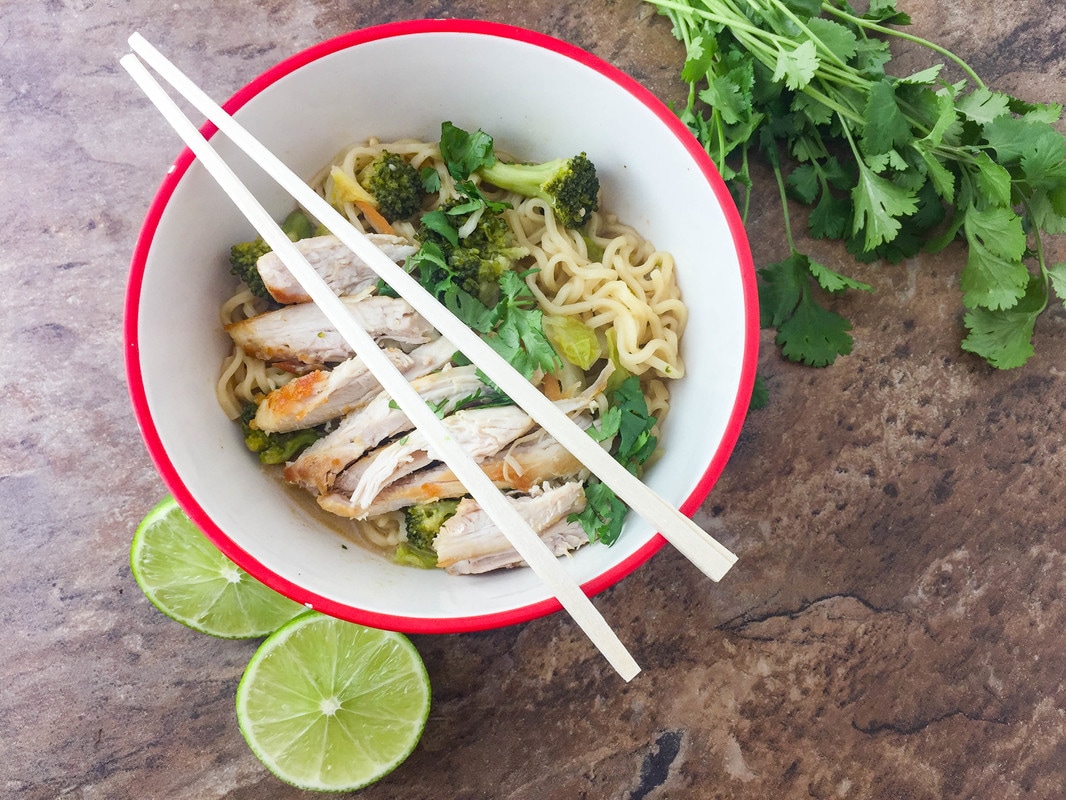 ​Ramen often gets a bad rap due to it being high in sodium because of that little seasoning packet. But when you make your own doctored up ramen bowl, you can ditch that seasoning packet & use a reduced sodium broth & still get tons of flavor. I like that you can make your own personalized flavoring combination because it makes me feel like a real chef in the kitchen! Plus when you add a protein & veggies to the noodles, it makes a more filling & satisfying meal!

Get ready to cook up a big bowl of yumminess in no time!
---
Thai Chicken Ramen Bowl
Ingredients:
4 tsp peanut oil, divided
1 Tbsp minced garlic
1 cup shredded carrots
2 cups broccoli
2 cups Napa cabbage, chopped
4 cups reduced sodium chicken broth
2 cups water
1/2 cup peanut butter
2 Tbsp soy sauce
1 Tbsp fish sauce
2 packages of ramen noodles, with seasoning packet removed
1 lb chicken breasts, cooked
1 lime
Cilantro
Unsalted peanuts
Directions:
Cook chicken in 2 tsp of peanut oil until done, set aside.
Saute carrots & broccoli with garlic & peanut oil for 2-5 minutes in a large pot.
Add broth & water to pot with veggies & bring to a boil. Add ramen noodles without seasoning packet, cabbage, peanut butter, soy sauce, & fish sauce.
Cook for 3 minutes until noodles are tender. Squeeze in the juice of one lime & stir together.
Portion noodles, veggies, & broth out into bowls, top with chicken. Garnish with fresh cilantro & peanuts. Enjoy!