Give your extra Easter ham new life with this simple scalloped potatoes & ham casserole. A hearty, comforting classic that doesn't feel like your eating leftovers!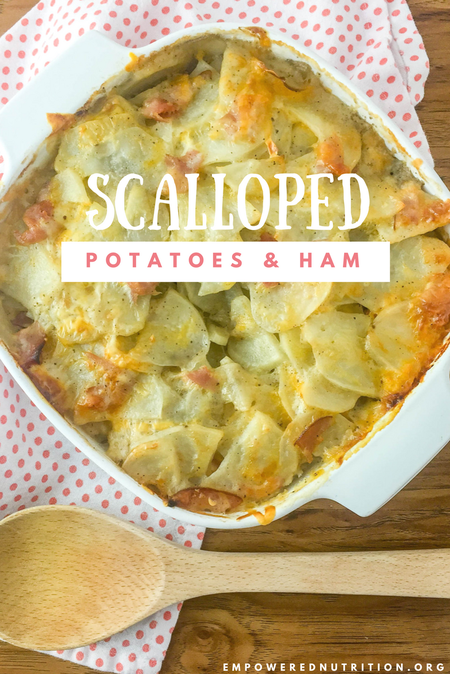 ​For many of us, Easter is right around the corner. I still get kind of excited for Easter because of the candy part (I'm a serious chocolate lover) & my mom may or may not still put together a little Easter basket for my sister and me. When we were younger, we spent a lot of our Easter's out in Jamestown where my mom's parents live. There's this local candy shop that makes the best peanut butter filled chocolate eggs & they're a family tradition. Literally so good!
Over the years my family has had big Easter dinners, dinners with just the 4 of us, & even Easter dinners out at restaurants. But one thing that is usually always on the table is ham.

I don't know about you, but we always seem to have way too much ham leftover & by the second day of straight up Easter dinner leftovers, I'm tired of it. This is no revelation to make scalloped potatoes & ham with your Easter leftovers, but I wanted to share my twist on it. I love a traditional scalloped potato dish made with real cream, butter, & cheese. Mine is a tad lightened up, not really on purpose just because I always have milk on hand. Nothing crazy – basically just using 1% milk instead of cream.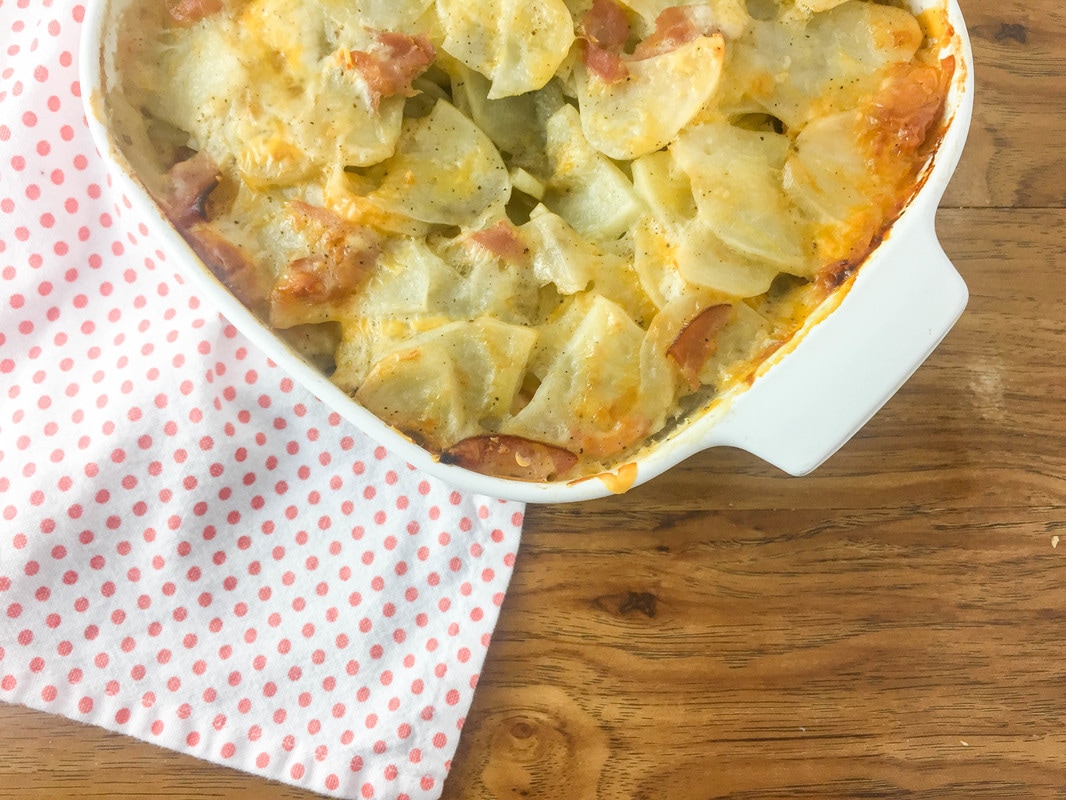 ​I've never been a huge lover of leftovers of any kind, so when I do have things left, I try to reinvent them into some type of mixed dish, tacos, or pizza. This makes me feel like I'm not really eating leftovers & I don't get as weirded out by it. Colin gets so mad at me because I'll randomly throw away his restaurant leftovers if they're in my fridge. Even if it's only been like 2 days, I just get creeped out by them. He literally will tell me now when it's okay for me to get rid of them haha. This year I've been trying to be better about less food waste though, so I'm improving on my leftover game.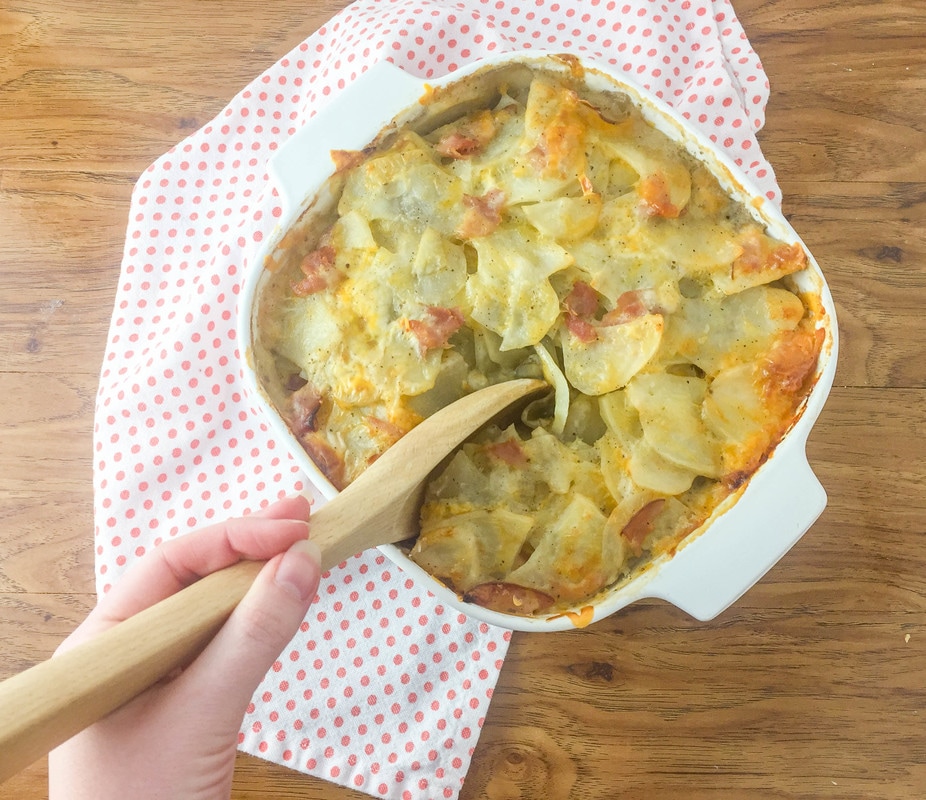 ​Back to the scalloped potatoes….

This dish combines so many of my favorites & is actually not hard at all to make. The longest part is peeling & slicing the potatoes. But if you have a mandolin slicer, it'll go quick! This is my favorite way to use up left over ham & it's such a comforting dish. It feels like eating grandma's homecooking – I love it. So if you have an ham leftover on Sunday, slice up some potatoes & stick it in the oven for a cheesy, delightful, dinner that doesn't feel like you're eating leftovers!
---
Scalloped Potatoes & Ham
Ingredients:
3 lbs potatoes, peeled & thinly sliced
2 Tbsp unsalted butter
2 Tbsp flour
2 cups 1% milk
Salt & pepper, to taste
¼ tsp nutmeg

3 slices of ham, diced (or more!)

½ cup muenster cheese, shredded
½ cup of cheddar cheese, shredded
Directions:
Preheat oven to 350 degrees.
Combine butter & flour in a medium saucepan over medium heat. Heat until bubbly (about 2 minutes).
Whisk in milk & bring to a simmer, stirring constantly.
Add in spices.
Layer half of potatoes in a greased 8 x 8 inch casserole dish. Sprinkle half of the ham & pour half the sauce over it. Top layer with half of the cheese.
Repeat, with remaining cheese being top layer.
Cover with foil & bake for 30 minutes. Uncover & bake for additional 60 minutes.

Serves 6 – 8
---