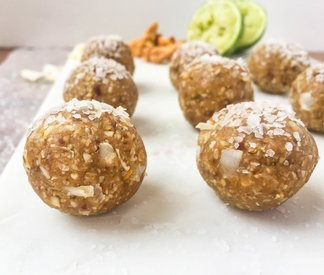 ​
Ingredients:
¾ cup raw cashews
¾ cup rolled oats
6 pitted dates (soaked for 15 minutes)
¼ cup oat flour (can make from oats by pulsing in food processor)
½ cup coconut flakes
1 generous scoop of almond butter
1 lime, zested & juiced
1 – 2 Tbsp water
A splash of coconut extract (optional)*
Margarita salt

Directions:
Add all ingredients, except margarita salt, to food processor.
Pulse until dough-like consistency forms.
Roll dough into 1-inch balls. Press balls into margarita salt.
Place on baking tray. Refrigerate for 30 minutes before serving.
Keep refrigerated for up to 5 days.

Makes ~15 balls

*Notes: Add a splash coconut extract for even more tropical flavor.
Can replace water with tequila for a boozy dessert option.