These skillet maple glazed pork chops with pears are the perfect one-pot weeknight meal. Serve them over rice or alongside mashed potatoes for a hearty fall dinner.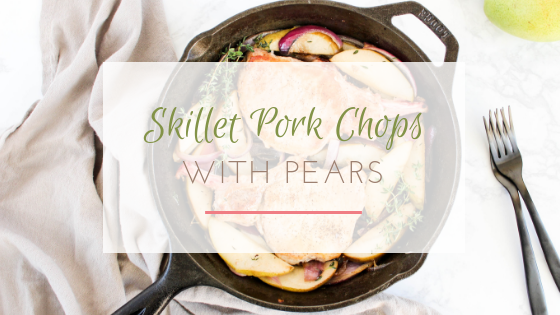 I'm all about the one-pot meals and I'm sure you are too! The less dishes and clean up I have to do, the better. That's one reason I love cooking in a cast-iron skillet so much. You can get a nice sear on whatever meat you're cooking up, add in some veggies, and you're basically done!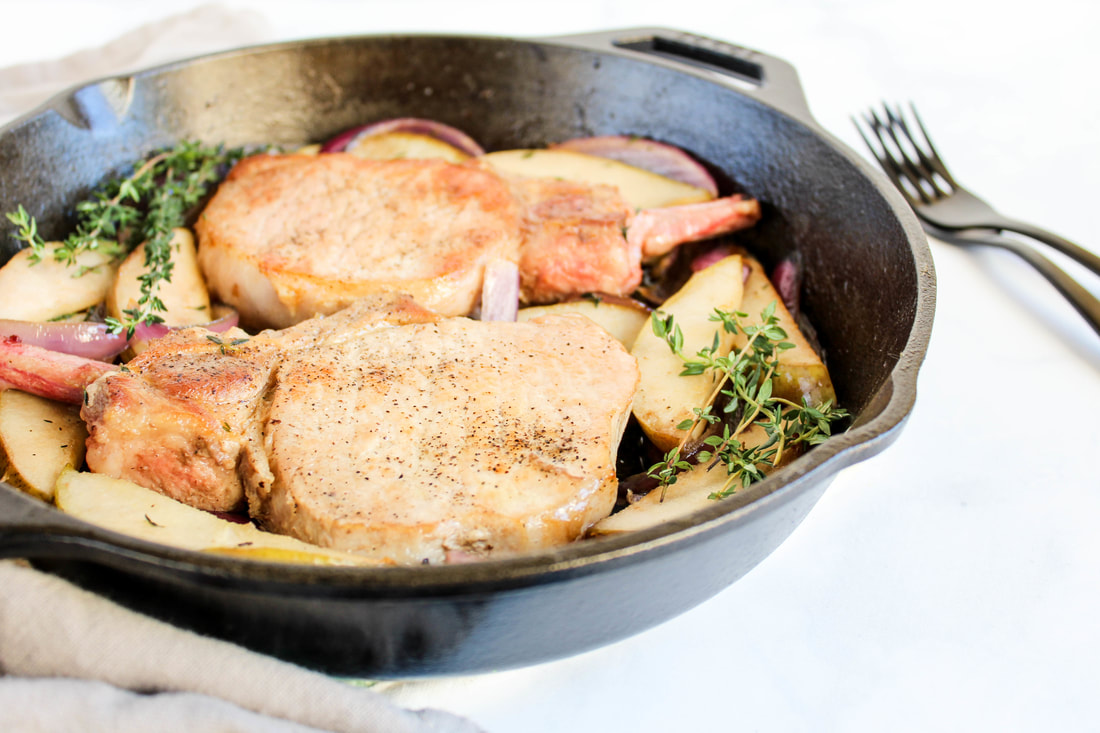 I think a lot of times pork chops are forgotten about and how good they can actually be. Plus, the look of a bone-in pork chop can make your simple dinner appear pretty fancy. The reason I love pork is that there are so many different lean cuts to choose from. I will admit, because there are so many choices it can be a little intimidating at the store.

The golden rule when shopping for a lean cut of meat at the grocery store is: think loin and chops.
When you see these two words, it's going to be an indicator that the cut is lean. When cooking with these lean cuts of meat, you're definitely going to want to try your hand at brining. With just a little extra planning and time, you will have an even tastier cut of pork.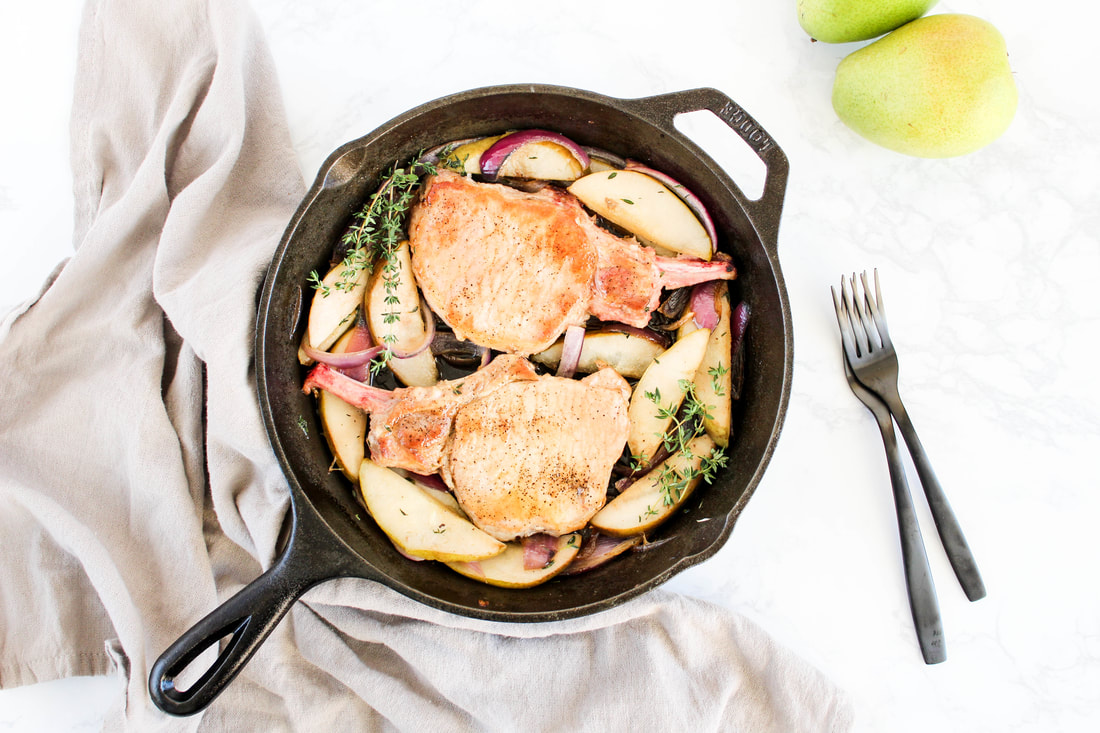 Before you make this recipe, plan ahead. Brining the pork chops will make them juicier, more flavorful, and tender.
Why pork? Pork is a nutritional powerhouse.
It's an excellent source of protein, phosphorus, and several B-vitamins
It's a good source of potassium and zinc
Pork tenderloin is just as lean as a skinless chicken breast, with many loin cuts being leaner than a chicken thigh
Due to new feeding and management practices, pork is 16% leaner and 27% lower in saturated fat than it was 20 years ago
I encourage you to think about pork the next time you find yourself looking for a lean protein choice.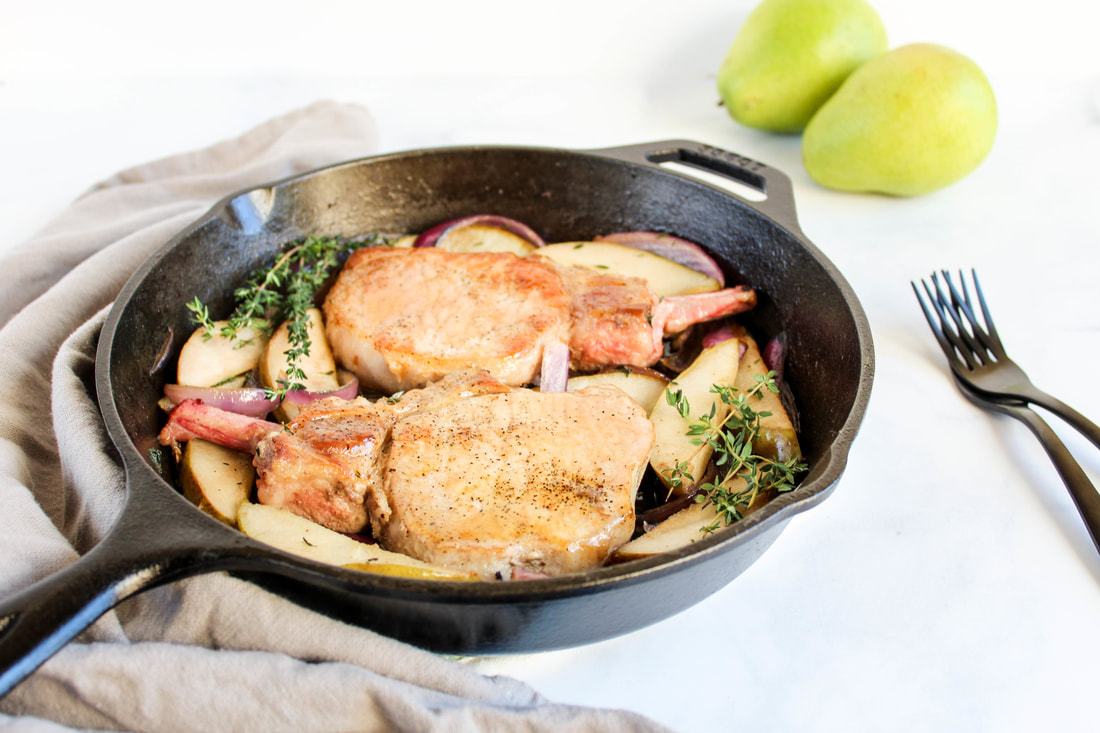 I decided to pair my skillet pork chops with pears because I think we automatically think pork and apples a lot of times. Pears are a great way to add a little fiber to this dish and give it a nice, seasonal twist. I also used maple syrup to glaze the pork chops, which adds a nice, sweet flavor. When serving this dish, you could just serve it as is or you could serve it over seasoned rice or mashed potatoes for a little extra staying power.

What are your favorite pork dishes? Let me know in the comments below.

---
Skillet Maple Glazed Pork Chops with Pears
Ingredients:
2 bone-in pork chops
2 tablespoons olive oil
Salt and pepper, to taste
2 tablespoons pure maple syrup
2 tablespoons butter
1 Anjou pear, cored and sliced
½ red onion, peeled and sliced
Fresh thyme, to taste
Directions:
Heat a cast iron skillet over medium-high heat. Add olive oil, heating until shimmering. Pat pork chops dry and season with salt and pepper.
Sear pork chops for 1-2 minutes on each side, until a nice golden crust forms.
Lower heat to medium and cook pork chops for an additional 5-10 minutes, until the internal temperature of the pork reaches 145 degrees. Remove the chops and set aside on a plate. Brush with maple syrup on both sides.
Add the butter to the skillet, along with the pear slices, onion, and fresh thyme. Cook until the pears and onions are softened.
Add the pork back into the skillet to warm. Serve immediately.
Notes: Brine the pork chops for 1-2 hours or overnight for better tenderness, juiciness, and flavor. Simple brine recipe – 2 cups water + 1 tablespoon sugar + 1 tablespoon salt.
---