Brighten up your Thanksgiving table with these easy skillet green beans topped with sweet dried cranberries and crunchy, nutty pistachios.
Do you have a food that you never really liked as a kid, but now you love? That's how I feel about green beans. I was definitely a picky eater growing up and it took me pretty much until college to actually like vegetables. Even then, I still only liked a handful. Over the past year though, I've really been enjoying green beans. We make them a lot for the students in the dining hall, so I have them lunch quite a bit. My favorite is when they cook them on the mongolian grill with a lot of seasoning – so good!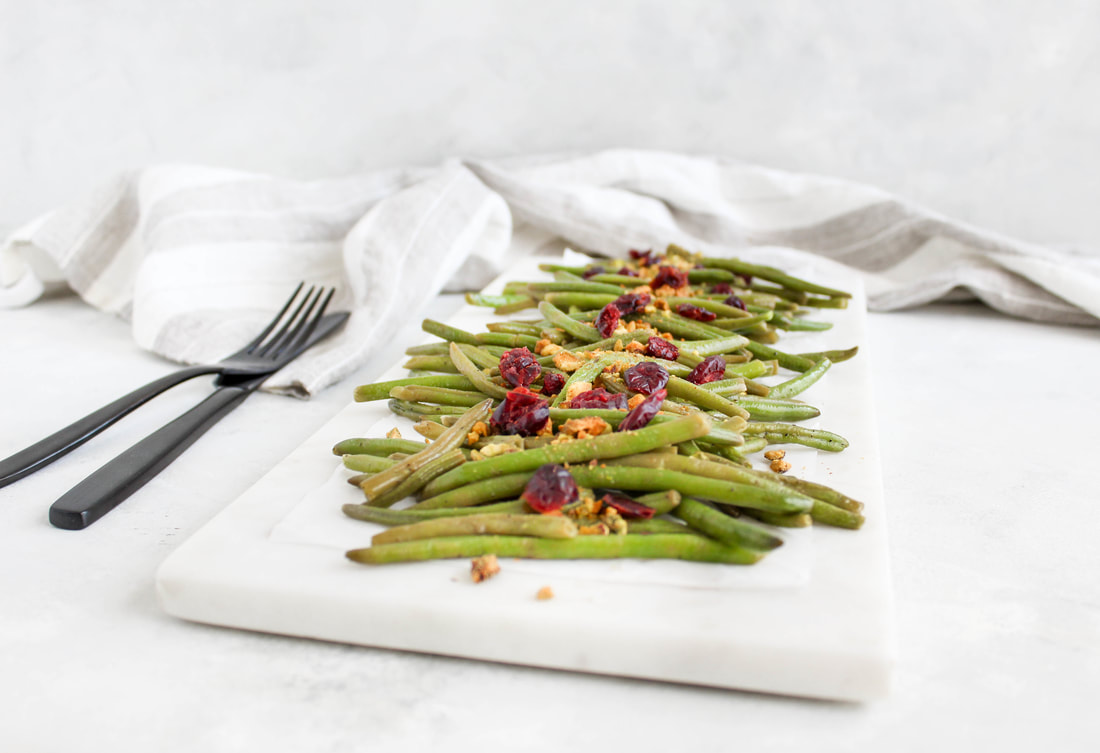 Since my sister and I weren't green bean lovers growing up, we never had green bean casserole on the Thanksgiving table. So to be honest, I've never had it! I wanted to change up your typical green bean casserole with something super simple, yet packed with flavor and texture. Plus, your oven is probably pretty overworked on Thanksgiving, so this dish is made on the stovetop in a skillet. I used cast iron to make mine because I love cooking with it and the flavor it imparts into whatever you're making.
These green beans are done super quickly, so they can be the last thing you prepare before sitting down to eat. They really take less than 15 minutes and lend a nice, bright flavor to your Thanksgiving meal. I decided to use chopped pistachios to add a nutty, crunchy texture and dried cranberries for a little added sweetness.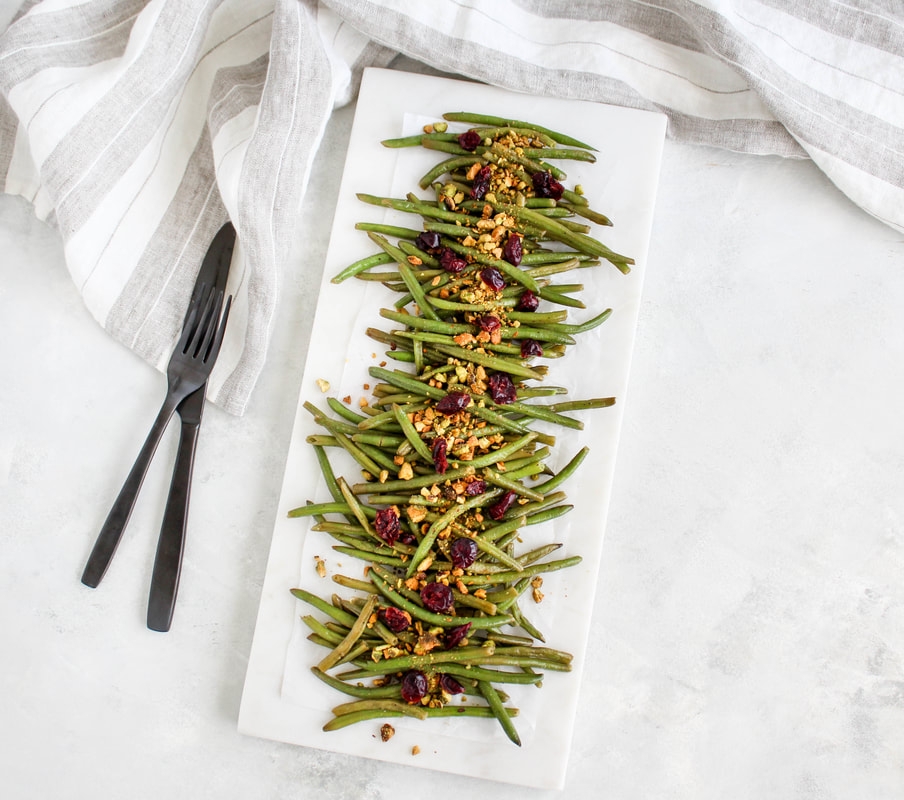 If you're looking for a new twist on your holiday green beans, this is your recipe. It's also so simple that you can totally make it as a weeknight side dish. It would be perfect alongside a steak, chicken, or pasta dish.

Does your family have green bean casserole at your Thanksgiving meal? What veggie did you hate as a kid, but love now?! Let me know in the comments below.

---
Skillet Green Beans with Cranberries and Pistachios
Ingredients:
1 bag fresh green beans (about 4 large handfuls)
1 tablespoon butter
Salt and pepper, to taste
½ lemon, juiced
¼ cup lightly salted pistachios, chopped
¼ cup dried cranberries
Directions:
Heat a large skillet over medium heat. Melt butter in pan. Add green beans. Season with salt and pepper to taste. Cook until tender, but still slightly crisp, about 10 minutes. If you like them on the more blistered side, increase your heat to medium high and cook until they are crispy.
Squeeze half of a lemon over the green beans and remove from heat.
Place green beans on a serving platter. Top with chopped pistachios and dried cranberries. Serve immediately.
Notes: I used a mini food processor to quickly chop the pistachios. You can also used frozen green beans, the cooking time may vary slightly.
---