Sweet and flavorful, this fall inspired honeynut squash soup is perfect for warming up on a chilly day. It's also a great soup for using up leftover roasted veggies!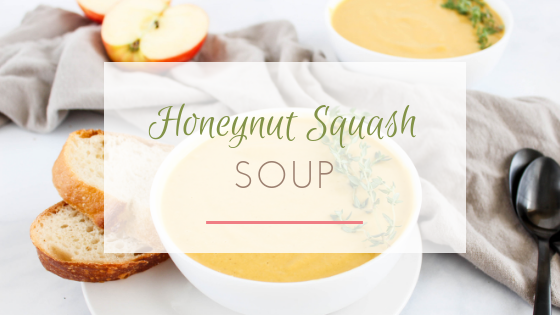 Happy Thanksgiving!
I'm going to keep it simple and short today, as there's a lot to do to prep for our Thanksgiving dinner later today. I'm always on dessert duty (which I loooove!). This year I'm making pumpkin cheesecake and pecan pie. While I love everything Thanksgiving related, dessert is always my favorite part of a meal. What can I say, I have a sweet tooth!
This soup is my attempt to put a new twist on traditional fall soups as part of this month's Recipe Redux challenge. The use of honeynut squash adds new flavor to your typical butternut squash soup.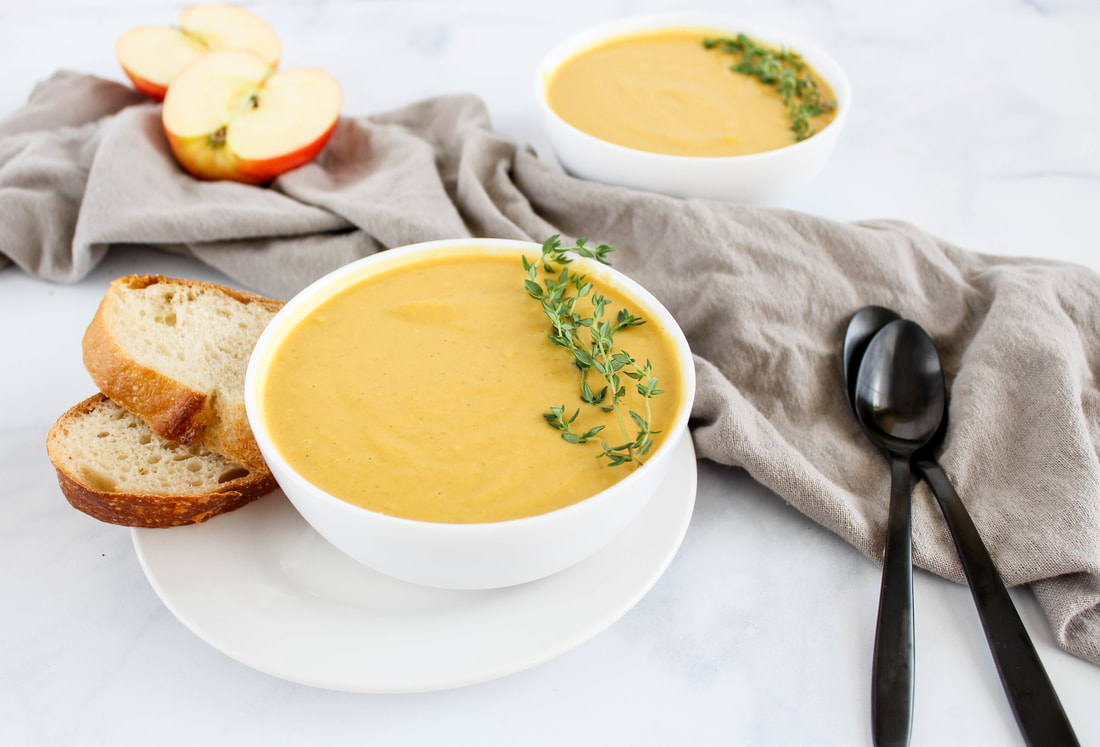 This cozy, flavorful soup is packed with nutrients & just makes me feel happy on the inside! Honeynut squash is a kind of like a baby butternut squash. It's half the size, a little deeper in orange color, & sweeter than butternut squash. You're in for a treat!
​The honeynut squash came about when Chef Dan Barber challenged a Cornell University plant breeder, Michael Mazourek, to make butternut squash taste better. They have a nice rich, caramel-y flavor when roasted and are much more flavorful than the butternut variety. You actually don't have to peel them, similar to delicata squash and they have 3 times the amount of beta-carotene than butternut squash.
You could still make this soup with regular butternut squash, I made a note of how much you would need, but the flavor is just that next step up when using honeynut squash. I love this soup because of how easy it comes together. The longest part is peeling and cubing the veggies.

This soup would also be great for using up leftover roasted squash from Thanksgiving. You could just sub in the leftover squash, roast the rest of the veggies, and blend it up!

​Click on the link below for more fun twists on your traditional soup recipes.
---
Honeynut Squash Soup
Ingredients:
2 honeynut squash, peeled and cubed (or two 12 oz bags of pre-cut butternut squash)
2 medium apples, cored and cubed
2 small sweet potatoes, peeled and cubed
1 small onion, peeled and roughly chopped
Drizzle of olive oil
Salt and pepper, to taste
¼ cup pumpkin seeds (pepitas)
4 cups low-sodium chicken stock
1 tsp nutmeg
½ tsp cardamom
¼ cup whole milk plain Greek yogurt
Directions:
Preheat oven to 450 degrees.
Toss squash, apples, potatoes, and onion in olive oil, salt, and pepper. Spread in one layer on a baking sheet. Roast for 30-40 minutes, until fork tender. Remove from oven and set aside.
Place pumpkin seeds and a few splashes of stock in blender. Blend well. Place roasted veggies, spices, and remaining stock into the blender. Blend until smooth. Stir in yogurt. Serve immediately or heat in a pot on the stove for a hotter temperature soup.
Store in the refrigerator.
Makes 6-8 bowls of soup.
---