Your body is like the Earth, in that it goes through seasons. Welcome Spring with this Strawberry Salad with Lemon Vinaigrette Dressing. It's perfectly fresh & satisfying for lunch or dinner.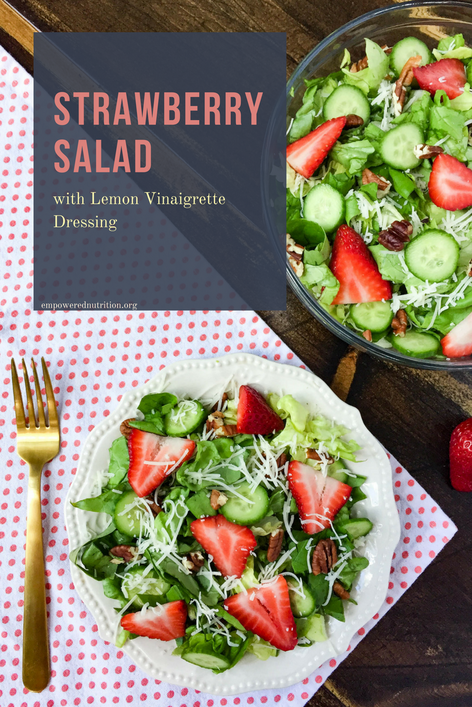 ​Last week I posted a picture on Instagram of a nice head of lettuce I had picked up & was excited to chop up to eat. The caption I wrote was more important that the picture though. I used the analogy that our bodies are like the Earth in that they go through seasons & that they adapt to the environment around them. I personally don't crave as many veggies during the winter months & I have more cravings centered around carbs when it's chilly outside. But as soon as we start getting nicer weather, the sun starts shining, & it warms up a bit my cravings for fresh produce start coming back.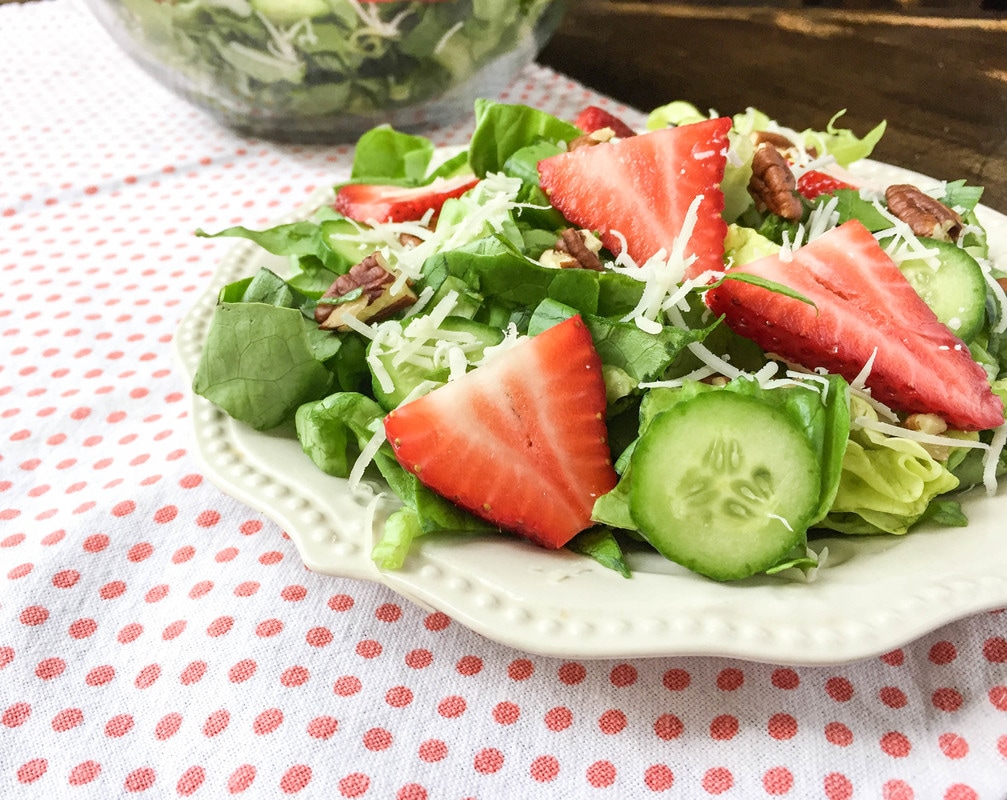 ​I wasn't until I started getting into mindful & intuitive eating that this all started making sense to me. I realized that our bodies are smart & know what we need & want. It makes sense that maybe we don't crave as many veggies during the winter months because they typically aren't the freshest in the stores since they have to travel a long ways or that we crave more carbs because they tend to be comforting & substantial during those cold days. Now that I'm a little more in tune with my body, I recognize this & I'm totally okay with it. I know that my body is just going through a season of cravings & those more nutritious foods are going to start sounding good to me again soon. I know that my body will even itself out & help me stay "healthy" because it knows how to balance the nutrients out itself.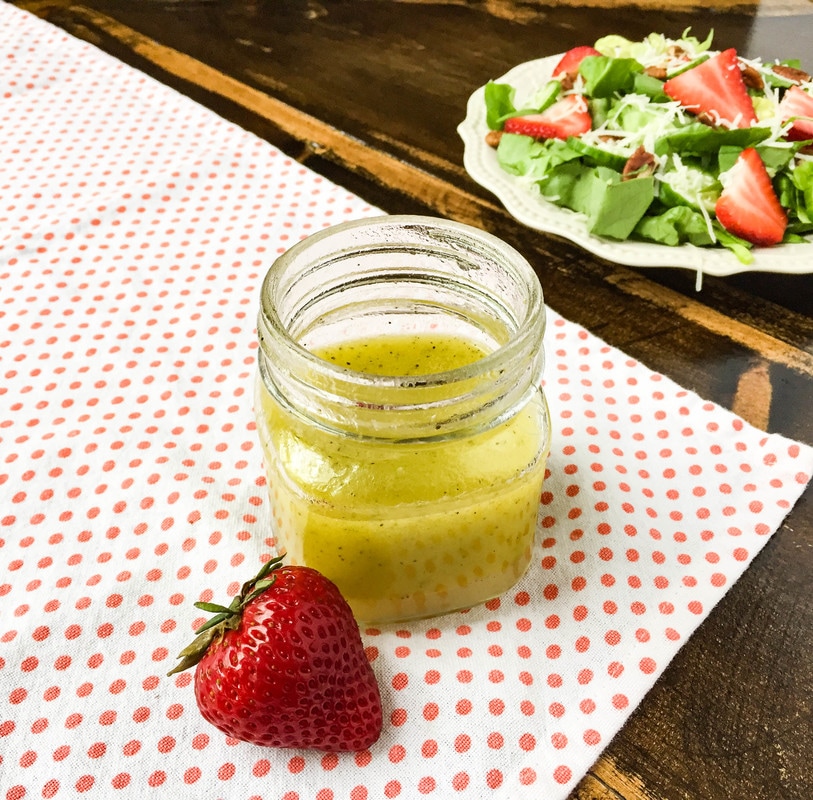 ​So the next time you realize you haven't had a vegetable all week just because it didn't sound good to you, try not to worry. Soon enough, you'll crave some veggies (or whatever else) because your body knows what you need & it will adapt to keep you in good health. It will all even out in the end. That's why I don't believe in "cheat days" or "cheat meals" because in the end, it all evens out. If we ensure that we're eating a balanced & flexible diet, we are going to get all the appropriate nutrients & be okay in the end!

That brings me to this simple, springtime salad. Now that it's getting to be farmer's market season again & fresh produce is sounding awesome to me right now, I'm craving a quick, fresh salad. I chopped up some Boston lettuce, sliced up some mini cucumbers & strawberries, threw in some chopped pecans & topped it with some Gruyere cheese. The dressing also couldn't be more simple – lemon juice, olive oil, & salt and pepper! I love keeping things super simple in the kitchen & I'm sure you do too. With the summer quickly approaching & the schedule getting busy we don't have tons of time to spend in whipping up meals. This salad is great on its own for lunch or you could add in some chicken for dinner or have it as a side dish to your main entrée!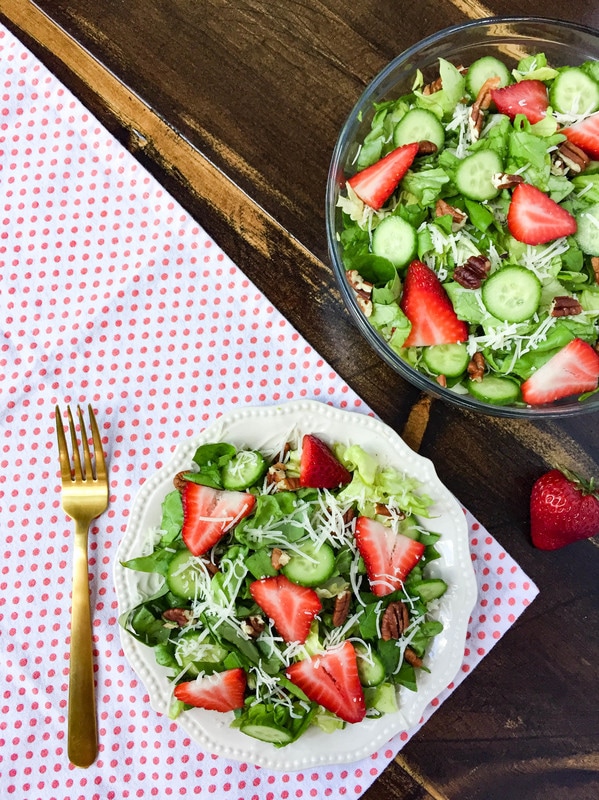 ---
Spring Strawberry Salad
Ingredients:
Salad:
1 head of your favorite lettuce
2 mini cucumbers, sliced
1 cup sliced strawberries
¼ cup Gruyere cheese, shredded
¼ cup pecans, roughly chopped

Dressing:
2 lemons, juiced
½ cup olive oil (may need more to taste)
½ tsp salt
¼ – ½ tsp black pepper (to taste)

Directions:
Chop head of lettuce & place in bowl.
Add cucumbers, strawberries, cheese, & pecans.
Gently toss to mix.
To make dressing: Add lemon juice, oil, salt & pepper in a mason jar or container with lid. Shake to combine. You may need to add more olive oil to taste.

*Notes: Dressing will keep for about 1 week in refrigerator
---