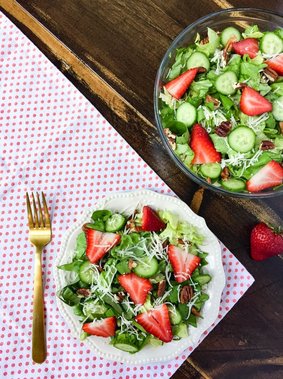 Ingredients:
Salad:
1 head of your favorite lettuce
2 mini cucumbers, sliced
1 cup sliced strawberries
¼ cup Gruyere cheese, shredded
¼ cup pecans, roughly chopped

Dressing:
2 lemons, juiced
½ cup olive oil (may need more to taste)
½ tsp salt
¼ – ½ tsp black pepper (to taste)

Directions:
Chop head of lettuce & place in bowl.
Add cucumbers, strawberries, cheese, & pecans.
Gently toss to mix.
To make dressing: Add lemon juice, oil, salt & pepper in a mason jar or container with lid. Shake to combine. You may need to add more olive oil to taste.

*Notes: Dressing will keep for about 1 week in refrigerator