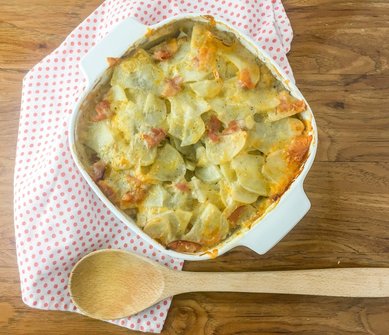 ​
Ingredients:
3 lbs potatoes, peeled & thinly sliced
2 Tbsp unsalted butter
2 Tbsp flour
2 cups 1% milk
Salt & pepper, to taste
¼ tsp nutmeg
3 slices of ham, diced (or more!)
½ cup muenster cheese, shredded
½ cup of cheddar cheese, shredded
Directions:
Preheat oven to 350 degrees.
Combine butter & flour in a medium saucepan over medium heat. Heat until bubbly (about 2 minutes).
Whisk in milk & bring to a simmer, stirring constantly.
Add in spices.
Layer half of potatoes in a greased 8 x 8 inch casserole dish. Sprinkle half of the ham & pour half the sauce over it. Top layer with half of the cheese.
Repeat, with remaining cheese being top layer.
Cover with foil & bake for 30 minutes. Uncover & bake for additional 60 minutes.

Serves 6 – 8