Making your own nut milk is easy, nutritious, & fun! Learn how to make a chocolatey almond milk & creamy, cinnamon vanilla cashew milk to add to oats, smoothies, cereal, or as a nice, cold glass.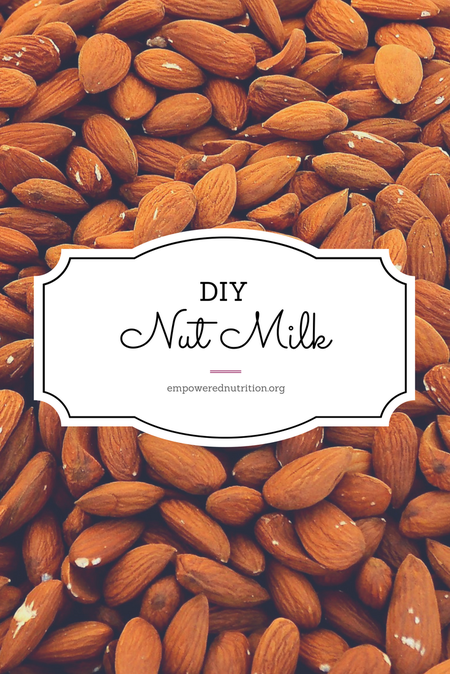 ​Nut milks can be a great addition to the diet, regardless of if you can or can't tolerate regular milk. Almond milk is probably the most popular, but there's cashew milk, pecan milk, pistachio milk, & more! But before you go converting completely, keep these things in mind.
​Almond milk is not high in protein. There's a misconception that because almond milk is made with almonds (which are a great source of protein when eaten whole), that it's also a good source of protein. When almonds are blended into milk, the liquid is strained to remove the grit, which contains the protein. Plus, a lot of store bought almond milks contain very little actual almond & are made up of a lot of water. A glass of almond milk has a negligible 1 gram of protein, compared to 8 grams in cow's milk. One solution to this is to make your own almond milk (or other nut milk) at home, which we'll get to in a minute!
Nut milks aren't always super healthy choices. While trendy, some nut milks lack in the nutrition department. Not only do we have to look at protein content, but we also have to pay attention to the amount of added sugar. A lot of nut milks in the grocery store are sweetened and have artificial flavorings added to them to make them taste better. When purchasing any nut milk make sure to buy the unsweetened versions and try to look for brands that don't contain any artificial flavorings or preservatives.
We don't all need to switch to plant based milks. I don't recommend people who can tolerate regular dairy to completely switch over to plant based milks, just because they are not as nutritious as cow's milk. But I do think that nut milks and other plant based milks, like soy and hemp, are great additions to a diet. They add interesting flavor and can be a nice occasional substitute for regular milk. For people who do have to avoid dairy, just make sure you are getting enough protein from other foods in your diet & pay attention to added sugar content.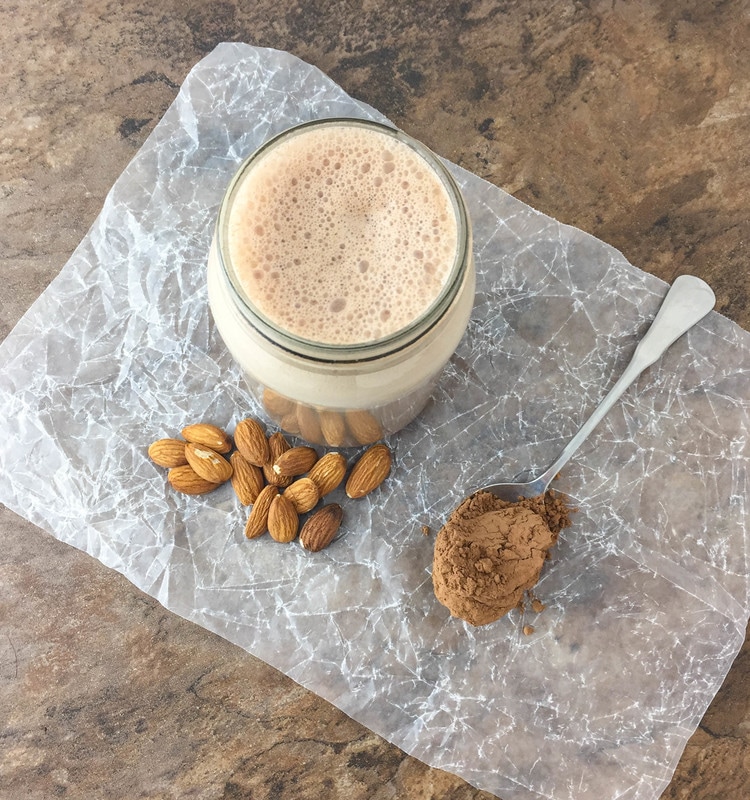 Making your own nut milk at home is super easy & takes just a few simple ingredients. Ever since I got my Vitamix, I love to make my own nut milks. This way I can add my own flavorings and natural sweetness & can make sure the nut to water ratio is better than a lot of the store bought options. If I know that I'm only going to be using the nut milk for smoothies or overnight oats, I won't strain it, that way I'm keeping the protein & fiber in there. I like to use dates for a little hint of sweetness, sometimes & adding cinnamon & vanilla extract can really take your nut milk to the next level! It's literally sooo good!
---
Chocolate Almond Milk
Ingredients:
1 cup raw almonds
3 Medjool dates
3 cups of water
2 ½ tbsp unsweetened cocoa powder
Pinch of salt
Directions:
Soak almonds for at least 6 hours, or overnight. Drain & rinse.
Soak dates for 15 minutes.
Combine water, dates, & almonds in high-powered blender & blend on high for about 2 minutes.
Strain almond milk through cheesecloth, sieve, or nut milk bag (like Ellie's).
Pour strained almond milk back into blender & add in cocoa powder & salt. Blend to combine.
Pour into an airtight container & refrigerate immediately.
Makes about 3 ½ cups of almond milk

*Notes:
Keeps for 1 week in the refrigerator
---
Cinnamon Vanilla Cashew Milk
Ingredients:
1 cup raw cashews
3 cups of water
1 tsp vanilla extract
Cinnamon to taste
Pinch of salt
Directions:
Soak cashews for 2 to 3 hours. Drain & rinse.
Combine water & cashews in high-powered blender & blend on high for about 2 minutes.
Add in vanilla, cinnamon, & salt & blend to combine.
Pour into an airtight container & refrigerate immediately.

Makes about 3 ½ cups of cashew milk

*Notes:
Cashew milk doesn't need to be strained
Keeps for 1 week in the refrigerator
---