Salads don't have to be boring or unsatisfying. Here are my 4 favorite Panera salads, chocked full of more than just greens & veggies and bursting with different textures and fresh flavor!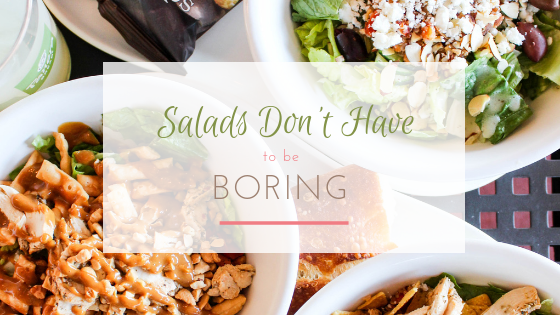 ​
Disclosure: This blog post was created in partnership with
Panera Bread
. I was compensated for my time. As always, all opinions are my own.
As we're getting into the warmer months of the year, more and more salads seem to be popping up on social media and on our plates. In a world filled with diet culture, we tend to be trained to think that salads are just a boring way to get veggies and nutrients into our bodies – but the good news is that doesn't have to be the case. With May being National Salad Month, I'm teaming up with
Panera
to show you that salads don't have to be boring or unsatisfying. I'm highlighting four of my favorite Panera salads, which are chocked full of more than just greens to add lots of texture and delicious flavor, and packed with protein and fiber to fill you up. Plus, I'll share my tips for creating a nourishing, satisfying meal at Panera, customized to your unique dietary preference.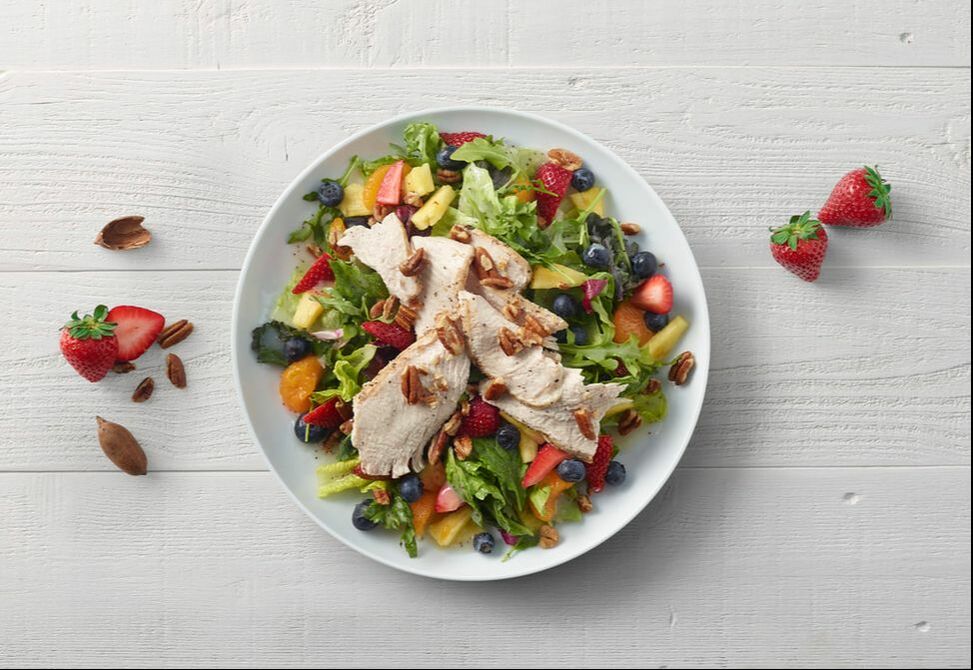 Strawberry Poppyseed Salad
Growing up I really wasn't a huge salad person because I could never find (or make) a salad that had the flavors, textures, and ingredients that I liked. Panera's
Strawberry Poppyseed Salad
changed the game for me and has been my go-to springtime salad ever since. I love the juicy in-season, fresh strawberries, sweet and tangy pineapple, mandarin oranges and blueberries and crunchy toasted pecans, and the poppyseed dressing complements it all perfectly. When I'm in the mood to switch it up, I like to pair it with a half sandwich using Panera's You Pick Two® option. With it, you can create your ideal meal by combining two half portions of any salad, soup, sandwich, flatbread, or mac and cheese. If you're looking for an easy summer picnic idea try pairing the Strawberry Poppyseed Salad with the
Napa Almond Chicken Salad Sandwich
for a light and refreshing meal. You can make it even more convenient by ordering your picnic ahead of time
online
to pick up and take with you! When ordering online, the nutrition info will update automatically as you customize.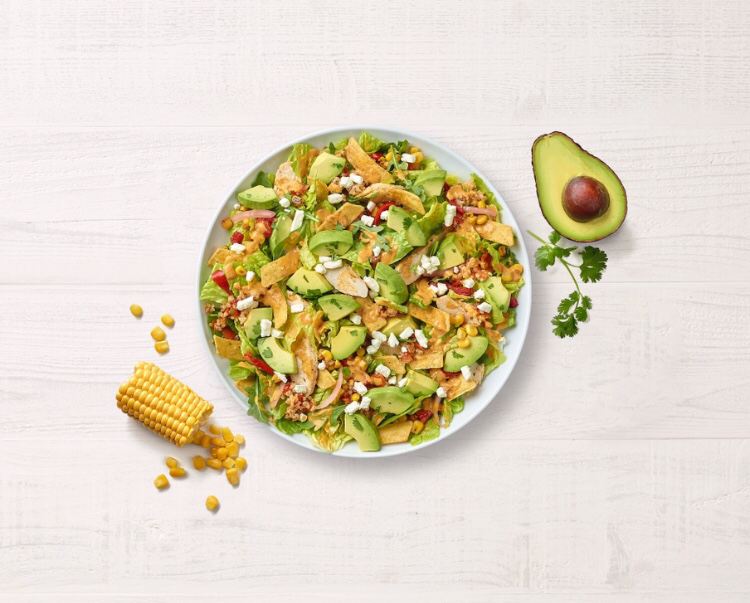 ​
Southwest Chile Lime Ranch Salad with Chicken
The
Southwest Chile Lime Ranch
is the epitome of a flavorful, texture-filled dish. With smoked, pulled chicken, an adobo corn blend and crunchy masa chips, it has all the flavors of the Southwest rolled into one bowl. Plus you get a nice, smoky heat from the quinoa tomato sofrito blend and the freshly-made chile lime rojo ranch dressing. That fact that this salad has avocado, which is packed with healthy fats and great for brain health, takes it to the next level of tasty.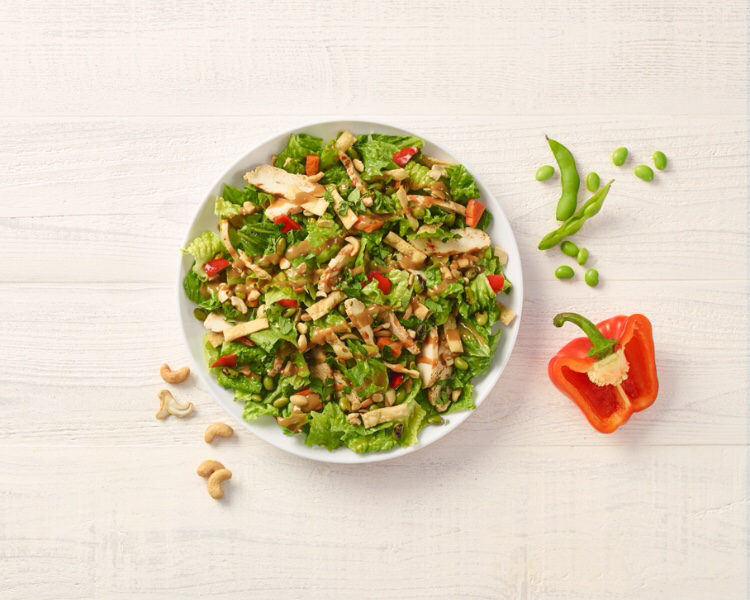 Spicy Thai Salad with Chicken
Speaking of spice, the salad I've most recently tried and loved is the
Spicy Thai Salad
. Now, I'm not a huge spicy person, but this salad has just the right amount of heat coming from the Thai chili vinaigrette that's perfectly finished with a drizzle of peanut sauce. You get lean protein from the chicken and fire-roasted edamame, plus satiating fat from the roasted cashews and peanut sauce. You also get veggies in the form of romaine lettuce, red peppers and carrots, and some satisfying crunch from wonton strips sprinkled on top. And that bright, fresh flavor from the cilantro ties it all together.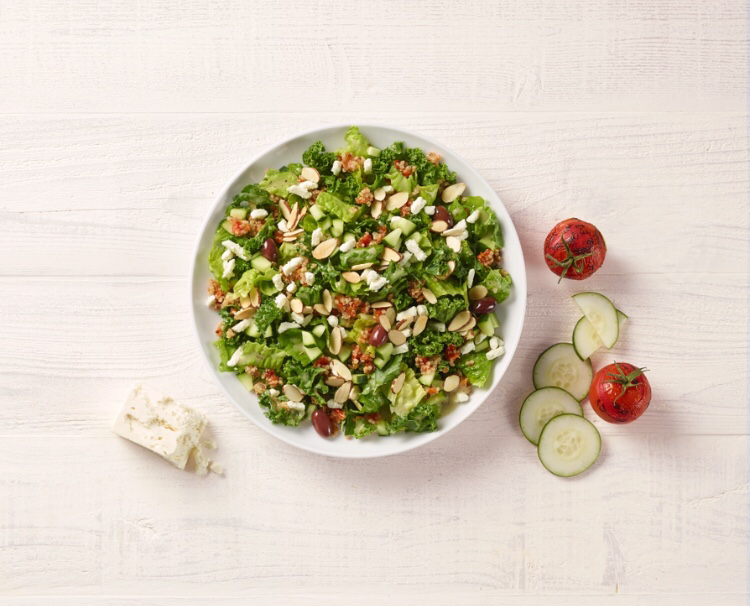 Modern Greek Salad with Quinoa
This last salad was actually recommended to me by my sister. She loves the
Modern Greek Salad with Quinoa
and gets it literally every time we go to Panera. Once I tried it, I too, realized how yummy it is! It has some unique upgrades from a traditional Greek salad, like the toasted almonds and the quinoa tomato sofrito blend. The quinoa adds protein and fiber to your dish and the almonds and Kalamata olives are a great source of healthy fats. To top off this delicious flavor combination, this salad is tossed in Greek dressing and topped with feta (and everything's better with feta).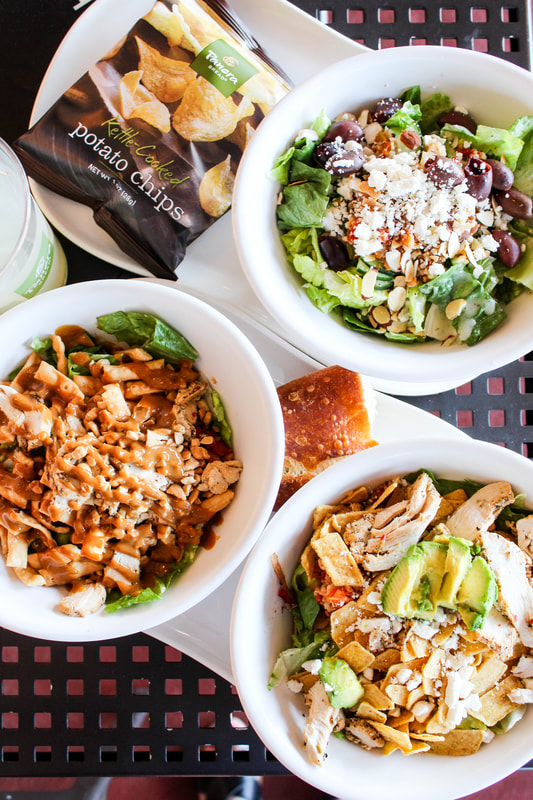 ​When creating a fulfilling meal, I always seem to come back to this tried and true formula – carbs + protein + fat + fiber = a nourishing, satisfying meal. And you can get just that from a Panera salad (or one of their salads plus their other menu options – sandwiches, soups, bagels, and baked goods!). No matter what you order, you can be sure you're getting food that's a step above, because all of the ingredients they use – including the crisp greens, in-season fresh strawberries, house made croutons, tender, raised without antibiotic proteins, and flavorful dressings on their salads – are free from artificial preservatives, sweeteners, flavors and colors from artificial sources.
Now, I think we can all agree on the fact that salads don't have to be just lettuce and veggies. They can have delicious toppings, textures, and flavors all while being be nutritious and satisfying. Panera also makes it easy to customize their menu items to suit your individual dietary preference. So for salads, you can:
Swap the romaine in your salad for a leafy powerhouse like spinach or kale.
Ask for extra greens.
Add avocado for some healthy fats.
Leave the feta off your Modern Greek Salad to make it vegan.

And don't forget, if you're making a salad at home you can find fresh, delicious Panera dressings to add some pizazz at your local retailer.

Let me know in the comments below what Panera salads you're going to enjoy this National Salad Month!
---