White chocolate and peppermint combined with sweet and salty flavors make for the perfect holiday snack mix. This Reindeer Chow makes a great gift or holiday road trip snack!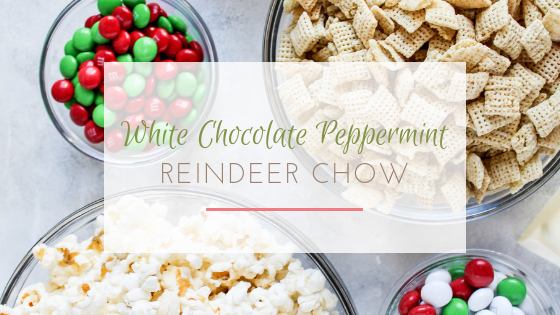 Do you have that one thing that you have to make/eat/drink every year during the holidays, or else it just doesn't feel like the holidays? This Reindeer Chow is my MUST MAKE every year. That and these chocolate peanut butter marshmallow cups that my grandma would make every year. I started making this Chex mix type snack back in college to bring to holiday get-togethers and I haven't stopped making it since.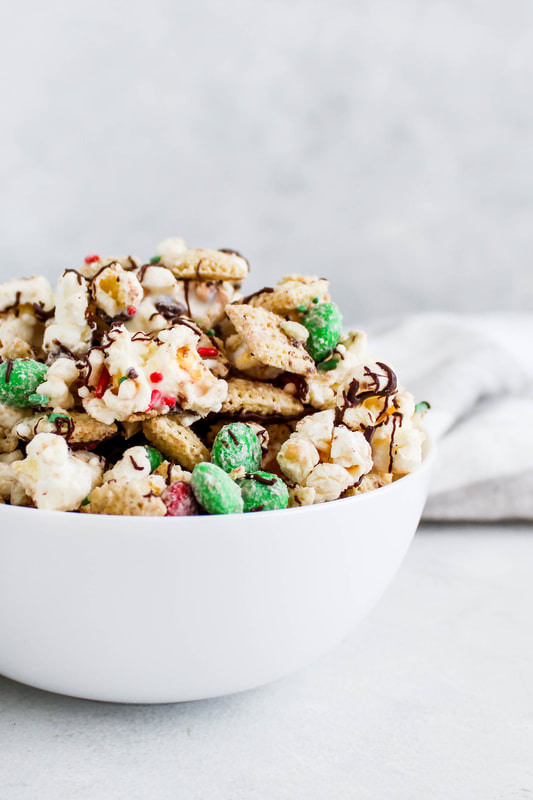 Chocolate mint flavored things are normally not really my favorite thing, but there's something about this mix that it just is amazing! The crunchiness of the Chex cereal and m&m's mixed with the minty baking chips, a little bit of salt from the popcorn, and the pretty red and green colors just makes me feel so festive. And there's just enough white chocolate candy coating on the whole mix that it ties it all together without being overly sweet.
​
The other thing that I love about this snack mix is that it makes the perfect, easy homemade gift. It makes a pretty big batch and you can easily double it to give to coworkers, clients, neighbors, or for that last minute holiday party you get invited to. I like to buy holiday themed tins or mason jars at the dollar store and use those as super easy gifts. I'm also going to make a batch to bring with me on my 10 hour drive home because it's perfect for road trip munching!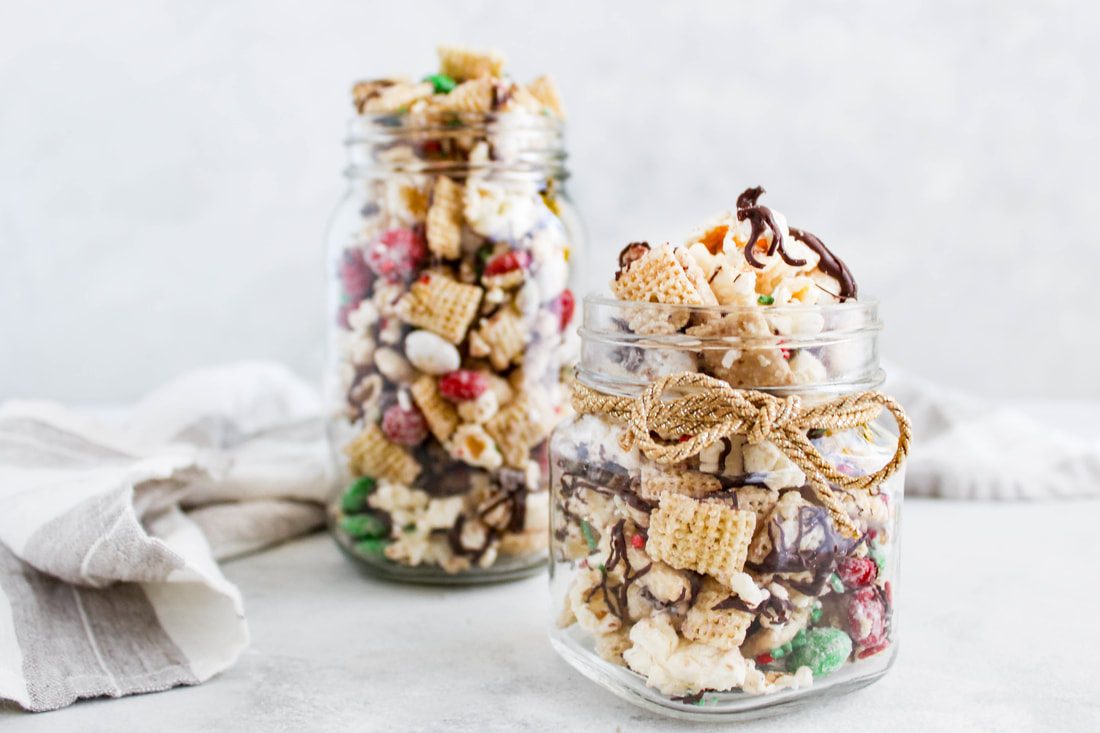 What if I want to customize my Reindeer Chow?
There are so many flavors of m&m's that you could definitely mix and match which kinds you use. This would also be fun to customize to other holidays throughout the year since they come out with seasonal m&m flavors.

If you can't find or don't like the Andes baking chips, use any type of baking chip you find in the baking aisle. I've used peppermint crunch or different flavors of chocolate chips before.

You could use milk chocolate candy coating for even more chocolate flavor.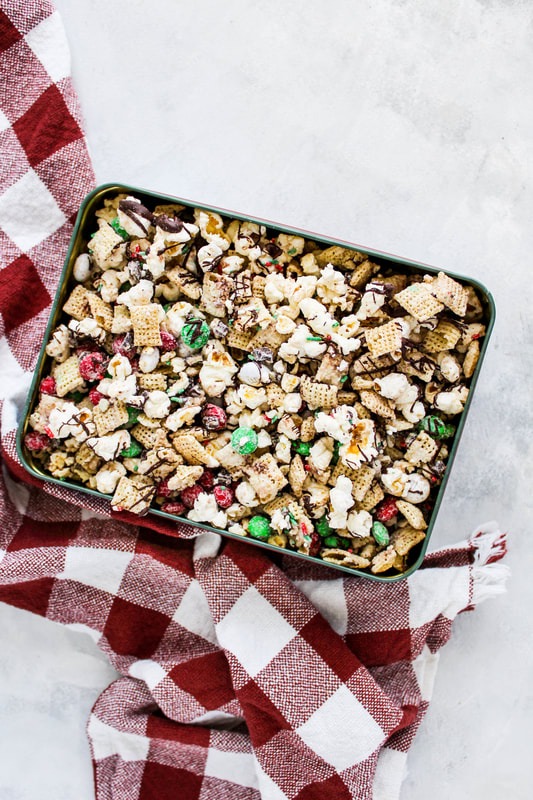 Let me know what your must make holiday item is in the comments below.
---
White Chocolate Peppermint Reindeer Chow
Ingredients:
1 bag of microwave popcorn, popped
4 heaping cups of Rice Chex cereal
1 cup red and green m&m's
1 cup Holiday Mint m&m's
1 cup Andes Creme de Menthe baking chips
¼ cup holiday sprinkles
8 oz white chocolate candy coating (I used Candy Quik)
Optional:
½ cup semisweet chocolate chips
½ tsp coconut oil
Directions:
Combine popcorn through baking chips in a large bowl. Gently toss together to mix.
Melt candy coating according to package directions. Pour over popcorn mixture. Stir a few times with a rubber spatula. Add in sprinkles and continuing stirring until mixture is evenly coated in white chocolate.
Spread mixture out on waxed paper to set.
Optional: Place chocolate chips and coconut oil in a bowl and microwave in 30 second bursts, stirring in between until smooth and melted. Using a fork, drizzle the melted chocolate over top of your Reindeer Chow. Let set for about 1 hour before enjoying or storing.
Store in an airtight container.
Recipe adapted from Mix and Match Mama
---