Embrace the changing of seasons with the Plum Coffee Cake! Light and fluffy with a cinnamon swirl and topped with beautiful sliced plums, this coffee cake makes any breakfast feel special.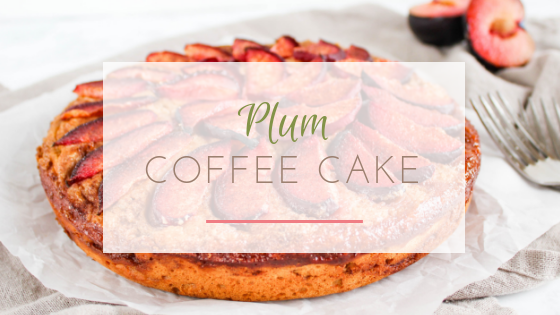 I'm holding on to the last bits of summer with stone fruit. I tried to enjoy some late-season peaches, but they were mushy and mealy and really disappointing. So I figured I'd try out plums. Truthfully, I never really tried a plum until I got the idea for this recipe. I actually really liked their unique flavor. I only tried black plums, but I will have to give red plums a try next!
​
I've been wanting to make an in between summer and fall type of recipe since the weather still clearly thinks it's summer, but the seasonal produce is changing. Plums seem like that perfect late summer, early fall fruit. I also wanted to make something a little different. A fruit-topped coffee cake seemed like the perfect recipe to me!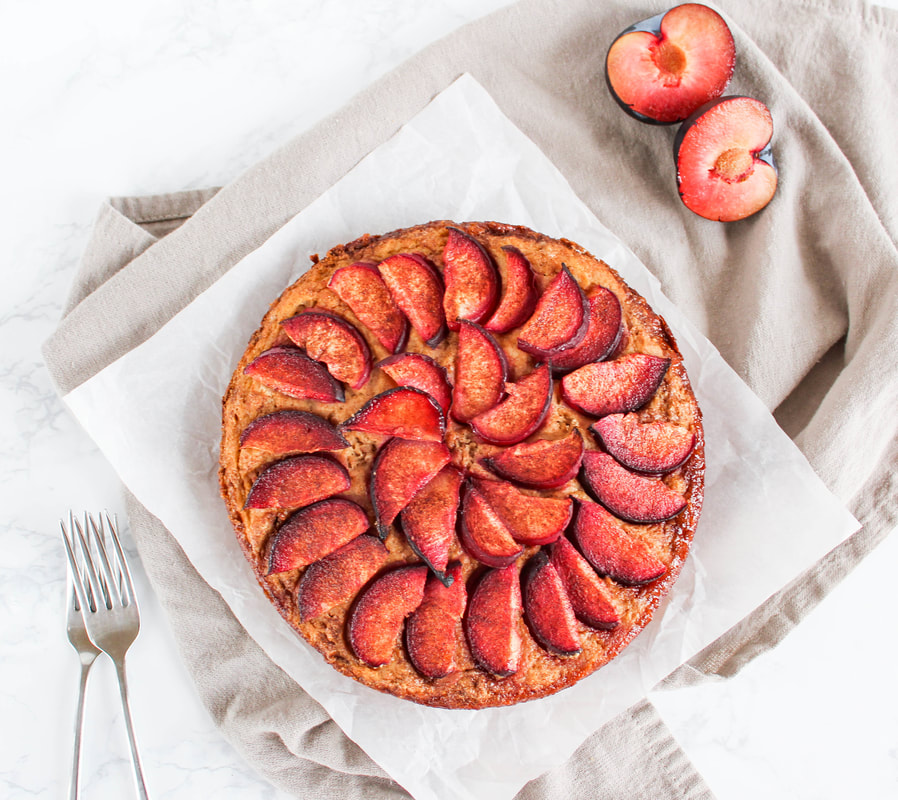 For the coffee cake, I used applesauce for some natural sweetness and added Greek yogurt for a little extra bit of protein. I also used some whole wheat flour to add fiber and I like the nutty, hearty texture that it lends. The cake turned out nice and fluffy with the perfect cinnamon sugar swirl in the middle of it.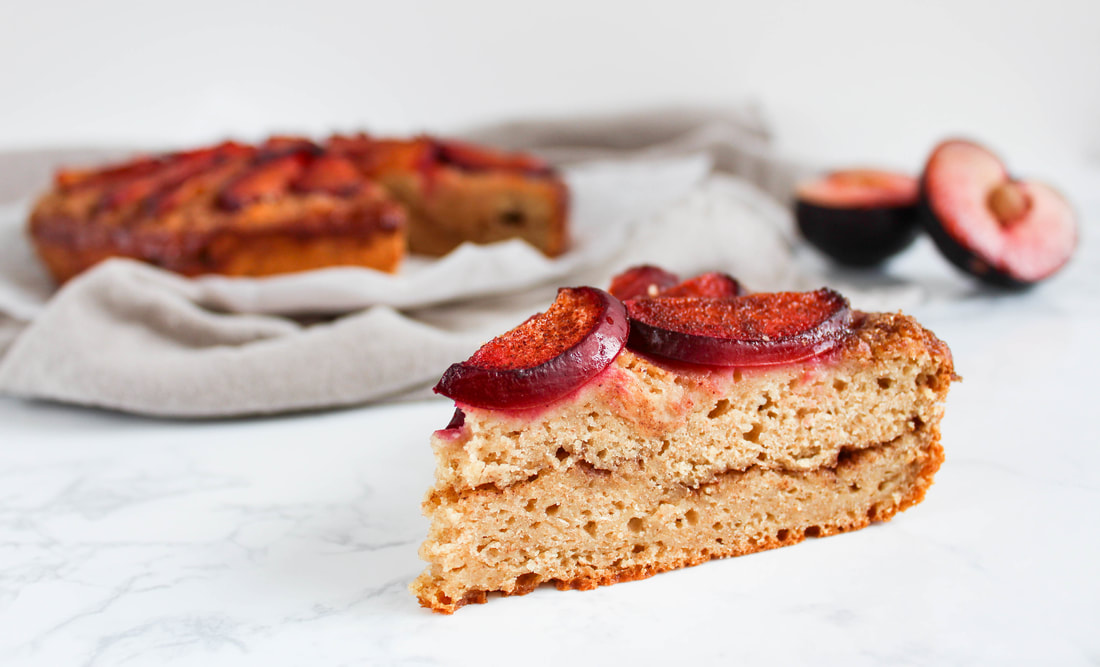 I thinly sliced the plums and arranged them on top, which turned out super pretty. If you wanted to add more plum flavor, you could add more slices to the cinnamon sugar layer in between. This coffee cake is definitely best enjoyed warm, but should be stored in the refrigerator for optimal freshness.

Do you have a favorite fruit flavored coffee cake?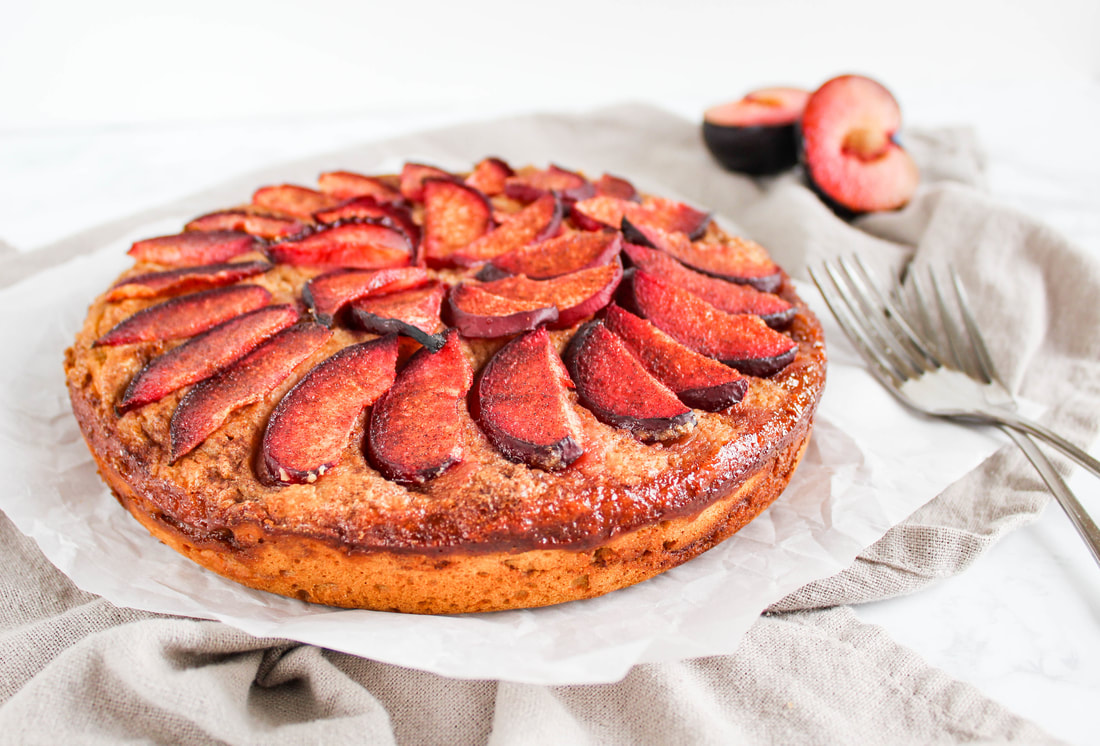 ---
Plum Coffee Cake
Ingredients:

Cake:
⅔ cup unsweetened applesauce
2 tablespoons unsalted butter, room temperature
⅓ cup brown sugar, packed
2 large eggs
1 teaspoon vanilla
1 ½ cup all-purpose flour
½ cup whole wheat flour
1 teaspoon baking powder
¼ teaspoon baking soda
Dash of salt
1 single-serving container 2% plain Greek yogurt
2-3 black plums, thinly sliced
Topping:
¼ cup brown sugar, packed
½ tsp cinnamon
Directions:
Preheat oven to 350 degrees. Grease a deep-dish pie pan with nonstick cooking spray. Set aside.
In medium bowl, whisk the flour, baking soda, baking powder, and salt together.
In a large bowl, beat the applesauce, butter, brown sugar, eggs and vanilla until creamed.
Add the flour mixture to the applesauce mixture, alternating with the Greek yogurt, mixing between each addition. Mix until fully combined.
Pour ½ of the batter into the prepared baking dish. To make the topping, mix the brown sugar and cinnamon together. Sprinkle ½ of the topping over the batter. Cover with the rest of the batter. Arrange plum slices on top of the batter and sprinkle the remaining topping over top.
Bake cake for about 50-60 minutes, until a toothpick comes out clean.
---