Hold on to summer with these cool and creamy Peach Ice Cream Sandwiches!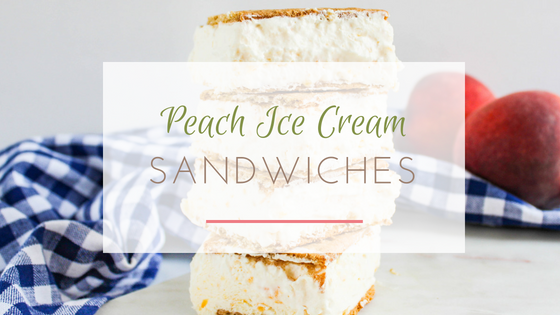 Happy Labor Day Weekend! I don't know about you, but I'm still holding on to summer. The heat is not letting up just yet here in Charlotte, so I'm still in summer mode. Even though I hate to see summer go, I love the end of summer for the produce. Sweet corn, watermelon, peaches, zucchini, tomatoes. It's all so good!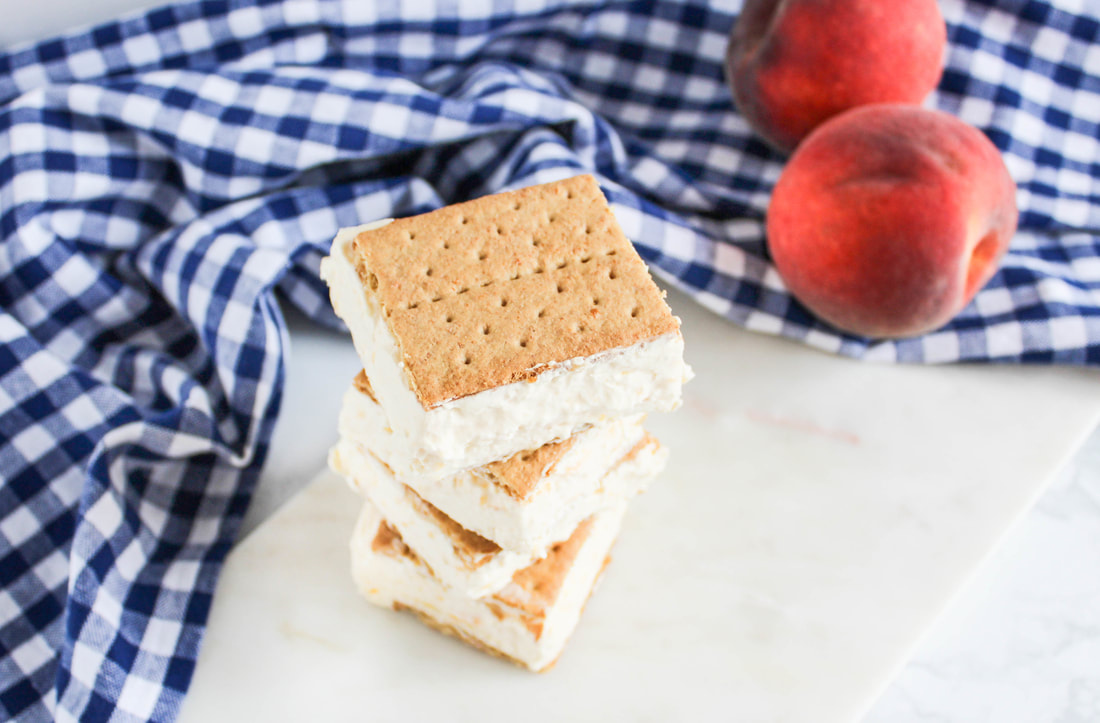 One thing I can never get enough of are fresh peaches. They're just so good down here! I do have to say, I can be guilty of leaving them sit on my counter a little too long and then I'm scrambling to do something with them. My favorite way to use them is to make a peach crisp or mix them into oatmeal. Another way you can salvage those peaches that have ripened just a little too much, is to freeze them. You can then blend them up into smoothies or use them for ice cream or sorbet.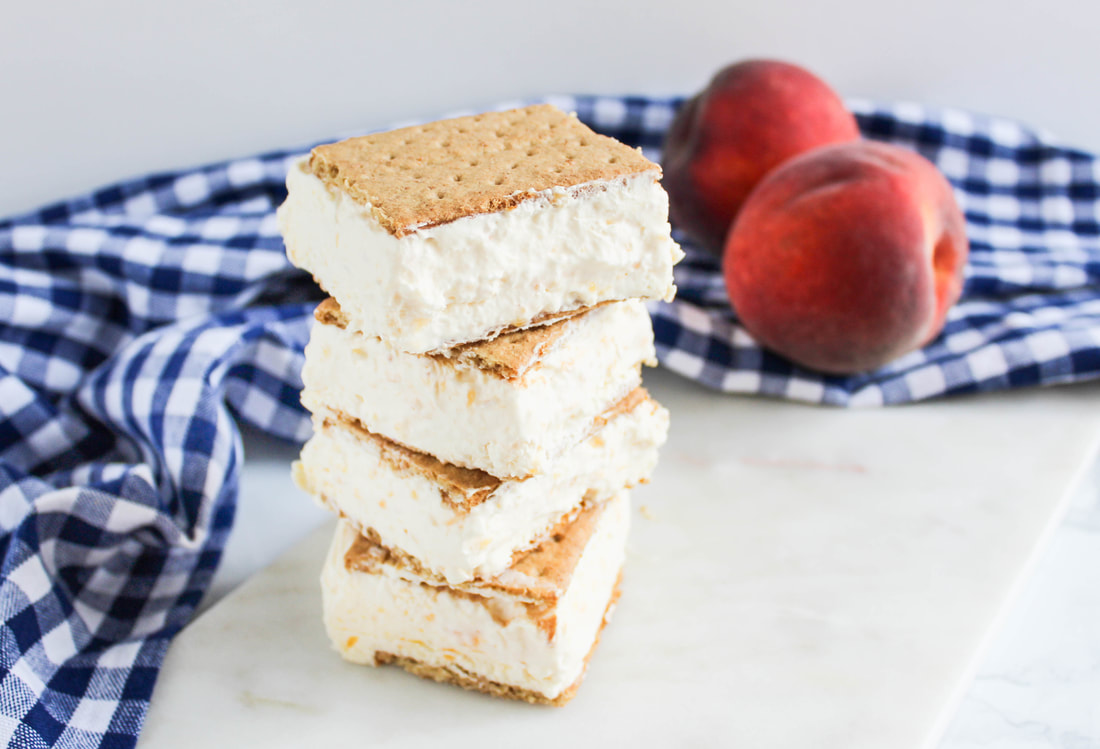 In lieu of keeping things short and sweet for this holiday weekend, we'll cut to the chase. You all know I love ice cream! It's seriously my favorite food group! For this recipe, I blended up this peach ice cream super quickly without an ice cream machine. It's definitely more of a light, whipped ice cream, rather than your typical dense and creamy ice cream. You could totally skip the ice cream sandwich part and just crush up some graham crackers into the peach mixture, spread it into a loaf pan, freeze, scoop, and enjoy. I think the ice cream sandwich part is fun! It makes for a kid-friendly dessert and is perfect for your end of summer get-togethers.

What's your favorite end of summer food to enjoy?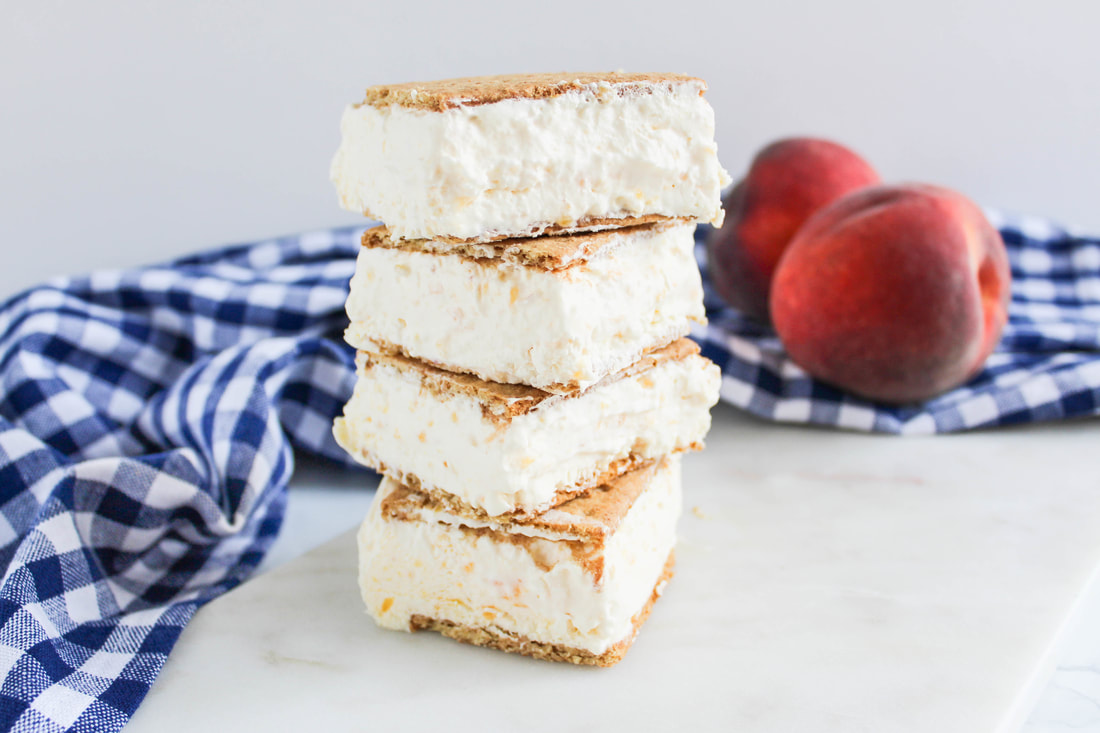 ---
Peach Ice Cream Sandwiches
Ingredients:
1 lb frozen peach slices
1 – 2 tablespoons whole milk
¼ tsp almond extract
1 pint heavy whipping cream
24 graham crackers, broken in half
Directions:
In a blender or food processor, blend frozen peaches, milk, and almond extract until smooth. Start with using 1 tablespoon of milk and add more if needed to blend fully. Pour blended mixture into a large mixing bowl.
Whip the heavy cream until peaks form.
Fold the whipped cream into the blended peach mixture.
Line a 13 x 9-inch pan with parchment paper. Place 12 graham cracker halves in the bottom of the pan. Spread peach mixture over top of graham crackers. Top with the remaining graham cracker halves. Cover and place in freezer for 3-4 hours, until the peach mixture is set.
Remove from freezer. Using a knife, slice the ice cream sandwiches to separate. Serve immediately or place back in freezer to enjoy later.
Notes: Use cold beaters & bowl for whipping the whipped cream. Since the graham crackers won't fill the entire bottom of the pan, use crumpled up tin foil as a spacer around the edges of the pan to hold the ice cream sandwiches together. This will make it easier to keep the sandwiches uniform sizes and to slice.
---