If you need a new burger to try for the 4th of July, grill up these Mozzarella Stuffed Chicken Burgers topped with a Pesto Aioli. Gourmet burgers from your own grill, what could be better?!
I really need to start coming up with shorter names for my recipes…but what else is new!?

The 4th of July weekend is upon us & grilling season is in its prime! So I thought it was the perfect time to share a burger recipe with you. A nice, juicy burger usually is my family's go-to summer meal because they're easy, you don't have to heat up the house, & everyone loves a burger! I've never really gotten too creative with my burgers, I'm a plain Jane and sometimes go a little crazy & throw some bacon on top, so I've never done much experimenting with different flavors of burgers. A couple days ago though, I was thinking up things to have for dinner & thought a stuffed burger would be fun to make. I didn't want just any ole stuffed burger though; I wanted to make it interesting! So I thought up some flavor combos that I loved & thought would go well in burger form, and that's how this fresh mozzarella stuffed burger was made!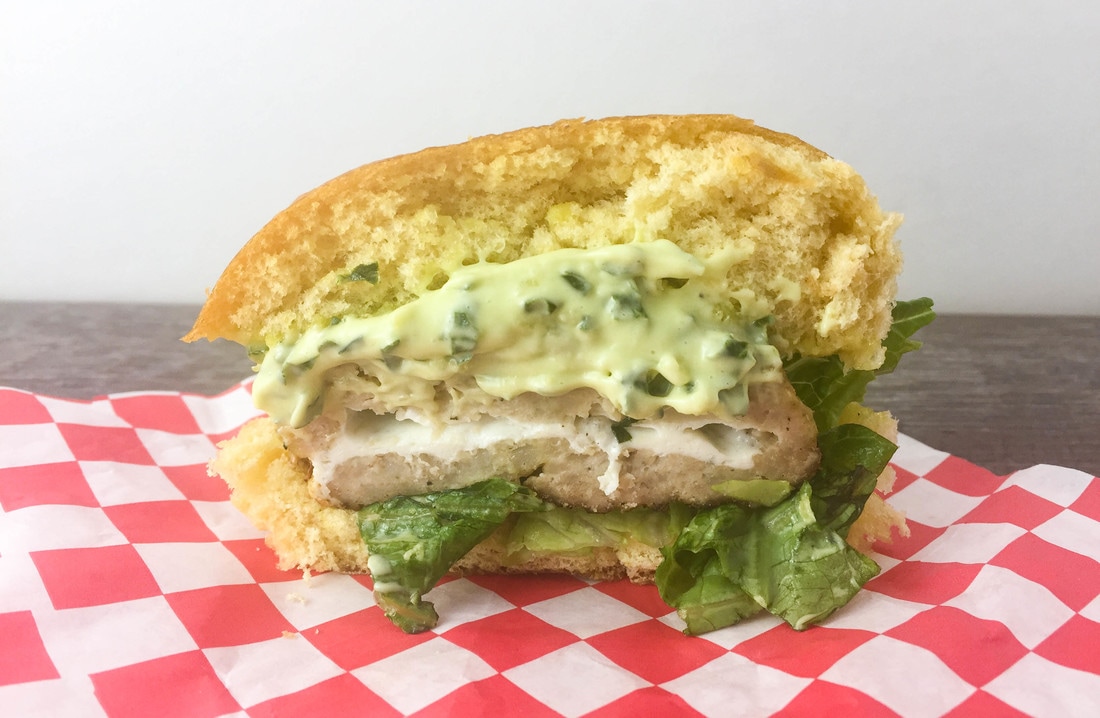 ​I also really never ventured out from having beef burgers because I like & enjoy them. But I didn't really feel like beef went as well with mozzarella & pesto as chicken would. Maybe I'm weird, but that's just me! I also thought it would be fun to try something new & make chicken burgers. At first I couldn't decide whether to do just a traditional pesto sauce to top the burgers with, or to make more of a mayo. On the day of testing I wanted that tangy-ness from a mayo or aioli, so that's what I went with.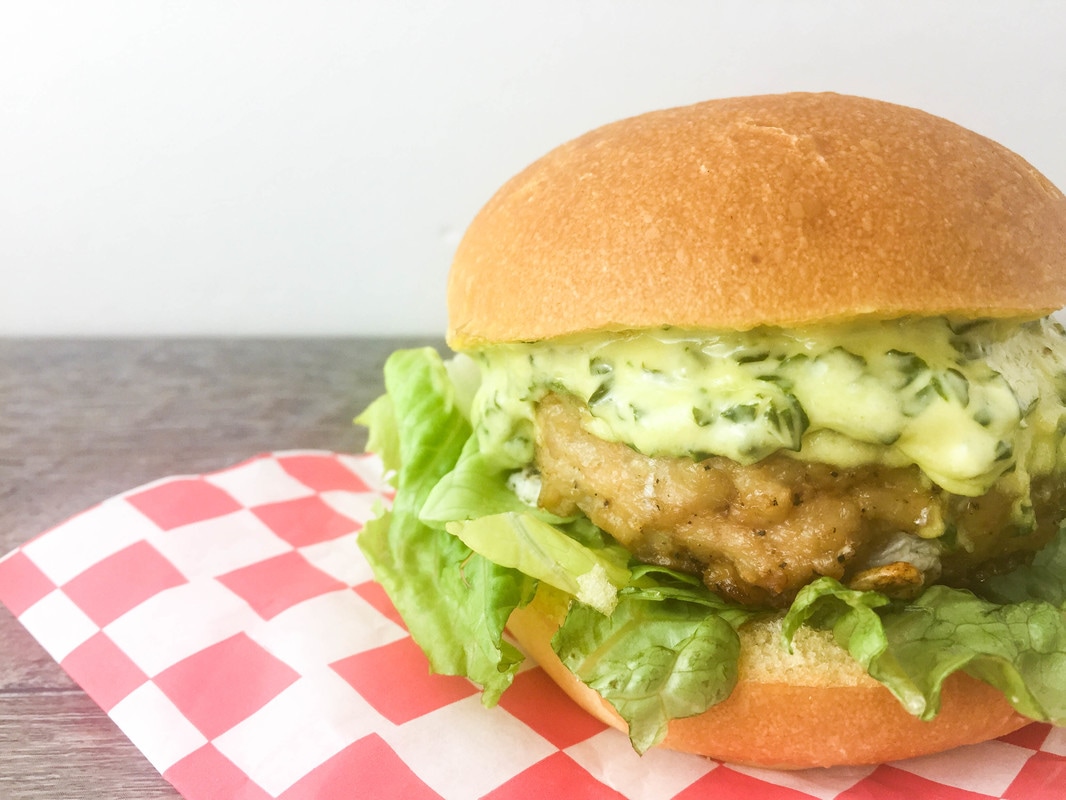 ​The recipe does take a little work, but it's nothing too intense & you'll still have dinner on the table quickly. You simply stuff the burgers with the fresh mozz, which adds such a nice creaminess to the finished product, stick them on the grill, & make your aioli while they're cooking. So the whole raw egg yolk in the aioli thing creeped me out at first, but it's safe (or else they wouldn't serve it to us at restaurants!) as long as we're not eating it by the bucket full and it tastes really good. Try to use the freshest eggs as possible, or you could use pasteurized eggs to be even more careful. Overall, you'll be fine…I'm here writing this post for you a week later :p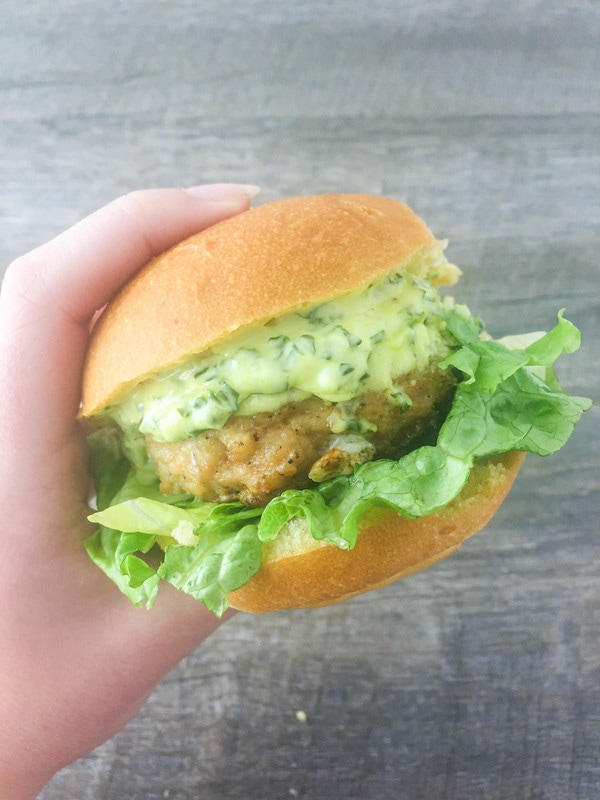 Go enjoy some burgers from the grill, eat dinner outside in the nice weather, & spend time with family and friends this weekend! Enjoy!
​
---
Ingredients:
Burgers:
1 lb ground chicken
2 Tbsp breadcrumbs
Garlic powder, onion powder, salt & pepper, to taste
4 slices fresh mozzarella

Pesto Aioli:
2 egg yolks
½ tsp mustard
½ of a lemon, juiced
½ tsp salt
2/3 cup light tasting oil (I used half olive oil, half vegetable oil)
¼ – ½ cup fresh basil leaves (to taste)
½ tsp minced garlic

Directions:
For burgers – combine chicken, breadcrumbs, & spices in a bowl. Form 4 small patties with half the chicken mixture. Place a slice of mozzarella on each patty. Finish forming the patties with the rest of the chicken mixture. Make sure all of the cheese is covered to prevent it from leaking out while grilling. Place on grill & cook until no longer pink or reaches 160 degrees internally.
For aioli – in a blender combine egg yolks, mustard, lemon juice, & salt. Blend until smooth. With blender on low, drizzle in oil to form a mayo-like consistency. Add in basil leaves & garlic and blend until basil is evenly distributed. Use the blender's tamper to get all leaves chopped up.
Place burgers on buns & top with the pesto aioli and your favorite toppings.

*Pesto aioli can be kept in refrigerator for up to 1 week in an airtight container

Makes 4 burgers
---