These Bite Sized Strawberry Crumble cups scream summer! Made with fresh, local strawberries & low in added sugar, these mini desserts are perfect for celebrating during the hot summer months.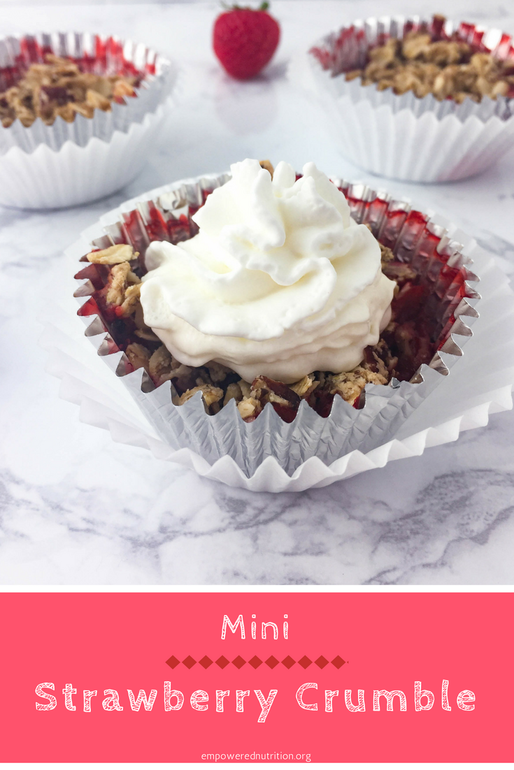 The weather in Northeast PA is finally shaping up, which means that the local strawberries are finally ready!!! Strawberries are my all time favorite fruit. I just don't think another fruit could come close to being as amazingly delicious as these sweet, red berries! I had serious strawberry envy as I saw so many of my Instagram friends picking their own & enjoying their local crop as I patiently waited for the area's berry farms to open. Just last week, the strawberries were finally ready for picking & I was jumping for joy!
While I was waiting, I brainstormed all the delicious things I could make with my fresh berries. My preferred way of enjoying is straight from the container or in a homemade jam, but there are also so many yummy desserts & beverages you could make too! One dessert always comes to mind when June rolls around, and that's strawberry pie. I'm a pie lover (okay, I'm an any kind of dessert lover), and something about pies just makes me feel emotionally at home. I don't know if it's the amount of work that goes into making a pie or that pies are one of my grandma's specialties or what, but pies are a comfort food to me.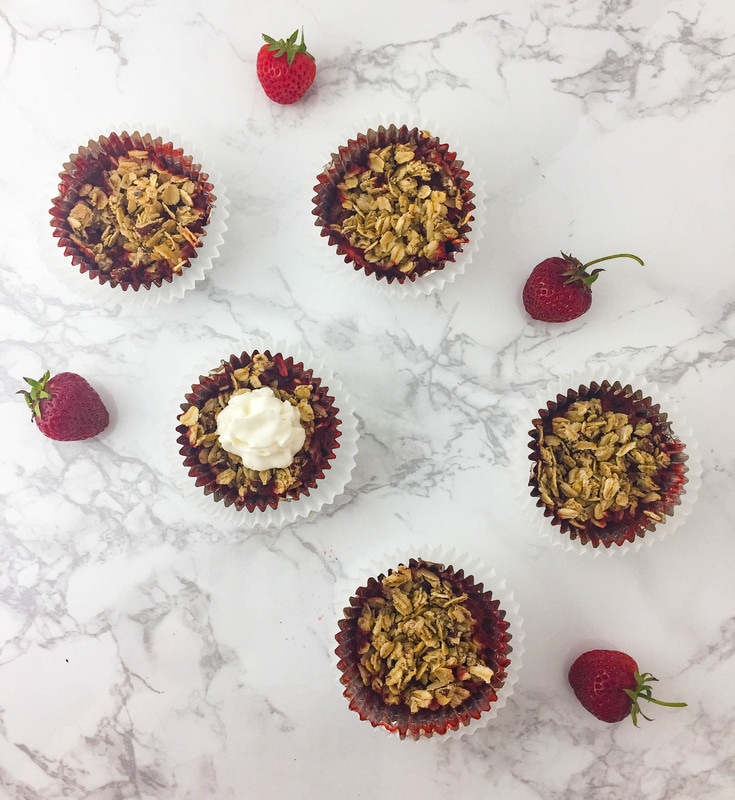 ​When the Recipe Redux announced this month's theme – healthy bite sized desserts – in honor of the group's 6th birthday, I knew fresh, local strawberries had to make an appearance. This is my first month participating in the Recipe Redux, which is the first & only recipe challenge created by registered dietitians. The group strives to redefine "healthy" by showing that nutritious foods are delicious, too! Every month, on the 21st or 22nd, I will be posting a recipe that is part of their challenge. It's the perfect group for me to be part of because the whole point of me starting this blog was to show how to healthy foods are tasty & easy to make. At the bottom of every Recipe Redux post, there will be a link to all of the other members' recipes for the monthly challenge, as well! So be sure to check those out!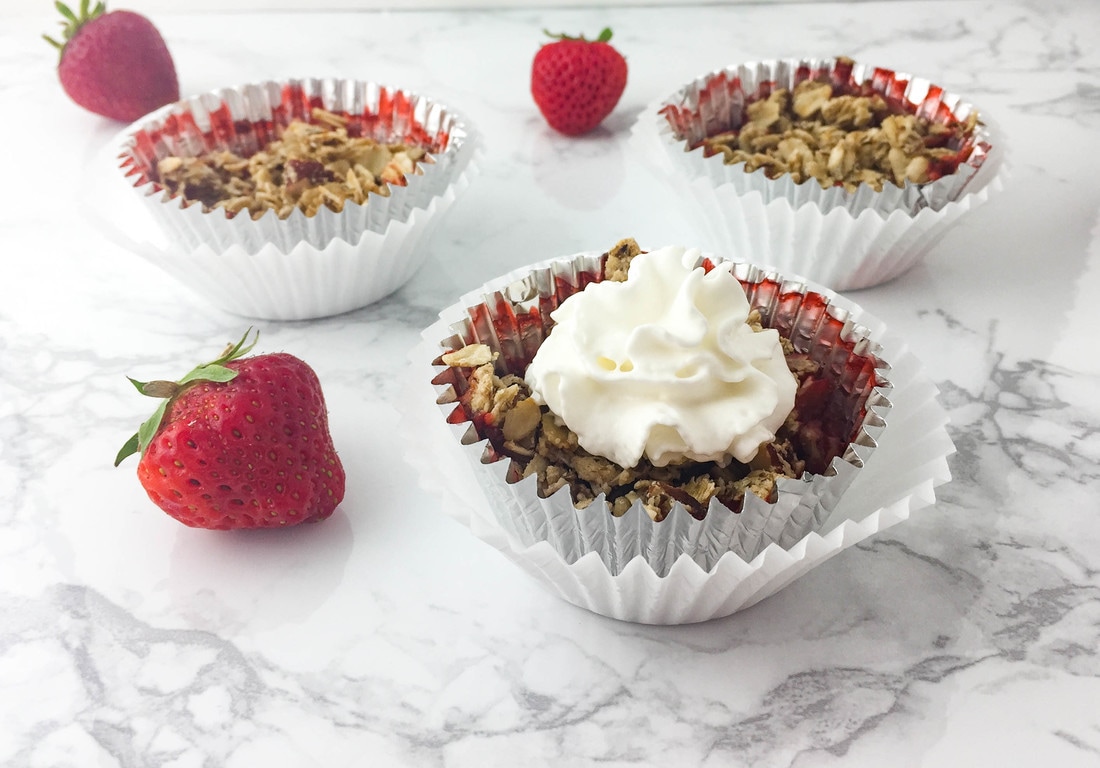 ​So these bite sized strawberry crumbles just scream summer & I love it! A lot of times strawberry pies or crisps are pretty heavy on the added sugar, so with this month's challenge, I wanted to make these bite sized desserts less sugary & bursting with fresh, berry flavor. I have to say I think I definitely did just that! The strawberry mixture is just the fresh, sliced berries with vanilla extract & cornstarch to thicken it up a little bit. And the crumble is packed with fiber & healthy fats from the oats, flaxseed, and nuts. These crumble cups nourish the body in more ways than one by reminding us of hot summers as a kid, yet providing fiber & good fats. This is definitely a dessert worth celebrating with!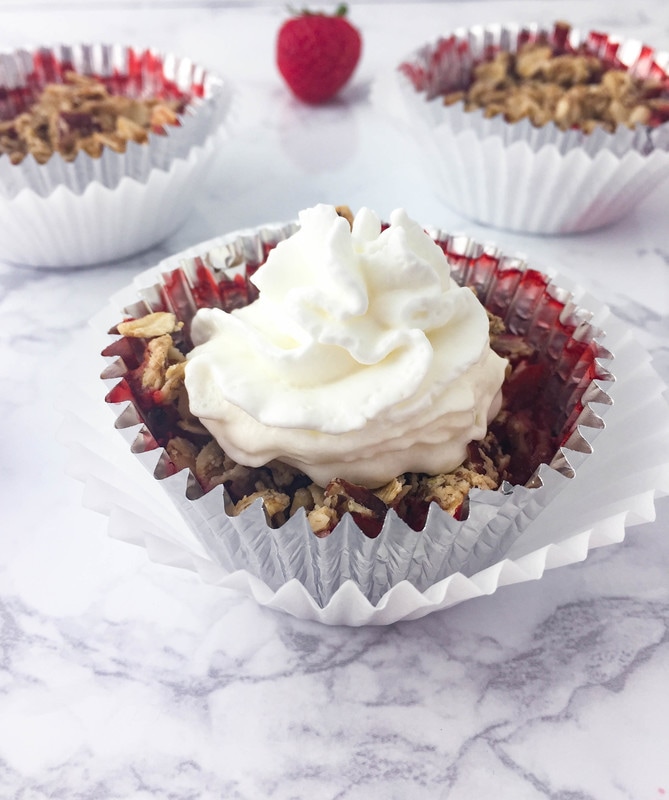 Because of how low in added sugar they are these crumbles are perfect to enjoy for breakfast, snacks, or dessert! So now we can enjoy those summery flavors any & all the time!
---
Bite Sized Strawberry Crumble
Ingredients:
1 quart strawberries
1 ½ Tbsp cornstarch
1 tsp vanilla extract
¾ cup rolled oats
2 Tbsp oat flour (or whole wheat flour)
1 Tbsp ground flaxseed
2 Tbsp pecans, chopped
1 Tbsp pure maple syrup
1 Tbsp melted coconut oil
Directions:
Preheat oven to 350 degrees. Line a muffin tin with foil liners.*
Wash & slice strawberries. Place in medium sized bowl.
Add cornstarch & vanilla. Gently mix to combine.
In a separate bowl, combine oats, flour, flaxseed, pecans, maple syrup, & coconut oil.
Evenly distribute strawberries into muffin tin. Top with crumble mixture.
Bake for 20-25 minutes until tops are golden brown.

*I used foil muffin liners because the juice may run through the paper liners. If you have ramekins, you could use those instead of muffin tin.
*Store leftover cups in refrigerator for up to 1 week.

Makes 12 bite sized crumble cups
---