Creamy, slightly tangy & a punch of lean protein makes this Mayo Free Potato Salad a recipe you'll keep coming back to! Perfect for summer picnics, backyard BBQs, or just anytime you feel like it!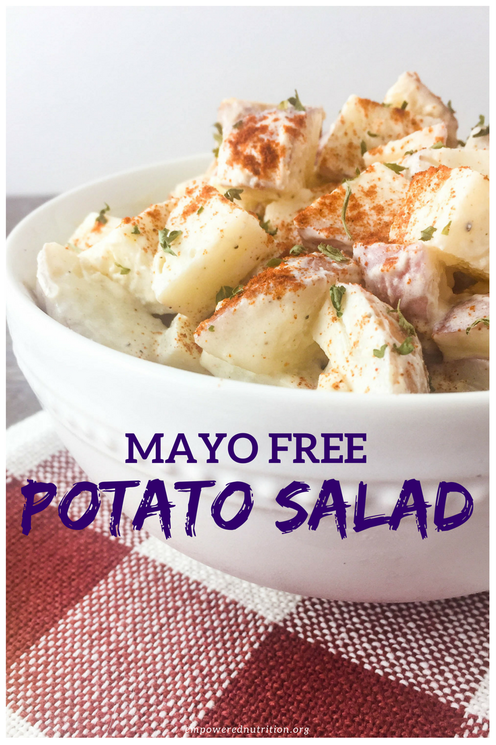 ​Growing up I was never big on potato salad, but over the years I've come to really enjoy a nice, homemade potato salad on a hot summer day. Really all types of summer salads are some of my favorite foods nowadays.

When cooking, I always try to come up with something new or put a little twist on an old favorite to keep things interesting. There are very few recipes that I make the same way every single time. I love that creative outlet of mixing & matching ingredients. When I'm stressed I head to my kitchen to create something delicious!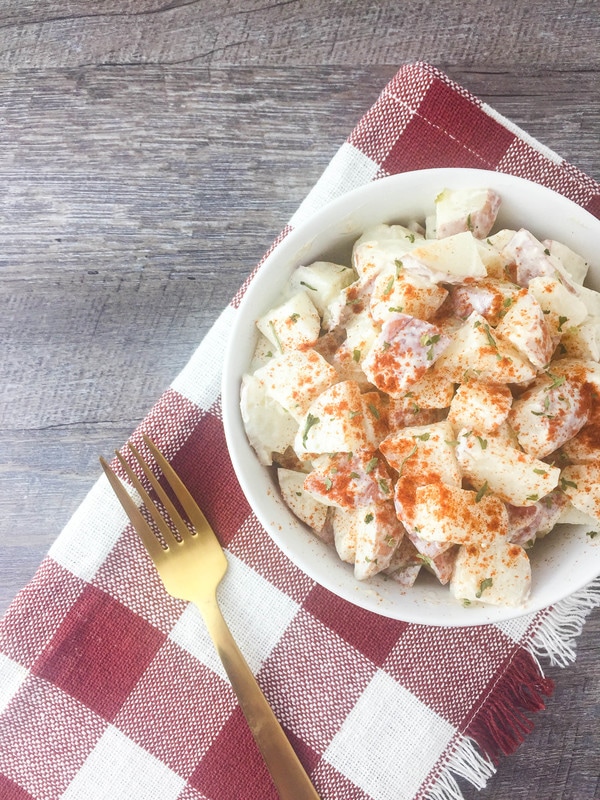 I thought I would try mixing up a traditional potato salad by making it mayo free for this week's recipe. I have nothing against mayo – I actually really love it (as you know from last week's pesto aioli!) I love the creamy, tanginess that mayo adds to a dish. I was inspired by my friend Meme over at
Living Well Kitchen
to make this typical summer salad mayo free. A couple months ago I made her
mayo free chicken salad
& fell in love with it! It was literally so delicious, a little better for you than some of those heavy, chicken salad recipes that are out there, but still oh so delicious! And I also loved that we both agreed that we hate Greek yogurt as a sub for mayo in our chicken salads! I think the yogurt has too much tanginess & I'd rather just stick with the original, or Meme's version. Somehow when you blend up cottage cheese & add some seasonings, it really tastes like a mayo version of chicken salad. I loved her genius idea & thought that this type of a "sauce" would be great for a potato salad.
​I was totally right! There's still a nice tangy flavor thanks to the vinegar, a slight mustard-y note, and a good balance of garlic & onion flavor in this potato salad. So why cottage cheese? Yeah, I know it sounds weird. But when you blend it up in the blender, it become smooth & a slightly thinner consistency of mayo. It also is packed with protein & a nice source of calcium! Plus, it has less fat than mayo. I actually liked that the "sauce" was a little thinner than the traditional potato salad because it just lightly coats the potatoes, giving you flavor, but none of that pasty-ness that some salads have.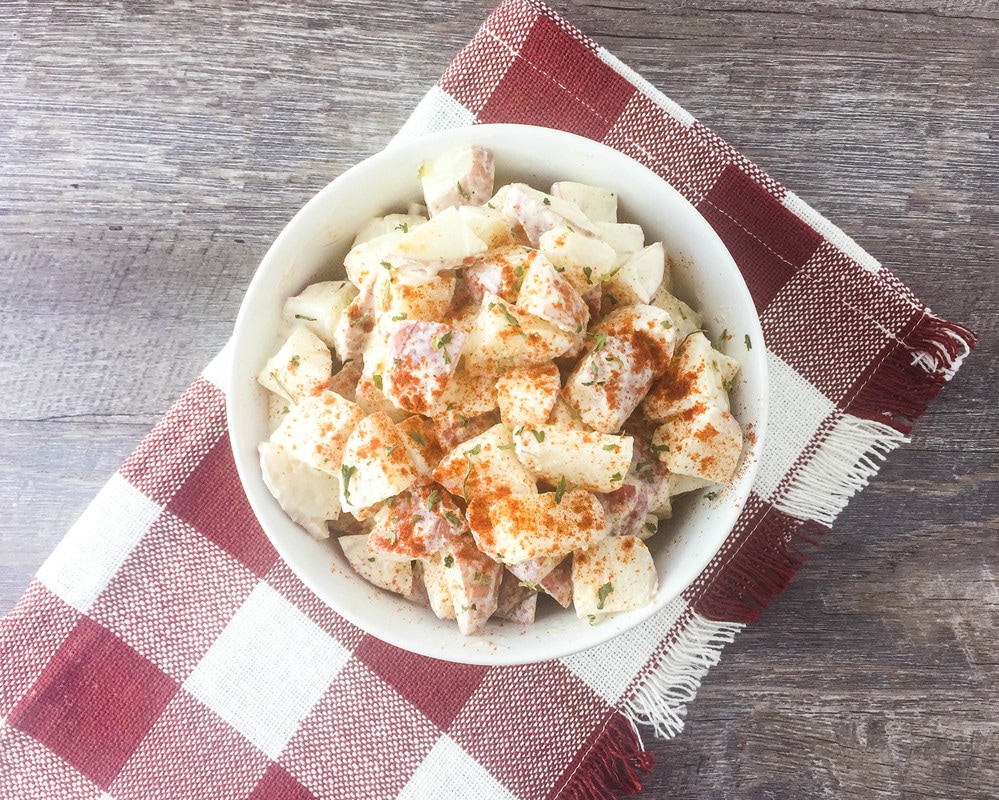 :)​Does this mean that I'm only ever going to make this mayo free potato salad? No way! It's just a nice twist on traditional potato salad for those nights when you want something a little lighter on the table. I'm still going to hit up the full on mayo version when the opportunity arises 🙂
---
Mayo Free Potato Salad
Ingredients:
1.5 lbs red potatoes
¾ cup low fat cottage cheese
1 Tbsp spicy mustard
1 Tbsp vinegar
1 tsp honey
½ tsp garlic powder
¼ tsp paprika
Dash of onion powder, cayenne, & nutmeg
Salt & pepper, to taste
Dried parsley, to garnish

Directions:
Dice potatoes into bite sized pieces while bringing large pot of water to boil. Boil potatoes for 8-10 minutes, just until tender.
Drain potatoes & rinse in cold water immediately.
While potatoes are cooking, combine cottage cheese, mustard, vinegar, honey, & spices into blender. Blend on high until smooth.
Add cottage cheese mixture to cooled potatoes & toss to combine. Refrigerate for at least 30 minutes before serving.
Garnish with dried parsley.

*Extra potato salad keeps for about 5 days in the refrigerator

Makes roughly 8 servings
---