Celebrate Cinco de Mayo with these tropical, Margarita Energy Bites. Margaritas aren't just for parties anymore!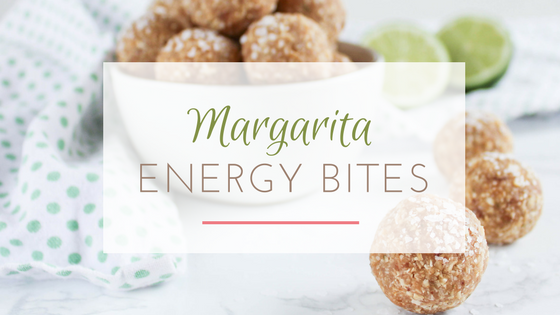 ​What if I you that you could get your margarita fix anytime you wanted? Well with this festive recipe, you can! That's right, I'm talking Margarita Energy Bites. The perfect mix of lime, coconut, & salt all rolled into a little ball that you can snack on any time of day. Now, I'm all for throwing back a real marg, but sometimes it may not be the best option (i.e. before a workout or for breakfast). But with these tropical bites, you get all the flavors plus a little bit of the good stuff – protein & healthy fats.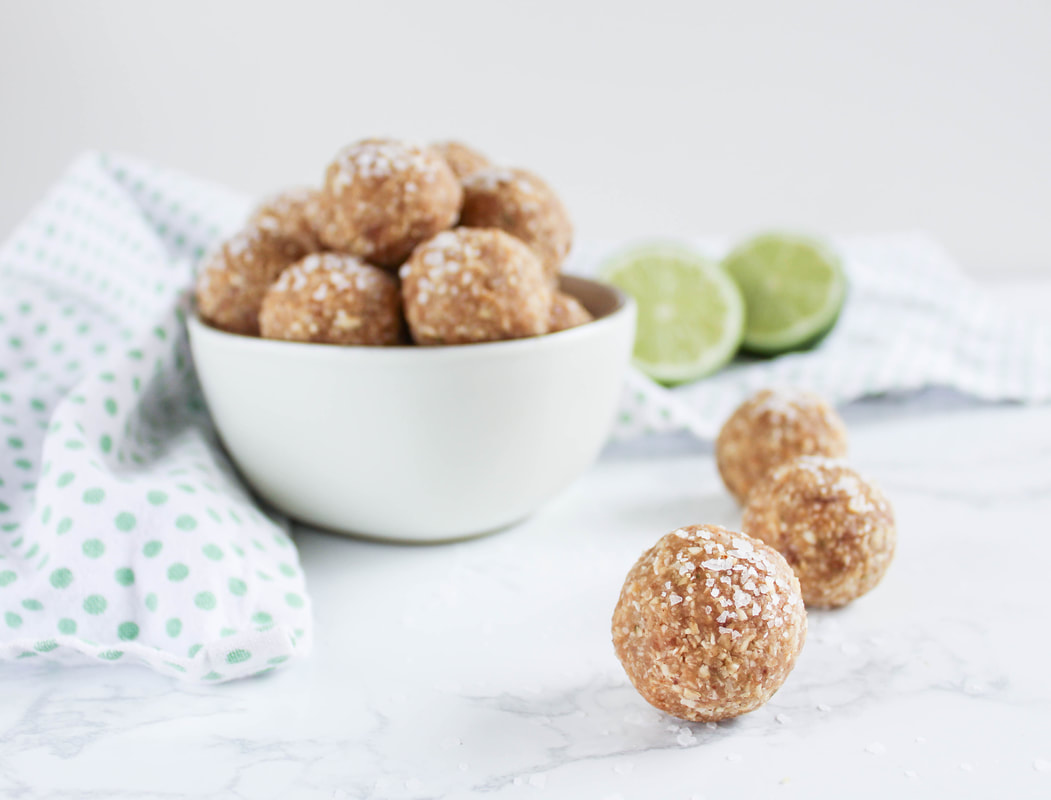 ​With Cinco de Mayo coming up, I thought it would be the perfect time to share this summery snack. At first I was going to share a traditional Cinco de Mayo food, like tacos or some other Mexican inspired dish, but then this idea hit me & there was no turning back. These energy bites seriously taste like a virgin margarita. They have that perfect hint of lime, little bits of coconut throughout, & I wanted to be fully authentic so I dipped them in some margarita salt at the end.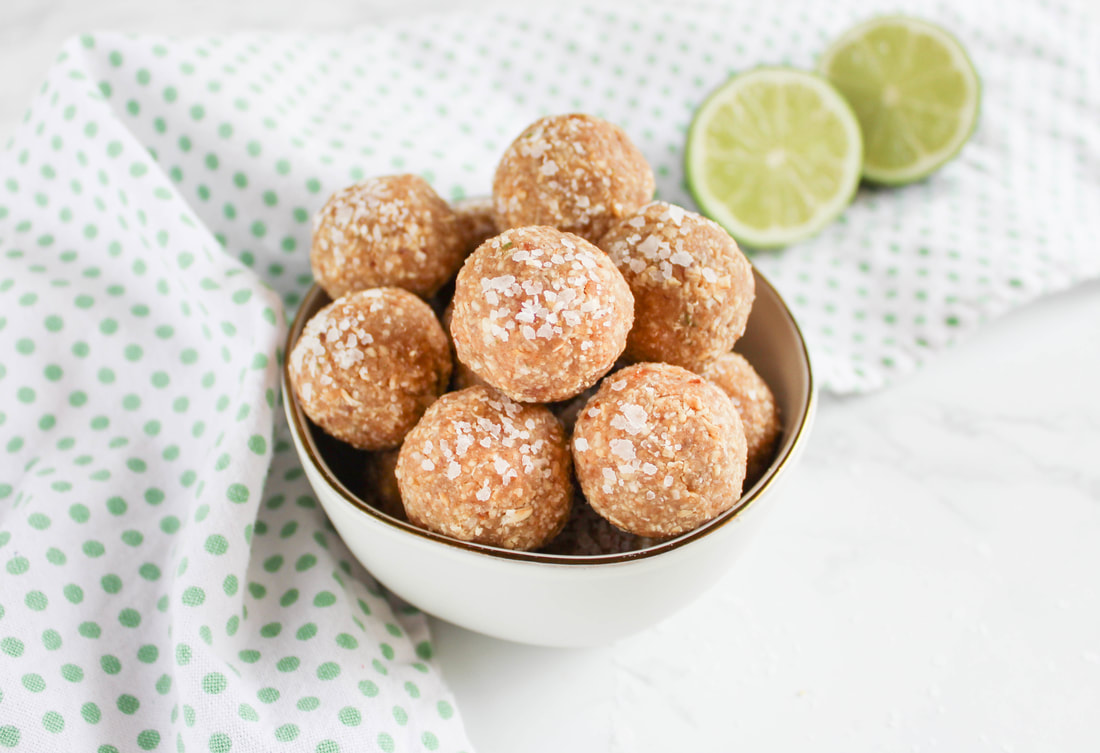 ​Cinco de Mayo is such a fun little holiday that's packed with delicious food (read: the best kind of holiday!). So why not put a fun little twist on your party food & offer your guests a delish marg snack that won't leave you with a hangover. But, if you really wanted to kick them up a notch, you totally could add a splash of tequila to really get the party started! Just sub out the water & you've got a boozy treat!

These little guys aren't just for Cinco de Mayo, though. You could totally have them in the morning, before or after a workout, for a mid-afternoon snack, or for dessert. Like I said before, they have healthy fats & protein from the nuts & are an awesome whole grain snack. Make these next week to get in the mood & celebrate!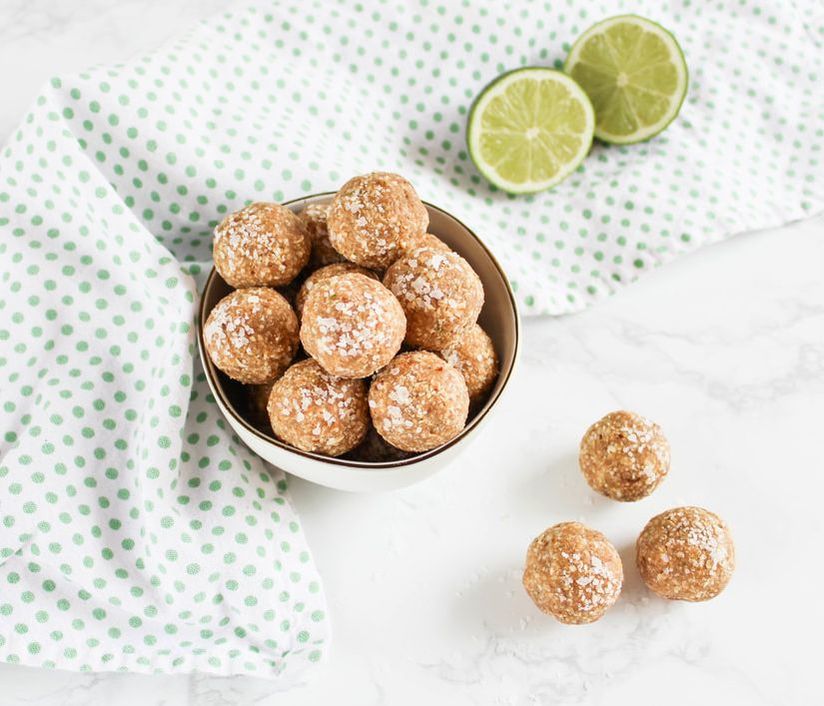 ---
Margarita Energy Bites
Ingredients:
¾ cup raw cashews
¾ cup rolled oats
6 pitted dates (soaked for 15 minutes)
¼ cup oat flour (can make from oats by pulsing in food processor)
½ cup coconut flakes
1 generous scoop of almond butter
1 lime, zested & juiced
1 – 2 Tbsp water
A splash of coconut extract (optional)*
Margarita salt

Directions:
Add all ingredients, except margarita salt, to food processor.
Pulse until dough-like consistency forms.
Roll dough into 1-inch balls. Press balls into margarita salt.
Place on baking tray. Refrigerate for 30 minutes before serving.
Keep refrigerated for up to 5 days.

Makes ~15 balls

*Notes: Add a splash coconut extract for even more tropical flavor.
Can replace water with tequila for a boozy dessert option.
---