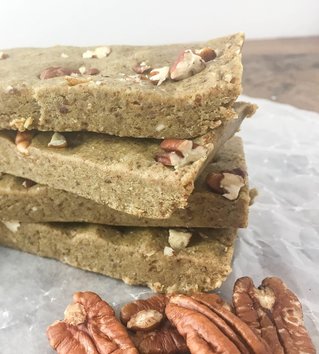 ​
Ingredients:
1 cup tightly packed pitted dates (about 24)
3 scoops your favorite vanilla protein powder
½ cup raw cashews
½ cup pecans
¼ cup maple syrup
1 Tbsp water

Directions:
Soak dates in warm water for at least 15 minutes. Drain.
Add all ingredients into food processor. Process until a dough forms.
Press dough into an 8 x 8 inch pan lined with wax paper.
Refrigerate for 30 minutes. Slice into bars.
Store bars in refrigerator up to 1 week.
Makes 8 – 12 bars
*Recipe adapted from Copycat Blueberry RX Bars by Fitful Focus