Get your morning started off right with this hearty breakfast bowl. Packed with protein, carbs, & healthy fats this potato & egg bowl will keep you full all morning long!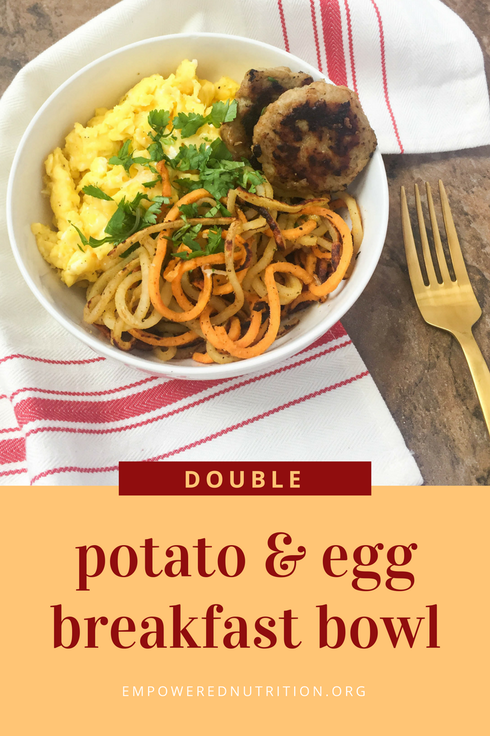 ​Breakfast is my favorite meal of the day. I sometimes get excited the night before when I know I have something great planned for breakfast the next morning. While I'm definitely a creature of habit when it comes to breakfast foods, I occasionally will mix it up with something fun.

I like to think of breakfast as the time where I set the tone for my day. I don't like to be rushed in the morning & because I believe that breakfast is the most important meal of the day, I always make time for it. When I start the day off slow, making breakfast, & planning out my day ahead, I'm more productive & relaxed throughout the day. Morning routines are so important & once you develop your very own routine, I'm telling you, you'll never want to go back to not having one!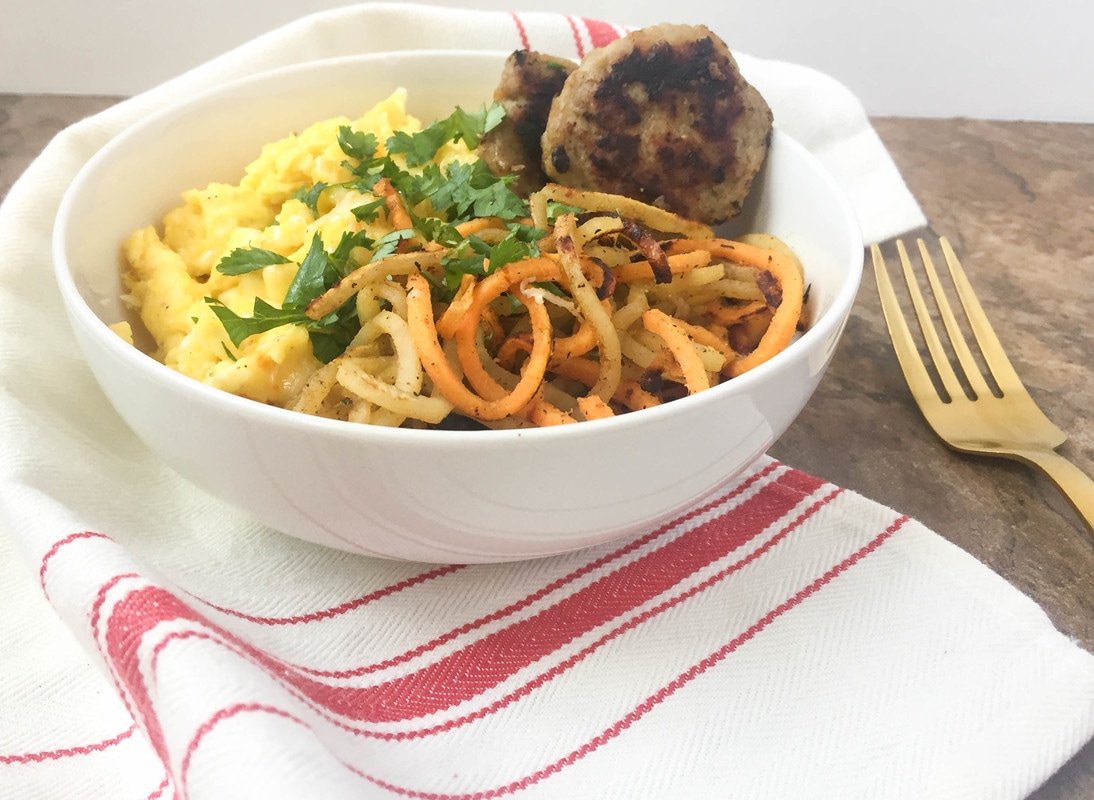 ​One of the keys to a great morning routine is having a balanced breakfast to give you energy to start your day. So what makes a balanced breakfast? Striving to have a rounded meal of carbs, protein, & healthy fat will help ensure even energy levels throughout the day. We often make the mistake of having only simple carbs at breakfast (think donuts, bagels, pastries), which leads to that mid-morning energy crash. This is because our body uses up the sugars coming from those simple carbs really, really fast. Instead, try focusing on making a balanced breakfast centered around complex carbs, like whole grains. Our bodies take longer to process complex carbs, plus if they are paired with a protein or fat it takes even longer for the body to digest, which means your blood sugar levels will stay pretty even until your next meal.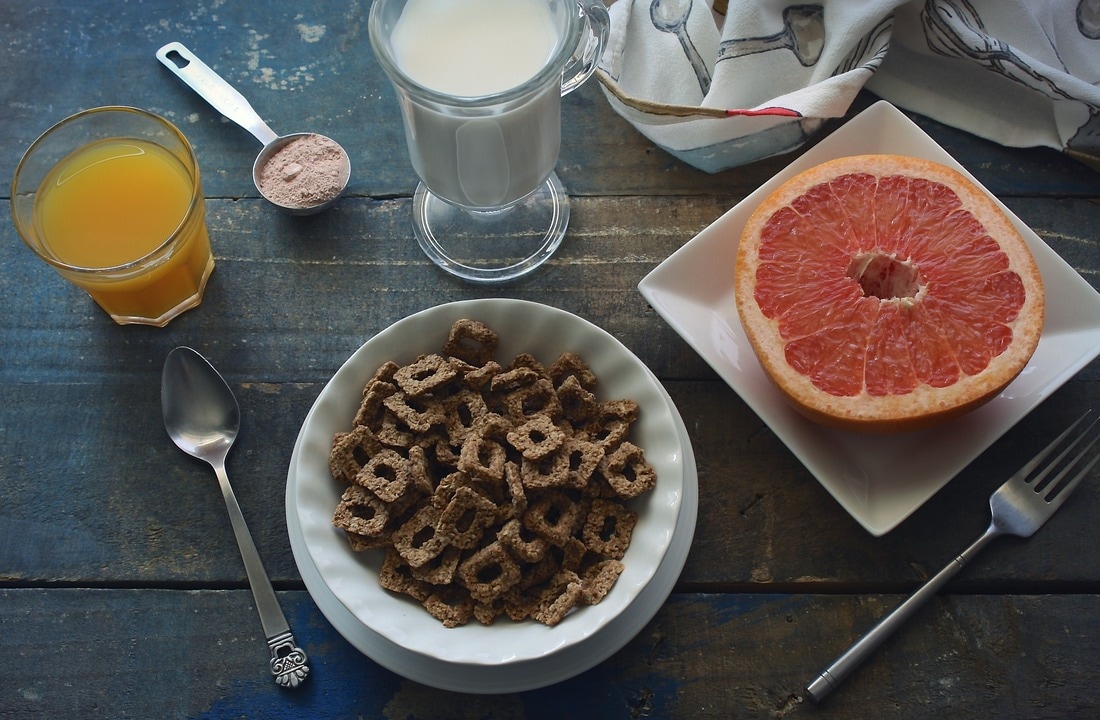 Great options include:
Whole grain cereal paired with Greek yogurt on the side
Whole wheat toast with smashed avocado & egg
Pancakes or waffles topped with nut butter & fruit
Oatmeal topped with nuts, fruit, nut butter, maple syrup
Really focusing on getting carbs & protein and/or healthy fats will help keep you full & get rid of that nasty energy crash.
​I always crave carbs when I wake up, so my weekday breakfasts are usually centered around cereal or oatmeal. On the weekends or days where I have more time, I'll make pancakes (I love Kodiak Cakes), French toast, or some type of egg dish. Sometimes I'll make things like banana bread, muffins, or baked oatmeal on the weekends so I can just reheat & eat throughout the week. I make sure to pair my carb cravings with things like nut butters, flaxseed, Greek yogurt or other types of proteins & fats, too.

I'm usually wanting something sweet & on the more bland side when I first wake up, like Honeynut Cheerios or oatmeal with peanut butter or maple syrup. But, sometimes I want a hearty, savory breakfast to keep me full until lunchtime. That's where the idea for this breakfast bowl came from.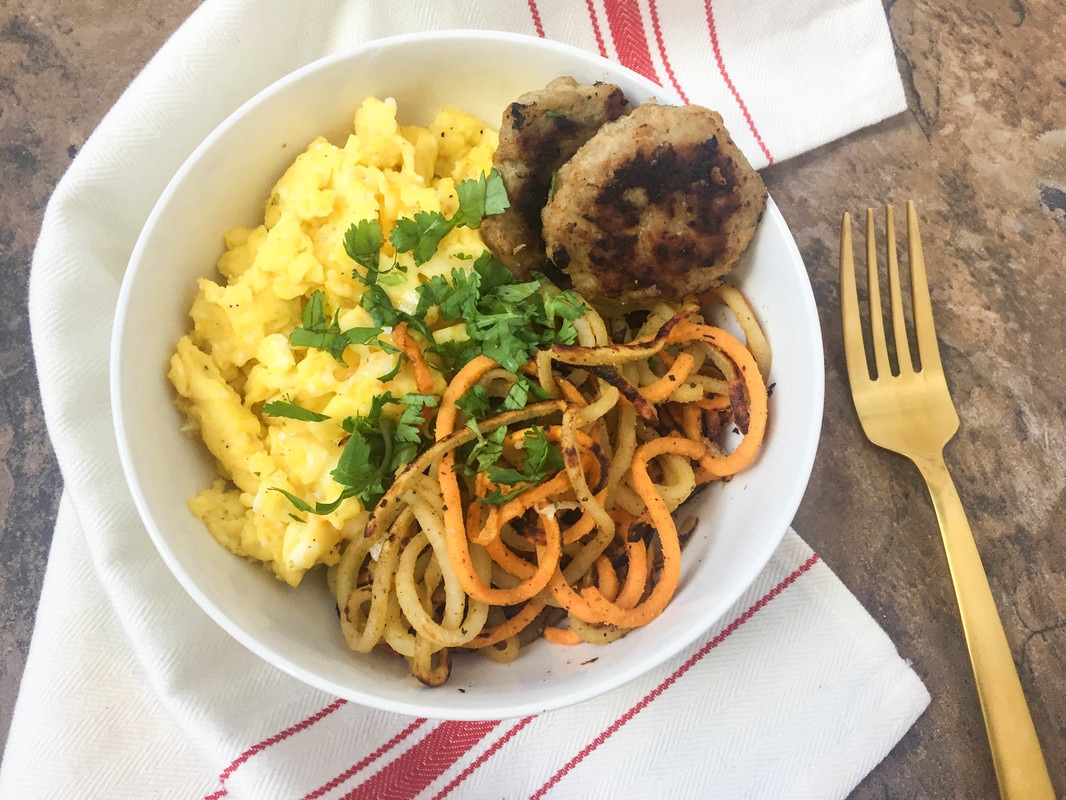 Some like to focus their breakfast more around protein, with carbs on the side – which is totally fine too! Remember, it's all about balance! This Potato & Egg Breakfast Bowl has the perfect combination of protein from the eggs & sausage, carbs from the 2 kinds of potatoes, & healthy fats from olive oil. This bowl could really be enjoyed any time of day for a satisfying, hearty meal that gives you tons of sustained energy. Also, while I did spiralize my potatoes, you could just as easily dice them up & throw them in the skillet or oven to get them nice & crispy, too!
​
---
Double Potato & Egg Breakfast Bowl
Makes 2 servings
Ingredients:
1 large sweet potato, peeled & spiralized
1 large white potato, peeled & spiralized
1 T olive oil
3 eggs, scrambled
4 sausage patties
1 tsp garlic powder
Chili powder, to taste
Salt & pepper, to taste
Muenster cheese, shredded
Fresh cilantro, roughly chopped

Directions:
Place spiralized potatoes into a large skillet & coat with olive oil. Add in garlic powder, chili powder, salt, & pepper to taste. Saute over medium heat until potatoes become tender, yet crispy on the outside – about 15 minutes.
Pour 3 scrambled eggs into a small skillet & cook until done to your liking. Push to side of skillet & cook sausage patties all the way through.
Place spiralized potatoes in a bowl, with scrambled eggs on top. Top with cheese & fresh cilantro.

Notes:
Can be made with eggs, any style.
Don't have a spiralizer? Try dicing you potatoes & roasting them in the oven (400 degrees for about 20-30 minutes depending on size) or pan frying in skillet.
---