This lavender lemon sheet pan meal takes you straight from summer to fall – bright flavors, light, yet hearty & quick for busy weeknights!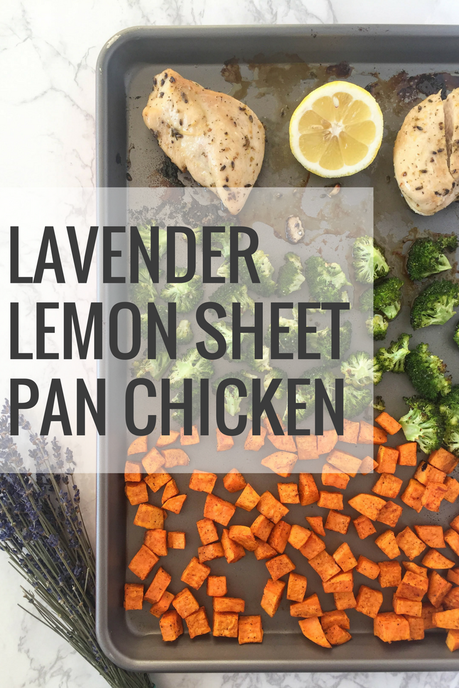 This month's Recipe Redux challenge is perfect for those busy weeknights when we seem to have a million things going on. When I got this challenge, I knew that I wanted to somehow combine the changing of seasons into my recipe. We still have summer like temperatures here in NC, but the kids are back to school & everyone seems to be back to their typical routines. I decided to combine some summer flavors with some fall produce & I think it's a going to be a hit!
I was at the farmer's market a few weeks ago & we stumbled upon a lavender booth. They were giving out samples of lavender lemonade, which was so refreshing! I ended up chatting with the owners of this local lavender farm for a few minutes & learned how they make their lavender lemonade. They also suggested a few dinner recipes to try with the lavender. I couldn't resist buying a bundle of dried lavender because I've never cooked with it before & I was curious. Plus, the farmer said that it lasts up to 6 months in a cool, dark place, so I figured why not!
​I've been wanting to try out flavoring foods with lavender, but just never got around to it. So when this month's challenge was announced, I knew it was the perfect time to try it out. For my summer flavors, I combined the lavender with some lemon juice & added local honey for a little sweetness. I was really craving some roasted sweet potatoes, so I chopped one up & tossed it with some cinnamon & paprika. To add a little green I went with both mine & Colin's favorite, broccoli. I think the best way to eat broccoli is tossed in olive oil, garlic, & Parmesan cheese, thrown in the oven to roast, & squeeze a little lemon over top before serving. So I did just that!
It's simple, quick, & the hardest part is waiting for it to come out of the oven! Every time I make sheet pan meals I wonder why I don't do it more often! I just love how roasted veggies taste & have such a nice crisp to them and only cleaning one pan is so nice. This meal is the perfect transition from summer into fall, not only because of the flavor profiles, but also because it's quick for when we all get back to the grind of the school year.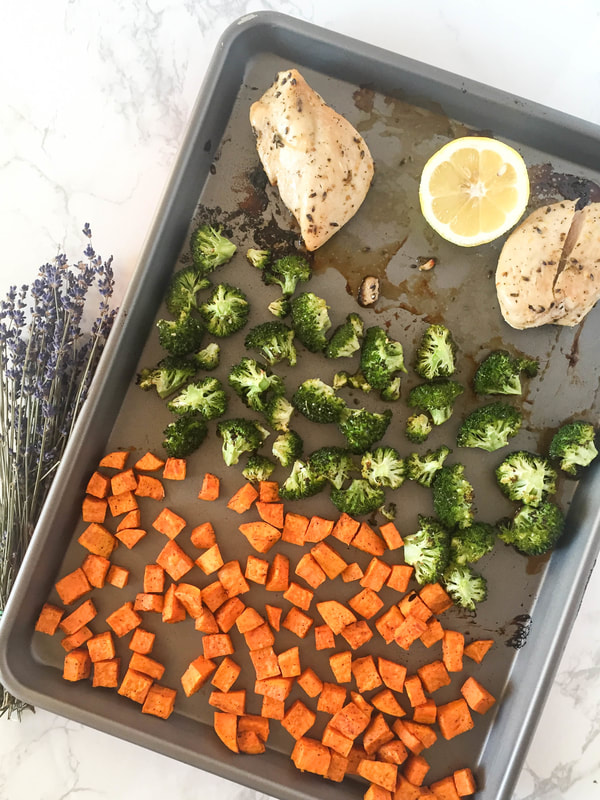 ​Check out the link below for more easy, tasty sheet pan meals from my friends!
---
Ingredients:
Chicken:
2 chicken breasts
1 Tbsp dried lavender, crushed
2 Tbsp honey
2 Tbsp olive oil
1 lemon, zested
½ lemon, juiced
Salt & pepper, to taste

Sweet Potatoes:
1 large sweet potato, cubed
1-2 Tbsp olive oil
¼ tsp paprika
¼ tsp cinnamon
Salt & pepper, to taste

Broccoli:
1 small head broccoli, trimmed
1-2 Tbsp olive oil
¼ – ½ tsp garlic powder
1 tbsp Parmesan cheese
Salt & pepper, to taste
½ lemon, squeezed over after roasted

Directions:
Preheat oven to 400 degrees.
Combine all ingredients for chicken in a small bowl. Coat chicken in mixture & place on greased sheet pan.
Cube sweet potatoes. Toss in olive oil & seasonings. Place on sheet pan.
Bake for 15 minutes.
Trim broccoli. Toss in olive oil & seasonings.
Flip chicken over, coat in extra lavender mixture. Stir & move sweet potatoes over. Place broccoli on pan.
Bake for additional 15 minutes.

Serves 2
---